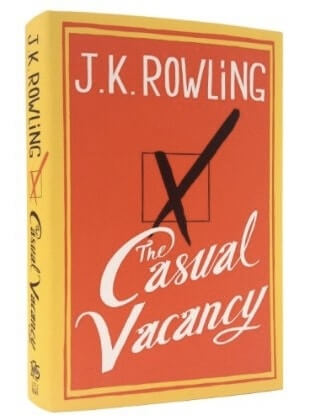 As of this morning, JK Rowling's eagerly awaited return to writing had an average of three stars on Amazon.com. Interestingly, the same is true for Nook fans. But the reality of the reviews may not follow the content of the writing.
An issue arose with the original ebook file from publisher Little, Brown & Co., which caused some type size and alignment issues, and a good portion of the reviews were posted by readers who were frustrated that such a publicity-fueled book by a critically acclaimed writer was not better formatted. Rightfully, though, there were a number of comments from fellow reviewers who pointed out that book reviews should be about story content, not customer service complaints.
While the digital version apparently comes through neatly on the Kindle reading app, and presumably on other ebook reader apps designed for tablets, the dedicated e-reader fans weren't so lucky. Changing the font size on the device only adjusts the size of the margins, not the actual text and formatting.
As for the story itself, a number of major international news outlets have posted their reviews of the book, and it has seemed to fail to impress so far. While more than one reviewer couldn't help but negatively compare this work to Rowling's genius in the genre of fantasy, just as many felt that this was a veiled attempt at political diatribe. Mostly, it seemed to many critics that it is just a dull story without much in the way of continuity of plot, setting, or characters.
GoodeReader will post its review soon; for now, the publisher claims to have distributed the new and corrected version of the file to retailers and is asking those retailers to contact readers who purchased the title prior to the release of the new version. A statement from the publisher acknowledges:
""Yesterday the eBook file for The Casual Vacancy by J.K. Rowling was released to all U.S. eBook retailers. There were issues with that file, including the adjustability of font color and size and adjustability of margins. As soon as Hachette was made aware of these issues, a replacement file was uploaded to all eBook retailers. Hachette has requested that each retailer contact their customers directly about reloading their eBook. Any consumer who purchased the eBook on Thursday, September 27, before approximately 3:00pm ET, who has not heard from their retailer, should contact them and request that their eBook be reloaded. No consumer should have to repurchase the eBook."