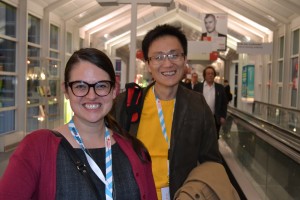 Over the course of the first two days of coverage from the CONTEC conference and the Frankfurt Book Fair, no less than four companies have spoken with Good e-Reader about a new type of reader-author interaction in which fans are able to connect with–and in some cases, collaborate on–a book while the author is still at work on the title. Each company brings their own twist to this work-in-progress publishing, but all offer similarities that have brought fans to the sites.
PubSlush and LeanPub, both of whom were represented on the self-publishing panel at CONTEC yesterday, are a uniquely intentional way for authors to optimize on crowdfunding to pay for the services their books need by encouraging readers to sample the book and offer input as it is being written. Unlike popular sites like Kickstarter, both LeanPub and PubSlush reach a targeted audience that is self-selecting for book projects, as opposed to a wider variety of projects, which in turn increases their authors' success rates.
"Forty-three percent of Kickstarter projects reach their goal, but of those projects, only one percent are books," explained Amanda Barbara, Development Director of PubSlush.
One of the newer companies to appear for this form of progressive publishing option is Brazil-based Widbook. According to Creative Director Gui Damiani, "it's a social network for readers and writers, a place that connects the author and reader. With Widbook you can publish chapter-by-chapter or the entire ebook for your network. It's completely free, and you can customize your own digital bookshelves of the open books you have."
One of Widbook's most compelling features is the ability to collaborate on books, both with established users or just by accepting the suggestions Widbook readers make. Any work that is incorporated from an outsider makes that person a credited collaborator on the project.
"As you read the book, if you see that something is missing or there's something that can help that author, the author accepts right away or not. If so, you become a collaborator on that book."
One of the most well-known of these types of connected platforms is Wattpad, a company that has made news recently both for its pilot program which allowed authors to solicit donations for the projects and which streamlined the route to publication with a number of publishers showing interest, including Sourcebooks, who has already signed on the read and publish young adult fiction under its Sourcebooks Fire imprint.
"There are many reasons [why fans have take to Wattpad so readily], but interesting content is key," explained Allen Lau, CEO and co-founder of Wattpad. "It's available on mobile devices, all of the content is chapter-by-chater, and is very social."
One aspect that has made Wattpad so successful is the attitude of support between both the authors and the readers, especially in light of the fact that authors are putting their raw material out there for others to see and enjoy.
"The writers on our platform are sharing stories and the audience is very thankful for getting to read it," continued Ashleigh Gardner, Wattpad's Head of Content. "I think what's interesting about Wattpad is it's like writing something on someone's Facebook wall. It's a much more intimate relationship with readers and they're connected. We see overwhelmingly positive comments on the site."
"We also make an effort to make sure that [readers] post constructive criticism, but if you are really offensive or aggressive, we would issue a warning. Once you define that culture, everyone will learn from someone else. Once you have that foundation, it's easier to keep that culture going," added Lau about the efforts that Wattpad takes to make sure that the environment remains collaborative and supportive.
Wattpad is nearly finished with a six-author pilot that allowed crowdfunding efforts to help support authors and their books, and so far has maintained a 100% success rate of authors reaching their fundraising goals.
Mercy Pilkington is a Senior Editor for Good e-Reader. She is also the CEO and founder of a hybrid publishing and consulting company.