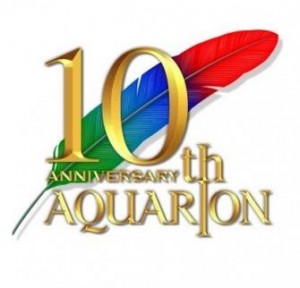 Satelight, a Tokyo-based anime production company has published a press release about The Anime Japan 2015 event to be held at Tokyo Big Sight on March 20-22. They will be joining the even with it's parent company, Sankyo to announce the 10th anniversary project for the Aquarion anime franchise which includes a new anime series. Their booth will display Sankyo's Pachinko machines, introduce anime titles, sell related merchandice and hold events with staff
The first anime series Sousei no Aquarion was aired for 26 episodes in Japan from April to September 2005, followed by a two episode OVA in 2007. The sequel anime Aquarion Evol was also aired for 26 episodes from January to June 2012. As no other news has been released as of yet, we will just have to wait patiently for the Anime Japan 2015 for more information!
Thi Lathi Chao is a graduate from Vancouver Fine Arts College and reports for Good e-Reader on all of the latest anime and manga news. In her off hours, she is enamored with playing games, drawing and writing short stories.