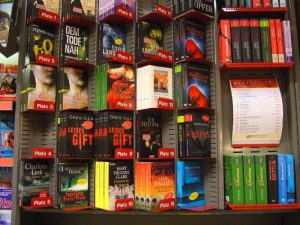 Success stories of indie authors and self-published authors making the major bestseller lists are becoming more and more commonplace, especially in this climate of digital reading and an appreciation for the DIY authors. But Digital Book World has been at work on a more accurate picture of how books are selling, since the typical lower priced indie ebook may sell more copies but actually make less money than a higher priced, traditionally published book.
Laura Hazard Owen of paidContent.org examined how this new bestseller list is compiled, as well as what the data means for the industry.
The data collection procedure was determined by Dan Lubart of Iobyte Solutions, Bowker Market Research VP Kelly Gallagher, Mike Shatzkin of the Idea Logical Company, Writers' House president Simon Lipskar, and Book Industry Study Group executive director Len Vlahos. While the intent of this new list, which uses sales figures from several major ebook retailers—including Amazon, Barnes and Noble, Kobo, Google, and Sony—is to prevent a one-day spike in book sales resulting from a daily deal or special one-day pricing from artificially driving a book onto an existing national bestseller list, it should be noted that all of the participants in the development of this list are tireless champions for ebooks and digital publishing. This should not be viewed as an attempt by the publishing industry to discredit the bestseller status of some ebooks, but rather to help consumers know that books appearing on the list are genuinely deserving of those spots based on accurate sales figures.
Hazard Owen spoke with the head of Digital Book World's parent company about the need for this type of data and the credibility it lends to ebooks:
"It is incredibly important for the fast emerging ebook marketplace to have clear, valid and authenticated data about both the dollar volume and unit volume of best sellers," said David Nussbaum, chairman and CEO of Digital Book World's parent company, publisher F+W Media. "Because it is still a very young business, the entire channel — authors, agents, publishers, and consumers — need clear and focused information about best sellers."

Mercy Pilkington is a Senior Editor for Good e-Reader. She is also the CEO and founder of a hybrid publishing and consulting company.