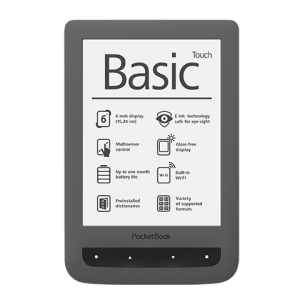 Pocketbook has just announced a new e-Reader that is intending to ship out this October. PocketBook will be the first company in the world to implement capacitive multi-sensor FILM TOUCH screens on its devices! The company also introducing Dropbox integration, a service which allows you to easily update your eReader's library by automatically synchronizing the files available on your Dropbox account, no wires or software needed.
The Pocketbook Basic Touch features a six inch e-ink Pearl HD display screen with a resolution of 1024×758. Underneath the hood is a 1GHz CPU, 512 MB RAM, 4GB of storage, and a microSD card slot. You can expand the memory up to an additional 32 GB.
A wireless built-in Wi-Fi module opens limitless opportunities not only for surfing the Internet but staying connected and sharing your reading experience with your friends and family over social networks with the new ReadRate service.
Pocketbook seems to be listening to the critics and putting better hardware in their devices. This might be the first time the company has ever put these types of internals in their entire product line. The e-Reader ships this October for a cool €99