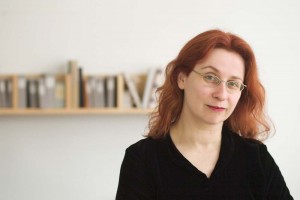 As with other authors who held on to their digital rights well past the publication of their print titles, Audrey Niffenegger, bestselling author of the seven million-plus copy 2003 title The Time Traveler's Wife, announced that she will finally release the ebook of her bestseller through Zola Books.
As the keynote speaker at the TLC literary conference, Niffenegger said, "I can see from history that the ebook [as a medium], while currently a little clunky and weird, is inevitably going to be gorgeous, so I kept the ebook to myself. For a long time I was getting a reputation as this weird book luddite, but what I was doing was preserving my ebook virginity. The Time Traveler ebook sat around not being used for much of anything for what seemed like a long time, because everyone was pestering me for it. All my publishers were like: 'So, let's have it,' and I just did that thing where you don't answer your email."
GoodEReader partnered with Zola earlier this year on a giveaway of the ebook prequel to the bestselling Warm Bodies (Atria),a zombie take on Romeo & Juliet by Isaac Marion. So what prompted Niffenegger to choose to work with relative newcomer Zola Books on the long-awaited release of her book? The author has a long standing professional relationship with Zola's founder, Joe Regal, who happened to be Niffenegger's literary agent.
"He wanted to bring a community of readers, authors and publishers – everyone involved – get them together and get them aligned, so they were functioning as an ecosystem rather than everyone trying to eat each other," said Niffenegger. "So I said to little Zola, you can have the Time Traveler ebook, and I will write a sequel for you."
Much like Marion's prequel, which provided some insight into what caused the widespread disease in his zombie novel, Niffenegger's sequel will give readers an exclusive look at a key element from her work. The 30-page e-short will tell the story of Alba, Henry and Claire's time traveling daughter.
Mercy Pilkington is a Senior Editor for Good e-Reader. She is also the CEO and founder of a hybrid publishing and consulting company.