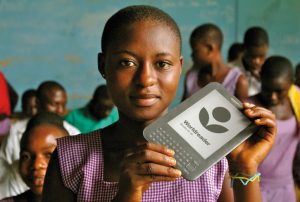 In some positive news for publishers Simon&Schuster and HarperCollins, who have been dealing with the shift in the ebook market and the litigation settlements in the Apple price fixing case brought on by the Department of Justice, the publishers announced a partnership with Worldreader to bring their titles to sub-Saharan Africa as part of the charity's ebook distribution program.
The two publishers, along with Ripley Publishing, are working with Worldreader to increase literacy in a region that is greatly affected by a lack of access to up-to-date and reader-appropriate print materials. Ebooks, therefore, are the perfect complement to outlying areas that struggle to provide literacy content.
Schools who have partnered with Worldreader will begin the academic year with access to over 900 digital titles. Best of all, of those titles, nearly 500 ebooks are works by African authors and publishers. As the donated works from Big Six publishers—joining Random House and Penguin Young Readers Groups, who have been a long time partners with Worldreader—will expand the students' horizons with foreign materials, the program also recognizes the great aesthetic and motivational value of providing local texts to the students.
This partnership with the three new publishers nearly triples the size of the Worldreader catalog from its original offering of just three hundred titles only a year ago, which comes as great news for the more than 1000 students who attend schools enrolled in Worldreader's program.
"Digital publishing lets all of us share the world's greatest books with the world's poorest people," said David Risher, CEO and co-Founder of Worldreader, in a press release. "We're thrilled that publishers like Simon & Schuster and authors like Michael Morpugo are helping us lead the way by donating their e-books to us and to children throughout the developing world."
Below is a sample of the publishers, authors, and content that is now available to students through the ebook program.
| | | | |
| --- | --- | --- | --- |
| Publisher | Country | Sample Books/Series | Authors |
| Egmont UK | UK | War Horse, Kensuke's Kingdom | Michael Morpurgo |
| Simon & Schuster | US | Books from the Hardy Boys and Nancy Drew Series | Franklin W. Dixon; Carolyn Keene |
| Hardie Grant Egmont | Australia | Zac Power series, Go Girl series, Space Scout series | Chris Morphew, Christopher Milne, Meredith Badger, and other top authors |
| Penguin Books Ltd (Puffin) | UK | Charlie and the Chocolate Factory, Fantastic Mr. Fox, James and the Giant Peach, Matilda | Roald Dahl |
| Penguin Young Readers Group | USA | Shark Wars, book 1; Who was King Tut?; Who was Jane Goodall | Ernie Altbecker, Roberta Edwards |
| Random House Inc. | USA | The entire Magic Tree House Series, Barbara Park, Jerry Spinelli, and Step into Reading | Mary Pope Osborne, Barbara Park, Jerry Spinelli, and Step into Reading |
| Sub Saharan Publishers | Ghana | Sosu's Call, Taise goes to the Sea | Meshack Asare |
| HarperCollins Publishers | Canada | The Greatness Guide | Robin Sharma |
| Ripley Publishing | USA | Ripley's Believe it or Not!; The entire Ripley's Bureau of Investigations series for young readers | |
| Jacaranda Designs | Kenya | Beneath the Rainbow; The Great, Greedy Ogre, Totems of the Kisii | Bridget King; Abel O'Keragori |
| New York Review Books | USA | Lizard Music | Daniel Pinkwater |
| Longhorn Publishers | Kenya | Kiswahili Mufti Levels 1-3; Comprehensive Social Studies and hundreds of readers in English and Kiswahili | |
| RosettaBooks | USA | Slaughterhouse Five, Brave New World, A Passage to India, Cat's Cradle, I Am Legend, MARS and Shoeless Joe | Kurt Vonnegut, Aldous Huxley, E.M. Forester, Ben Bova, WP Consella and Rishard Matheson |
Mercy Pilkington is a Senior Editor for Good e-Reader. She is also the CEO and founder of a hybrid publishing and consulting company.