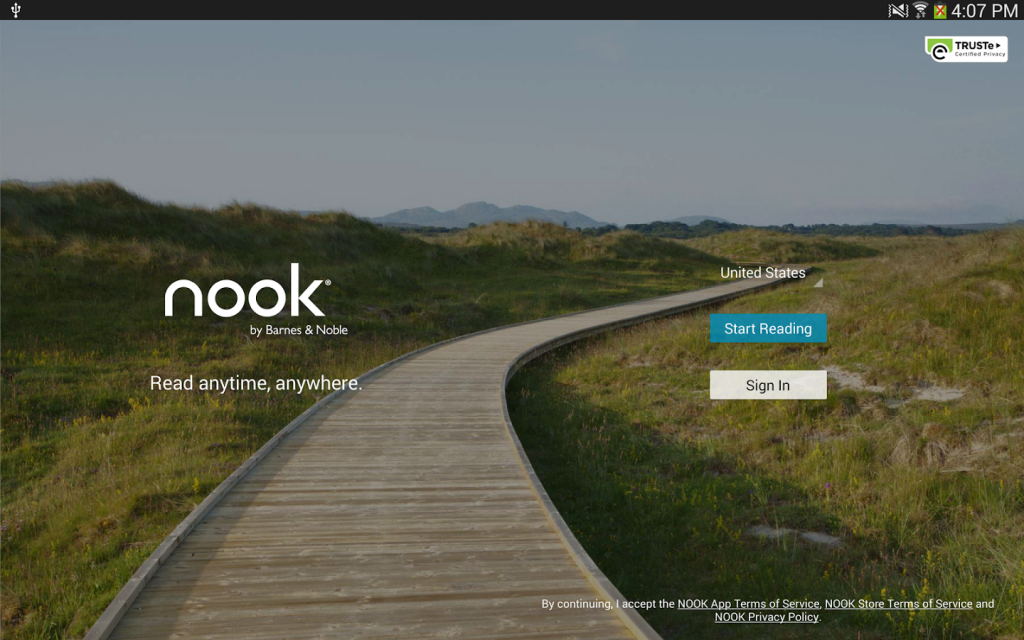 The Nook app for android has been updated, providing easier access to Barnes and Noble's extensive catalogue of books, newspapers, magazines and comics. According to the Google Play store, Nook has been updated to fix bugs, allow users to browse and sample books without an account and to get deal and book notifications.
It is clear Barnes and Noble doesn't want the pain of creating an account be a barrier for new users in experiencing the quality of its catalogue. By not requiring an account, this no commitment relationship could be enough to get users from other ebook stores hooked and wanting more.
One of the downsides of the new update is the addition of notifications. Barne's and Noble may view it as a way to make you aware of deals and recommendations. In our view, having a notification that acts more like spam is not the best way to make friends. According to Barnes and Noble it can be disabled by following the these steps:
Follow these steps based on your Android version. On Jelly Bean 4.1 or higher devices 1) Go to the device settings and open "Apps" or "Application manager" 2) Select "NOOK" 3) Uncheck "Show notifications". On Ice Cream Sandwich 4.0.x and lower devices 1) In the NOOK app go to Settings 2) Uncheck "Show notifications"
The new update provides a great opportunity to go check out deals or to try out that book, magazine etc. that your are not sure about. Just make sure to turn off the notifications first.
The Nook app offers access to over 2.5 million books, which includes 1 million free books. Users also have access to magazines, newspapers, graphic novels and comics all from their phones and tablets.
You can download Nook for Android from the Good e-Reader App Store.
Previously, Neal worked in equity research for Investment Banks in Toronto. He conducted corporate, industry and financial analysis on a variety of sectors from technology to mining. He went to Wilfrid Laurier University where he studied Communications and Business. He has traveled to over 30 different countries and is currently involved in a startup. If you have any questions about any of his articles, please send Neil Belovay an email to belo0410@gmail.com