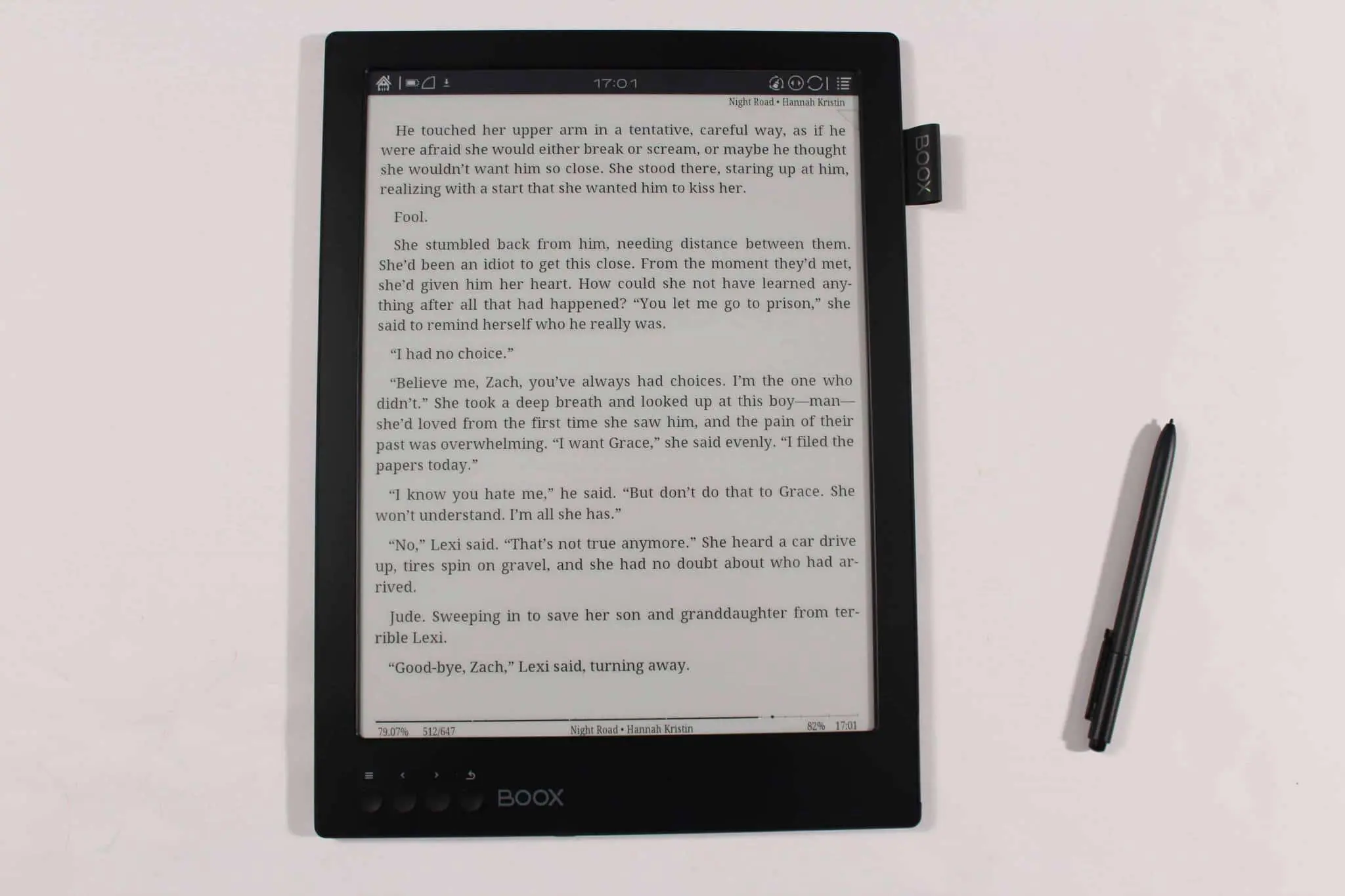 The Onyx Boox Max Carta is the second generation 13.3 inch e-reader, the original used E-Ink Mobius. This device is a tour de force when it comes to digital note taking and the overall Android experience. It was designed for two target audiences, professionals and consumers. Does the Max Carta live up to the hype and how does it compare against the Sony Digital Paper?
Hardware
The Max Carta features a 13.3 inch E-Ink Carta display with a 2220×1650 and 207 PPI. The screen is not flush with the bezel like the Sony Digital Paper DPT-RP1, but has a sunken one. It is only compatible with the stylus and does not have a touchscreen. Luckily, it has manual page turn buttons that are compatible with the stock e-reader apps that are pre-installed. Underneath the hood is a Freescale IMX6 1GHZ processor, 16GB of internal storage, SD support for up to an additional 32GB and 1GB of RAM. It has WIFI, Bluetooth, 3.5mm headphone jack and a mono speaker on the back.
The Carta is heavily billed as a digital note taking device and you will primarily use the stylus for this task, in fact you need the stylus for everything. The stylus can write notes using the stock app, and you can click on the different pen sizes for small details or use a larger one for big fat lines. The stylus is not pressure sensitive, ditto with the DPT-RP1, in fact the only 13.3 inch on the market with pressure sensitivity is our own Good e-Reader 13.3.
One of the biggest advantages the Carta has is the different backgrounds when note taking. You will often find yourself using the blank page or the one with linespacing. There are four different options, depending on how much spacing you need between each line, perfect for that PHD thesis! One of the most interesting backgrounds the Carta offers is for musicians, you can write in nomenclature.
You are not totally reliant on just jotting down notes or freehand writing. There are a few shapes you can employ (square, circle, octagon and triangle) once you pick one you want, you can make it as large or as small as you like.
One of the most compelling aspects about the MAX Carta is the support for audio and bluetooth. This the only 13.3 inch e-reader on the market that has a 3.5mm headphone jack and a small speaker on the back. You can download Android apps directly from Google Play, such as Audible or MX Player and listen to music or an audiobook. Bluetooth allows you to use external devices or hook up a wireless speaker. We have not tested this function, but it looks like has support for lots of products, but you need the dedicated apps for all of the proper drivers.
VS the DPT-RP1
The Sony Digital Paper DPT-RP1 features a 13.3 inch E-Ink Carta screen with a resolution of 2200 x 1650 and 207 PPI. The screen is completely flush with the bezel and not only does this make the device have a premium feel, it also provides a ton of benefits. You can easily employ the stylus to take notes from one edge of the screen to the other, whereas the original Digital Paper had a sunken screen and was more challenging to do this.
Underneath the hood is a Marvell IAP140 64-bit Quad-core IoT Applications Processor and ARM Cortex-A53 CPU, up to 1.2GHz, and has a separate power low-power Cortex M3. It has 1GB of RAM and 16GB of internal memory, but when you power it on the first time, there is 11 GB. The rest is reserved for the Google Android operating system and some of the stock PDF templates that are available.
Primary Differences between Max Carta and the Digital Paper RP1
The Digital Paper has a touchscreen and stylus support, the Onyx just has a stylus layer.
The Digital Paper Stylus has a highlight and erase button, the Onyx just has an eraser.
The Sony has graphite pen nibs and plastic ones, the Onyx just has one.
The Onyx has a full Android experience with Google Play, the Sony has a custom Android ROM.
Sony provides a better note taking experience than the Onyx.
Onyx has a better e-reading experience, it supports more formats than just PDF. It has physical page turn buttons.
The Sony is overall more robust, but has limited functionality compared to the Onyx.
Onyx has a 3.5mm headphone jack and a mono speaker, Sony has no audio support.
Software and e-Reading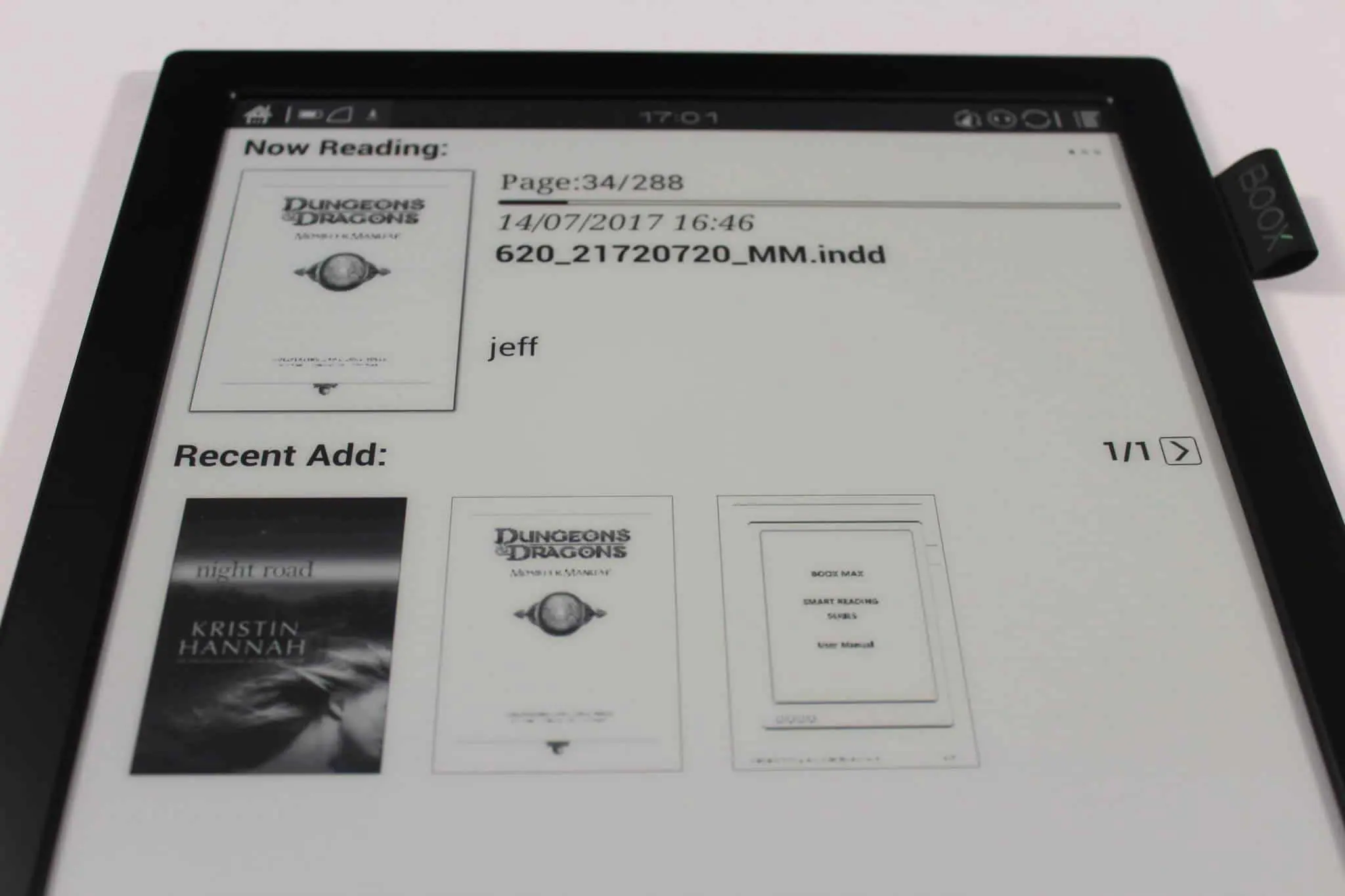 The home screen comprises of the last few books you have opened on the e-reader and it shows the cover art. There is a fair amount of negative space between the books on the home screen and the UI at the bottom, which has your library, storage, apps, settings, notes and internet browser. The library area holds all of your e-books but does not have any features to sort by author, title or publisher. It just lists the books or shows you all of them with larger cover art. A little too basic for me.
Storage is your file explorer, it just shows the internal directory browser, the app area has a bunch of stock apps that are optimized for E Ink (calculator, calendar, clock, dictionary, gallery, email, OReader, search and settings). Google Play comes preloaded on the Max Carta, and the device is using Android 4.04. You might think that is this an outdated version of Android and hardly any modern apps such as Evernote or Onenote are not compatible. What I have learned from our own Good e-Reader 13.3 is that Android 4.04 is 100% compatible with E-Readers, later versions cause a ton of problems and require extensive development time to upgrade the OS, and make sure everything works. In the end, it simply isn't worth it. The types of people that spend between $600 and $1,000 for an e-reader are few and far between.
There are a few default e-reading apps that are bundled on the Carta, but most have limited functionality. You can adjust the font type, font size, line spacing, but the UI is confusing and not intuitive. EPUB and DOC files are great, you can use the manual page turn buttons to read, which is nice when you don't want to employ the stylus. If you decide to download KOREADER, Kindle, Kobo, Nook or Moon+ Reader, these apps are not compatible with the page turn buttons, so you always need to hold the stylus. This gets tedious if you want to use the Max Carta as a dedicated e-reader.
Overall, I found that reading e-books is great, the page turns are really fast, although the stock PDF app is really lacklustre, it doesn't have pinch and zoom support, so you won't be able to read anything when the text is too small. You can zoom in some specific aspects of the page with a crop feature, but I do not recommend it. I advise if you are going to be reading PDF files, to get stuff that is already optimized with large text.
Wrap Up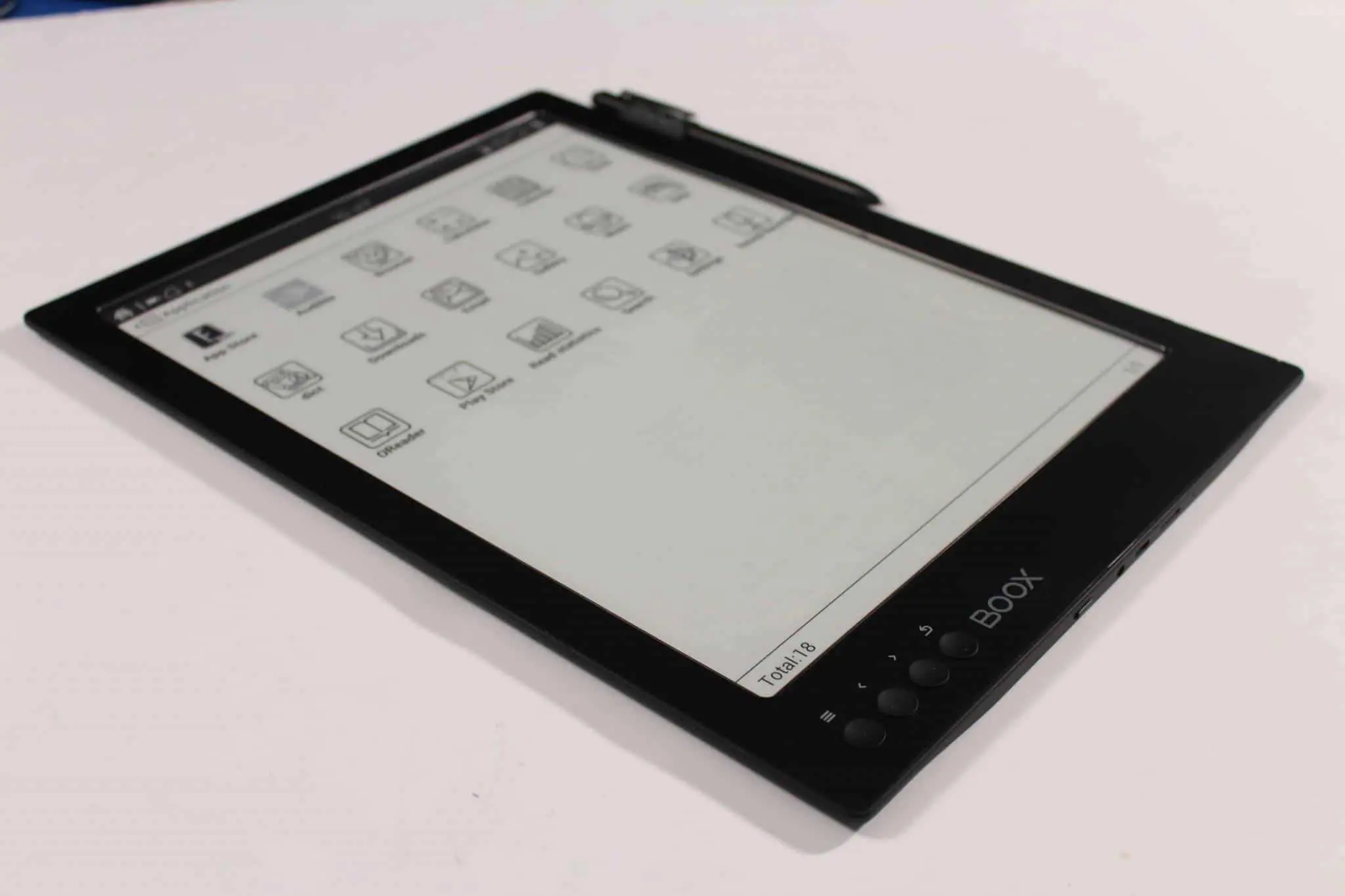 The Onyx has tons of features that no other 13.3 inch e-reader currently has. Audio and Bluetooth are too major selling points. Being able to hook up a wireless keyboard or mouse is compelling, but I find the Onyx has too many drawbacks to make it a unit you will use on a daily basis.
I would recommend this product to people who need to have a dedicated device that is designed to work perfect in direct sunlight. With e-ink, you have no glare, it is the closest you will get to real paper. I would also recommend it to professionals, such as lawyers or academic students in a classroom setting. Sadly, I cannot endorse it as a dedicated e-reader, relying on the stylus all the time is an exercise in patience.
If you want to invest in the Max Carta, is the most expensive e-reader on the market. It retails for around $800 euros, which is around $1,100 USD.
PROS
Audio
Bluetooth
Google Play
Physical Page Turn Buttons
Google Build Quality
CONS
100% reliant on the stylus to interact with the screen
Erasing notes you have taken is slow and lethargic
Stylus is flimsy
Sunken screen makes it hard to draw edge to edge
Rating: 7/10
Michael Kozlowski has been writing about audiobooks and e-readers for the past twelve years. His articles have been picked up by major and local news sources and websites such as the CBC, CNET, Engadget, Huffington Post and the New York Times. He Lives in Vancouver, British Columbia, Canada.