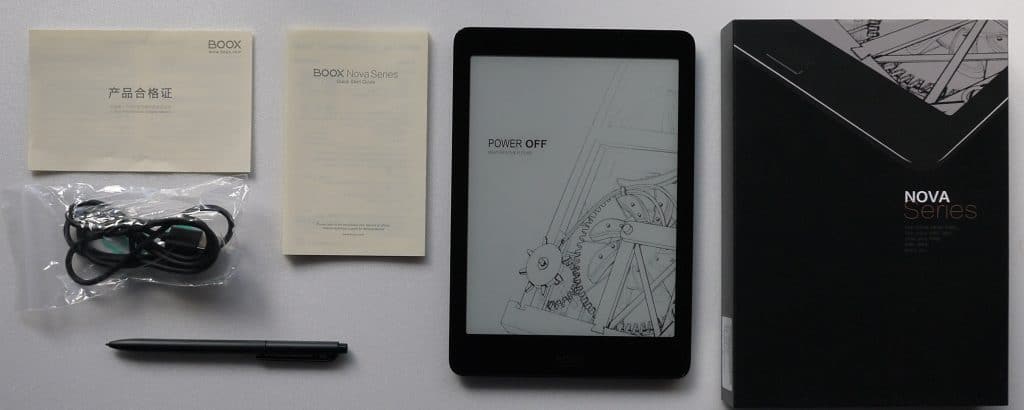 Onyx Boox has released their first e-reader of 2019 and it is the Professional edition of the Nova e-reader, which was a big success last year. The big selling points behind this new device is that it has a WACOM screen and has a digital note taking app, so you can draw, annoiant or edit PDF files. It also has a touchscreen for pinching and zooming or swipes and gestures.
Hardware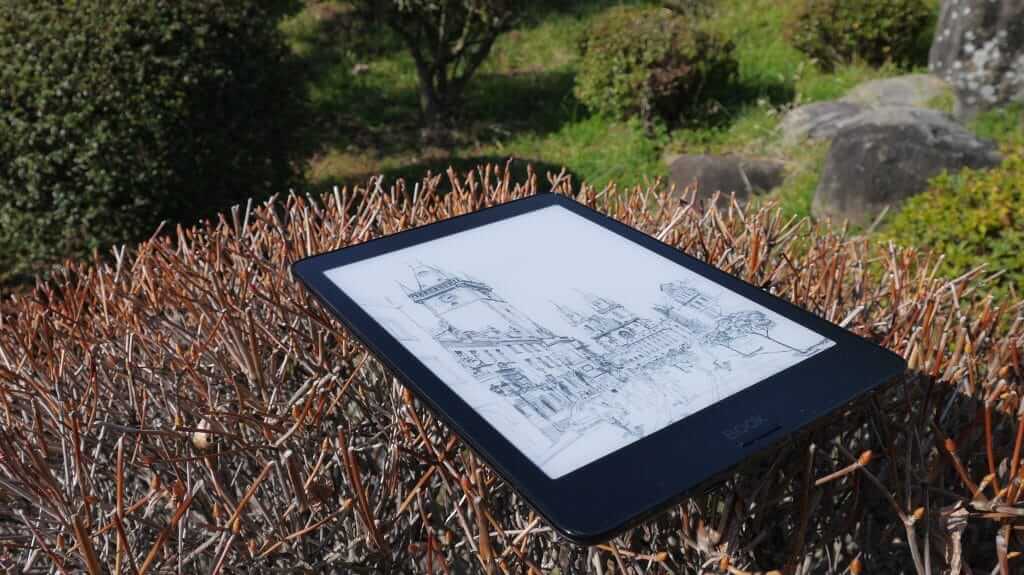 The Nova Pro features a 7.8 E-Ink Carta HD screen with a resolution of 1872×1404 and 300PPI. The screen is completely flush with the bezel. You can read in the dark via the front-lit display and it also has a color temperature system. You can have both lights on at the same time or chose one or the other. A color temperature system basically makes the screen emit less harsh white light when reading at night and can be optimized to display various levels of orange. The lighting system on the Nova Pro is fairly robust and the light can be shut off completely.
Underneath the hood is a 1.6GHZ quad core processor, which is the same one that the Onyx Boox Nova employs. There is 32GB of storage, 2GB of RAM, USB-C, 2800 mAh battery and Android 6.0. This device has Google Play available and this will allow you to install any apps you already have on your smartphone or tablet, right on the e-reader. It also is compatible with Google Play Books and other Google branded apps, since it has the Play Framework already installed, out of the box.
The overall design of the Onyx Boox Nova Pro is rather minimalist. It has a sleek black chassis with a home button on the bottom of the front of the unit. It also has a USB port on the bottom and there is no SD card, so you have to make due to the internal storage. There are no speakers or a 3.5mm headphone jack, but it does have Bluetooth so you can listen to audiobooks, music or podcasts with a pair of wireless speakers. The back of the e-reader is fairly bare, it is made of hardened plastic and has the Onyx Boox logo.
The dimensions are 196.3×137×7.7mm and it weighs 275g. It retails for $299 and is available to purchase from the Good e-Reader Store.
Software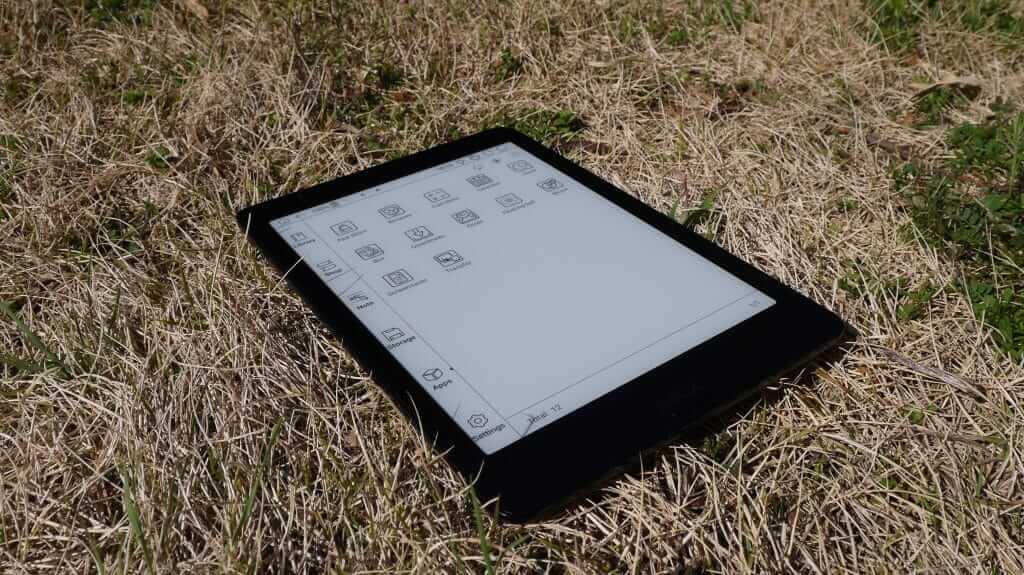 Onyx Boox developed a new UI for its modern line of e-readers a few months ago and it overhauled many aspects of the device. This includes a bookstore, 30% speed increase of opening PDF files, better two-page spread management, handwriting search & edit, bluetooth keyboard input on notes, app management & optimization.
The Nova Pro additionally received a new firmware update right out of the box that is only applicable to this particular model, as well as the upcoming Note Pro. The big changes include a better experience while editing PDF files and a handwriting recognition system that will convert it to text.
I mentioned the UI and let's talk about some of the features. At the very top of the screen is a bunch of Android UI entries. This includes remaining battery life of your device, WIFI, A2 mode, disable/enable touchscreen, Bluetooth and volume buttons. If you click at the very top of the screen a little dropdown menu appears that allows you to quickly disable/enable WIFI, Bluetooth or power saver mode.
Onyx does something very interesting with the library menu, which contains all of your PDF files and e-books. You can scan for metadata, which adds covers to titles that do not have them. This often occurs with royalty free content, but also ones that are issued by major publishers. This is useful because you no longer have to use a program like Calibre, you can do it directly on the e-reader. You can also do other things like switch between grid or list view or delete the book entirely off your device.
The file explorer allows you to browse everything that you have sideloaded on your device, which would include ebooks and PDF files that you did not copy to the main books directly, sideloaded apps, audiobooks or music.
Onyx has their own App store, which showcases apps are are compatible. Onyx basically tweaks their firmware so e-reading apps like Kindle, do not have animated page turns. All of the apps are Chinese, so they are not very relevant to a Western audience. They do have a Google Play patch file on their store, which makes Google Play work. This is obviously going to be the main app store of choice, so it is compatible with any Android app that is has support for Android 6.0. In order to get Google Play to work, you need to first access the Onyx App Store and install a patch file. If this does not work we have a comprehensive tutorial that is available HERE.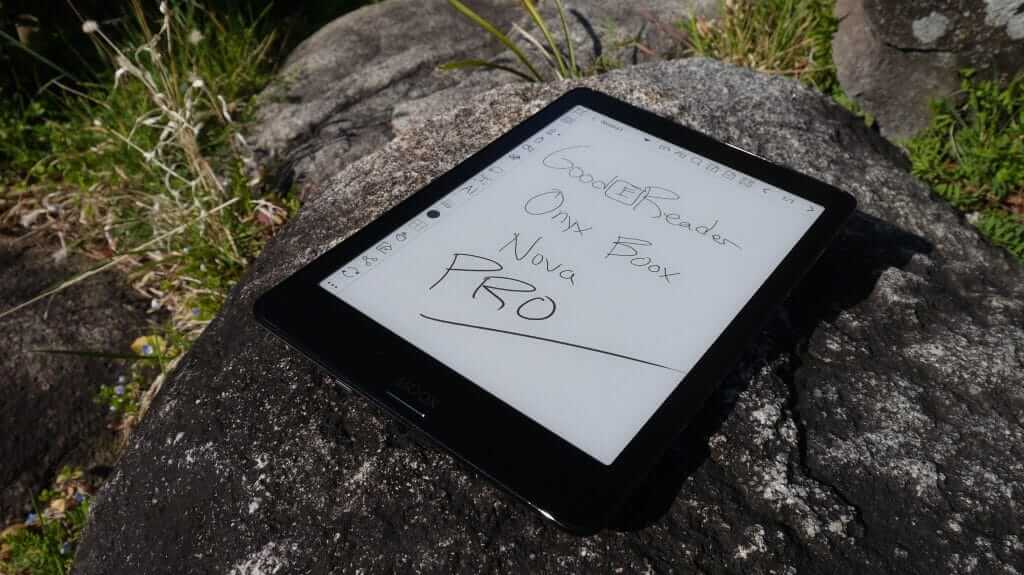 The big selling point behind this device is the stylus support and the digital note taking app. The stylus has 4096 different degrees of pressure sensitivity, useful for really flexing your drawing muscles. There are a few different pen and pencil types to make the lines thicker or thinner. There is an Ink setting, which is useful for painting a large section of the screen black and then a white version of Ink, where can draw inside the back area.
There is a text option that opens up the keyboard and allows you to write a body of text. This text can be repositioned with a box that surrounds it. You can reverse it, make it larger or smaller or drag it anywhere in the document. This might be really useful for speech or thought bubbles for artists that are drawing comic book or manga. If you write down a bunch of text by freehand, the new engine will automatically convert it to proper text.
Using the stylus is very robust and erasing content is a breeze. There is an eraser at the top that by default will just erase the last thing you did. But there are more advanced settings to delete a specific area, but highlighting it, and also delete everything on any given page.
There are only a dozen different backgrounds available, such as sheet music and college rules. There is an option to import in your own backgrounds, useful for shopping lists or appointments.
You can save all of your notes as PNG files, which can be saved to the internal storage. You can use a cloud service and send them right to your account or plugin your Pro to your PC or MAC and manually transfer the files to your computer via the USB cable.
E-Reading Experience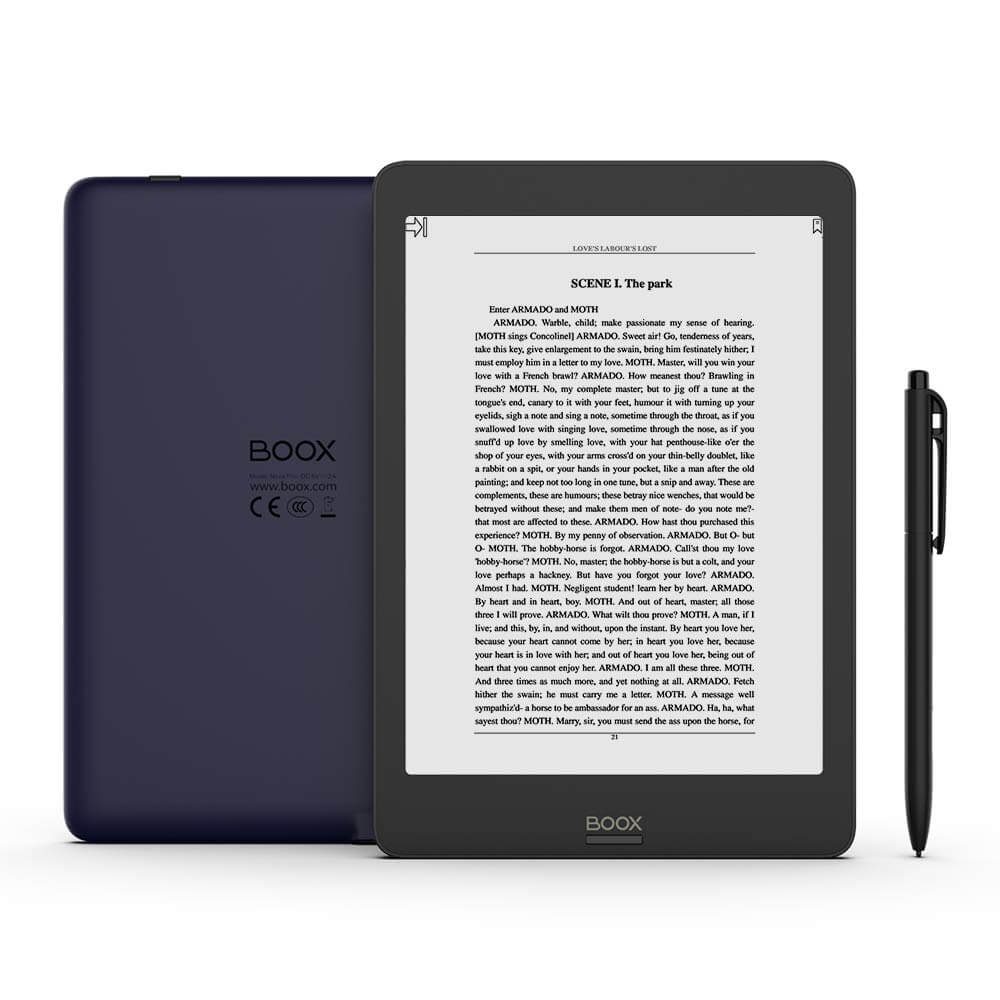 Onyx has a stock e-reading application that can read PDF, EPUB , TXT, DJVU, HTML, RTF, FB2, DOC, MOBI, CHM documents. The manual page turn buttons only work with the built-in e-reading app and is not compatible with Android apps, such as Nook or Kobo. This is because these apps were designed with a touchscreen in mind and not physical buttons.
Reading on a big 7.8 inch screen is fairly good, but I believe the MAX 2 does a better job because it has support for A4 documents.
Page turns on the Nova Pro are lighting quick and there are many options to change the font-type, font size, line spacing or margins. There are plenty of advanced settings depending on your region, such as support for Arabic, Russian, Chinese and 50 different languages.
There are few different features that I really like. One is being able to disable the navigation bar and UI trays when reading an ebook, so the entire page is just text, without any bothersome notifications in the system tray. Contrast will give you flexibility to make the text lighter or darker, giving you the ability to make the text bolder, without having to use a bold font. I like the way Onyx is doing it, because you do not need a dedicated bold font like Ember Bold, you can just use a favorite font and make it bold on its own. If you find a level you are completely happy with, you can checkmark the system option, to apply it to every single ebook.
If you belong to a book club or just like to edit ebooks, there is an option to open up a split screen view in landscape mode. A blank page is on one side of the screen and the text is on the other. You can draw and take notes, but you cannot edit or draw on an ebook directly, this is just a basic workaround.
The Nova Pro does an adequate job at viewing PDF files. You can draw right on the PDF document when Sketch mode is enabled. Edited PDF documents can be saved as independent documents and can be uploaded directly to Dropbox or Evernote, since the MAX2 has syncing functionality with these two services in the settings menu.
Wrap up
There are various 7 inch e-readers on the market that the Nova Pro competes against. This includes the Kobo Forma and the Kindle Oasis 2. These two devices are running Linux and lock you into their ecosystem. This makes sense for the business as hardware sales are one thing, but content is where Amazon and Kobo make their real money. Onyx primarily generates all of their revenue through hardware alone, which is why every year they have multiple new e-readers in their portfolio, each generation becoming better than the previous.
I believe the Nova Pro will make sense for people who want a large 7 inch display that has a WACM screen and a stylus. This is their big advantage over Amazon and Kobo, which are basically just ebook readers. The Note Pro appeals towards professionals who want a replacement for paper or students who want to quickly jot down notes from lectures, without having to spend the type of money as an iPad Mini or Pro would cost.
Onyx Boox Nova Pro
299.99
Michael Kozlowski is the Editor in Chief of Good e-Reader. He has been writing about audiobooks and e-readers for the past ten years. His articles have been picked up by major and local news sources and websites such as the CBC, CNET, Engadget, Huffington Post and the New York Times.