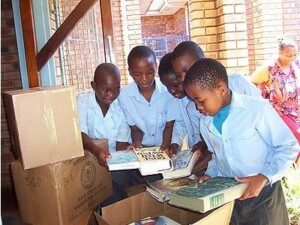 Digital publishing has been arguably hailed as the future of reading due to its ability to topple so many of the barriers to reading. Issues like censorship, environmental impact, access to reading materials, language and translation concerns, and more, could all be alleviated with the technology behind reading.
But Paperight seeks to make a return not only to physical books, but even unbound copies that were essentially spit out of a corner store copy machine. How could this possibly be an improvement? Because as Arthur Atwell has found, having something is almost always better than having nothing.
"I've worked in digital for five years and I truly believe it is the future. But I've concluded that we need a solution that works for everyone today. Paperight is that solution," said the founder in a press release. Paperight has developed a rights' clearing house method of allowing small town copy shops in Africa to access digital copies of titles from the catalog and print those for customers on the store's own copier machines. The authors' fees, publishers' fees, and Paperight's fee are all included in the price of the book, which is still sold at 20% to 30% less than a bound bookstore edition due to the lack of binding and cover art. Each copier edition is watermarked and printed with the name of the store in order to prevent piracy.
Organizations like Books for Africa work to bring reading material to people who simply cannot get a book, but now Paperight has partnered with Realmdigital to try to bring the concept to outlying areas in Africa where access to libraries, bookstores, and even to digital reading may not be feasible. Without capable internet access to retrieve more books, an e-reader becomes useless; but making it possible for local store patrons to access books instantly in a crude print-on-demand system benefits both the store proprietor and the reader who otherwise could not have a book.
Realmdigital CEO Wesley Lynch says he believes Paperight "promises to be one of the great developmental technologies coming out of Africa, with global potential. I hope the publishing industry gives it the support it deserves."

Mercy Pilkington is a Senior Editor for Good e-Reader. She is also the CEO and founder of a hybrid publishing and consulting company.