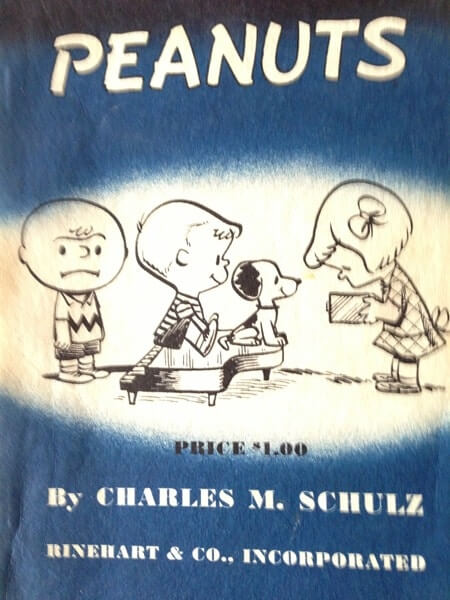 I must admit that I didn't realize that Peanuts has not been available in ebook form. Soon, however, the holders of the Peanut franchise will be bringing the cartoon to all the leading ebook stores—Amazon, B&N, Kobo, Google Play and others. More than 60 titles will be offered, including the complete Peanuts newspaper strip archives, Happiness is a Warm Blanket, Charlie Brown, A Charlie Brown Christmas, and more.
The publisher will be using the Graphicly Digital Distribution platform, which allows publishers to upload one file and distribute it everywhere. "For year, publishers have waited like Linus in the pumpkin patch for an integrated, simple, and cost-effective way to convert, distribute, and promote digital and interactive books. We are excited to partner with Peanuts Worldwide to help make the rich history of Peanuts available everywhere," said Micah Baldwin, CEO and Founder of Graphicly.
I have a huge collection of the Peanuts books, including the original one, entitled just Peanuts, which was first published in 1952 by Rinehart & Co. A picture of the cover is above. The price, printed on the front cover, was $1.00. The softcover book is printed on cheap paper and is yellowing and becoming very brittle. I am afraid to read it because it will surely fall apart if I handle it too much. It will be nice to get a digital edition in addition to my own little piece of history.
Paul Biba is a retired corporate international lawyer who has worked in 53 countries. Since he is a very fast reader he came to ebooks out of self-defense in order to avoid carrying a suitcase of books on his travels around the world. An early ebook adopter, he has read on Palms, Pocket PCs and practically every device that has been out there. After being a frequent contributor to TeleRead.com, the oldest ebook/epublishing blog on the net, Paul became TeleRead's Editor-in-Chief, a position he recently resigned. Send Paul an email to paulkbiba@gmail.com