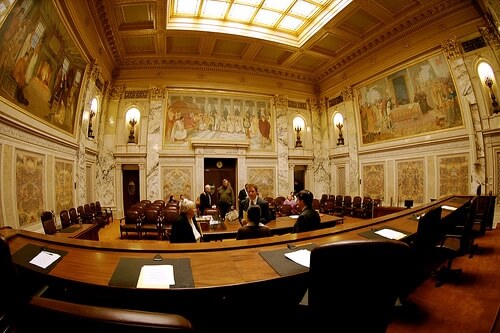 In the investigation launched by the Department of Justice against Apple, Inc and five large publishing houses for alleged price-fixing in order to severely wound Amazon.com, the publishers have successfully been divided as to the outcome. The lawsuit, officially filed yesterday by the DoJ, only names Apple and two of the accused publishers, as the remaining three took the settlement offered to them in order to avoid trial.
One of the major holdouts in the settlement offers was Penguin Group, which also happens to be the publisher named more often than any of the other publishers involved in the investigation and resulting lawsuit. Penguin Group's CEO John Makinson issued a statement yesterday that basically outlines the company's reasons for going to court over the issue, rather than accept the punitive settlement offered to the publishers. The other holdout in the investigation is Macmillan, who will also now be going to trial.
Among the accusations the DoJ will now bring up in court is that Penguin was actually very instrumental in arranging the "agency model" with Apple in an attempt to force the price of ebooks higher than they were currently being sold for, namely, that Amazon was purchasing the ebooks at the original wholesale price and selling them for a marginal profit—or in some cases, an actual loss, which it is allowed to do as long as it can afford to—in order to sell Kindle e-reader devices. Apparently, the DoJ feels that Penguin and Apple worked together to muscle-out Amazon by getting the major publishers to refuse to let it sell ebooks that way.
Also, and perhaps this will be harder to justify than the agency model that so many bookseller organizations and platforms have actually spoken in favor of, Penguin's CEO and Penguin USA's CEO David Shanks are both specifically named in the attempt to arm-twist the lone Big Six publisher who stayed out of the entire collusion, Random House. There are also alleged concerns that Shanks attempted to get other publishers to rally against Random House for its refusal to cooperate with the price-fixing deal.
But Makinson wouldn't be willing to snub the deal offered and take this to a lengthy and expensive court proceeding, one which could result in even higher penalties than the settlement was offering, if he didn't feel confident that there is more to these allegations than the Dept. of Justice has found.
"We have had the opportunity to study the complaint released by the DOJ today and nothing in this lengthy document causes us to veer from that position. The document contains a number of material misstatements and omissions, which we look forward to having the opportunity to correct in court…We believed then, as we do now, that the agency model is the one that offers consumers the prospect of an open and competitive market for e-books."