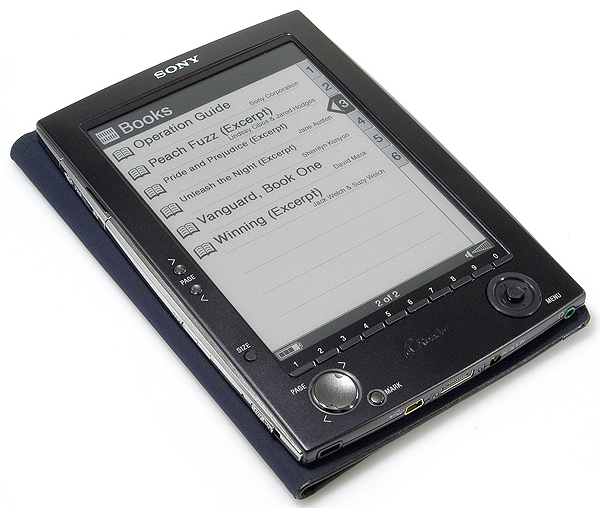 Sony has abandoned making new e-readers and fully closed down their online bookstore in North America, Europe and Australia. Sony always employed high build quality in their complete line of electronic readers, users still cling to their old models, as if they were a precious metal.
e-Reader technology does not enjoy the same robust innovation that we see in smartphones, tablets and smart watches. Apple, Google, Intel, Nvidia Samsung, LG and a host of others pour millions into new technologies that make products like the iPhone 6 Plus, Apple Watch or the Pebble possible. If you see someone with a four year flip phone, they tend to draw negative looks. e-Reader owners are a different breed, and tend not to be social outcasts if they rock a device from the same time period.
Amazon, Barnes and Noble, Kobo, Icarus, Pocketbook, and Onyx tend not to lead the charge in e-reader innovation. This is mostly because its companies like e-Ink, Neonode, Sony, Qualcomm and Texas Instruments that develop all of the tech that goes inside the readers. They design everything from the processors to the e-paper or touchscreen technologies. All of the major players in the e-reader sector tend not to pour the type of money in new technologies, because not enough units are manufactured or have true mass market appeal like tablets or smartphones. The slow incremental update cycle for e-readers does not really give people a reason to upgrade.
Why are readers so enamored with a company that have completely abandoned the consumer sector? A number of users have weighed in from all four corners of the internet.
Ctop said "I started with the T1, got a T2 after that broke and just bought a T3 as a backup device. But in fact the T3 is so nice, that I will keep the T2 as backup instead. Over the years I have spend many hours with my Sony Reader and certainly don't want to leave home without it. Especially with the T3 that is easily possible because it is such a small and light device. Although I also have an iPad, I much prefer the Sony for longer reading."
katenepveu weighed in "when my Sony ereader died I went on eBay and bought the exact same one. (Someday I'll have to get used to a new eInk-style reader"
Ripplinger has a panache for the older models "I still love my Sony 350s and it's still the reader I judge all others by (nothing comes close). The design of the hardware is beautiful (especially since I managed to get my hands on 2 blue ones!), the software is rock solid (I don't think I've had to do a reset more than 2x in over 4 years, and that was due to a badly formatted epub), and when you add PRS+ to the x50 line of readers it can't be beat."
Carolyn gushed "I have only had Sony ereaders and while I'm sure kindle is fantastic..I just love my Sony for it's versatility – I am just an ereader only person, don't need the gadgets…but want to read all electronic publications with ease and can do that with Sony. epub, pdf….etc. It takes many formats and is a pleasure to use. I can read old .pdf's etc that someone gives me and usually, it works fairly well. I buy my share of books from SONY regardless… and I note how many more books I read since I have had an ereader. I hope these never go away! "
Wrap Up
Sony e-readers are still being sold through merchants that still have not run out. There is also a vibrant reselling market via eBay and Amazon for users looking to buy a backup model or two.
Good e-Reader has reviewed over 119 e-readers over the years. When I first got into the review game, it was well before Barnes and Noble or Kobo hit the market. Suddenly, CES 2010 was the tipping point, where suddenly there were hundreds of companies getting into the market. Some are still around, but others just capitalize on crazes, like phones, tablets, and now wearable tech. A few of the players still around just outsource everything to China and slap their own label on it.
Sony has always led the charge in e-reader innovation. They were the first ones with a front-lit display, the first ones to adopt a touchscreen and the only e-reader to integrate Overdrive, for easy library book lending. Their hardware has always been a shining beacon of hope in the dirge of cheap and crappy devices. It is no small wonder why users still love their Sony e-readers, even if Sony has given up on the users.

Michael Kozlowski is the Editor in Chief of Good e-Reader. He has been writing about audiobooks and e-readers for the past ten years. His articles have been picked up by major and local news sources and websites such as the CBC, CNET, Engadget, Huffington Post and the New York Times.