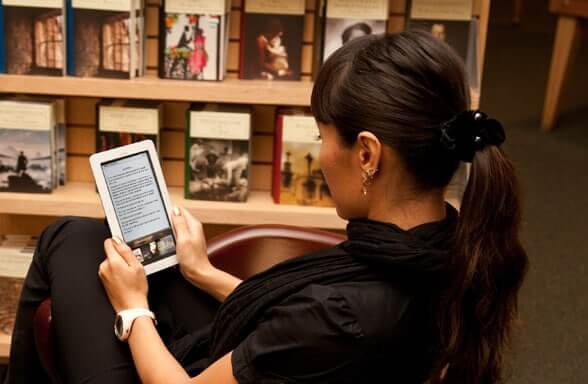 The Pew Research Center's Internet & American Life Project, funded by the Bill & Melinda Gates Foundation, has compiled and published the data from several surveys which polled people of various demographics about their digital reading habits. The report, published today, demonstrated consumers' attitudes towards e-reading across various device platforms.
Interesting statistics from the Project revealed that 42% of respondents read ebooks on a computer and a nearly equal number of people read on a dedicated e-reader device. The surprising data included the result that only 23% of users read ebooks primarily on tablet devices, and another 29% read ebooks from the screens of their smart phones. Understandably those numbers total more than 100%, but it is because the Project allowed respondents to indicate if they read on more than one device or platform.
It is encouraging to note that the Project seems to show that people who read electronically actually read more content than people who only read via print editions. The average number of ebooks read per person in a calendar year was 24, compared with only 15 books read by the average print reader.
"Every institution connected to the creation of knowledge and storytelling is experiencing a revolution in the way information is packaged and disseminated," noted Lee Rainie of the Pew Internet Project, one of the authors of a new study on the rise of e-reading, in the press release. "It's now clear that readers are embracing a new format for books and a significant number are reading more because books can be plucked out of the air."
It is partly this ease of instant access to books that has made e-reading so popular, although the survey cited the ability to carry a large library of books in one devices and the portability of a large number of books when traveling as other reasons for adopting e-reading.
While only a few words were devoted to the topic, one very important statistic concerning ebook lending was mentioned. E-reading device owners across all the platforms were more likely to buy books than borrow them. While the ebook lending debate still has not come to a full resolution, it would be wise for the publishers to remember that digital readers are more likely to buy a book. Amazon also noted this to be true in its monthly KDP Select report, stating that Amazon Prime members who had borrowed the first book in Suzanne Collins' bestselling Hunger Games trilogy were more likely to buy the next two books in the series in order to avoid the wait time before they could borrow those titles.
Reports such as this by the Pew Internet Project demonstrate important variables for those agencies in positions of authority to adopt e-reading practices, such as publishers, libraries, and academic institutions. The entire press release can be read below.

Mercy Pilkington is a Senior Editor for Good e-Reader. She is also the CEO and founder of a hybrid publishing and consulting company.