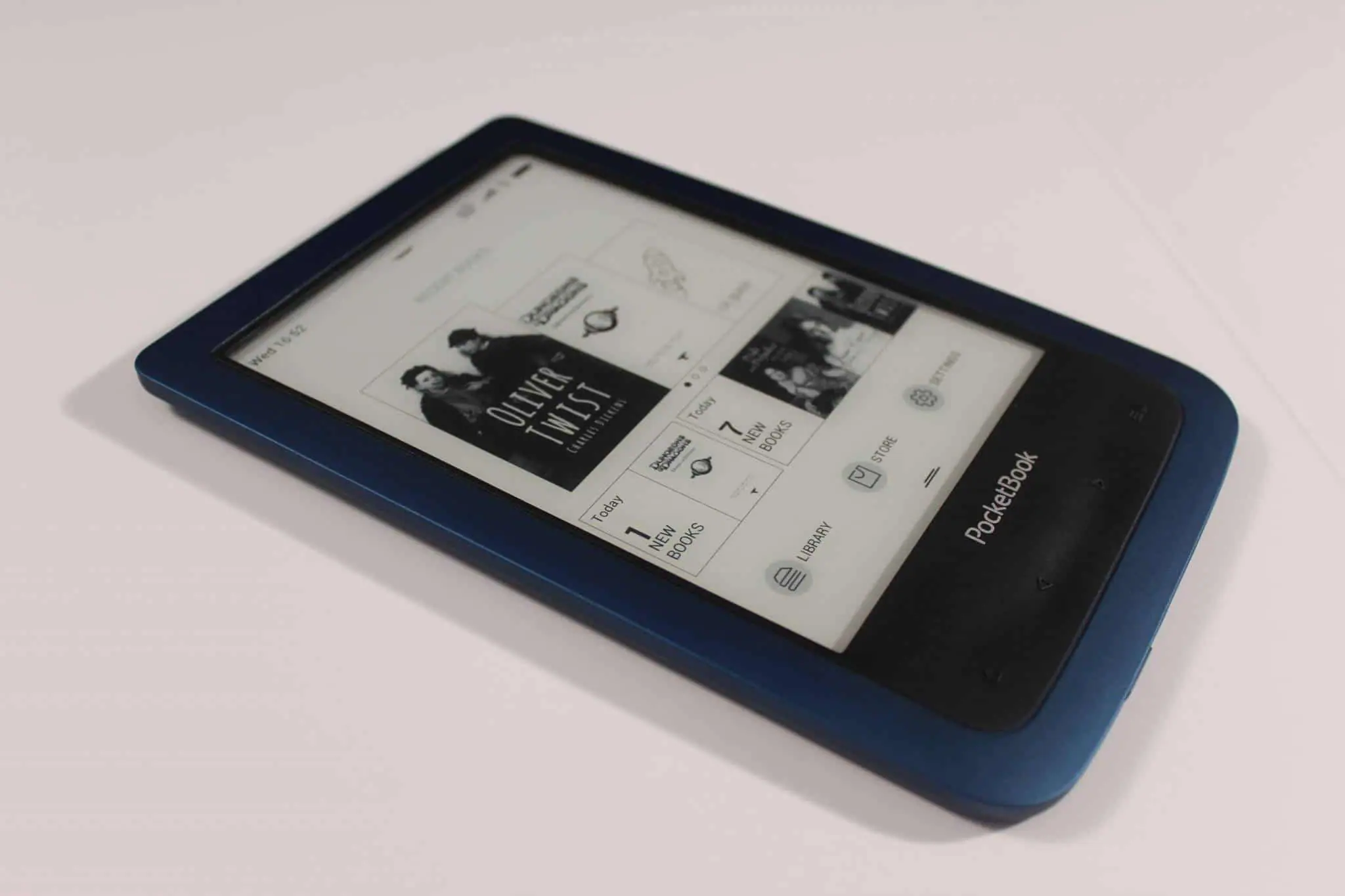 Pocketbook has just released their second generation waterproof e-reader, the Pocketbook Aqua 2. This device is designed to handle anything you can throw at it and is ideal for people who read outdoors or in the bathtub.
Hardware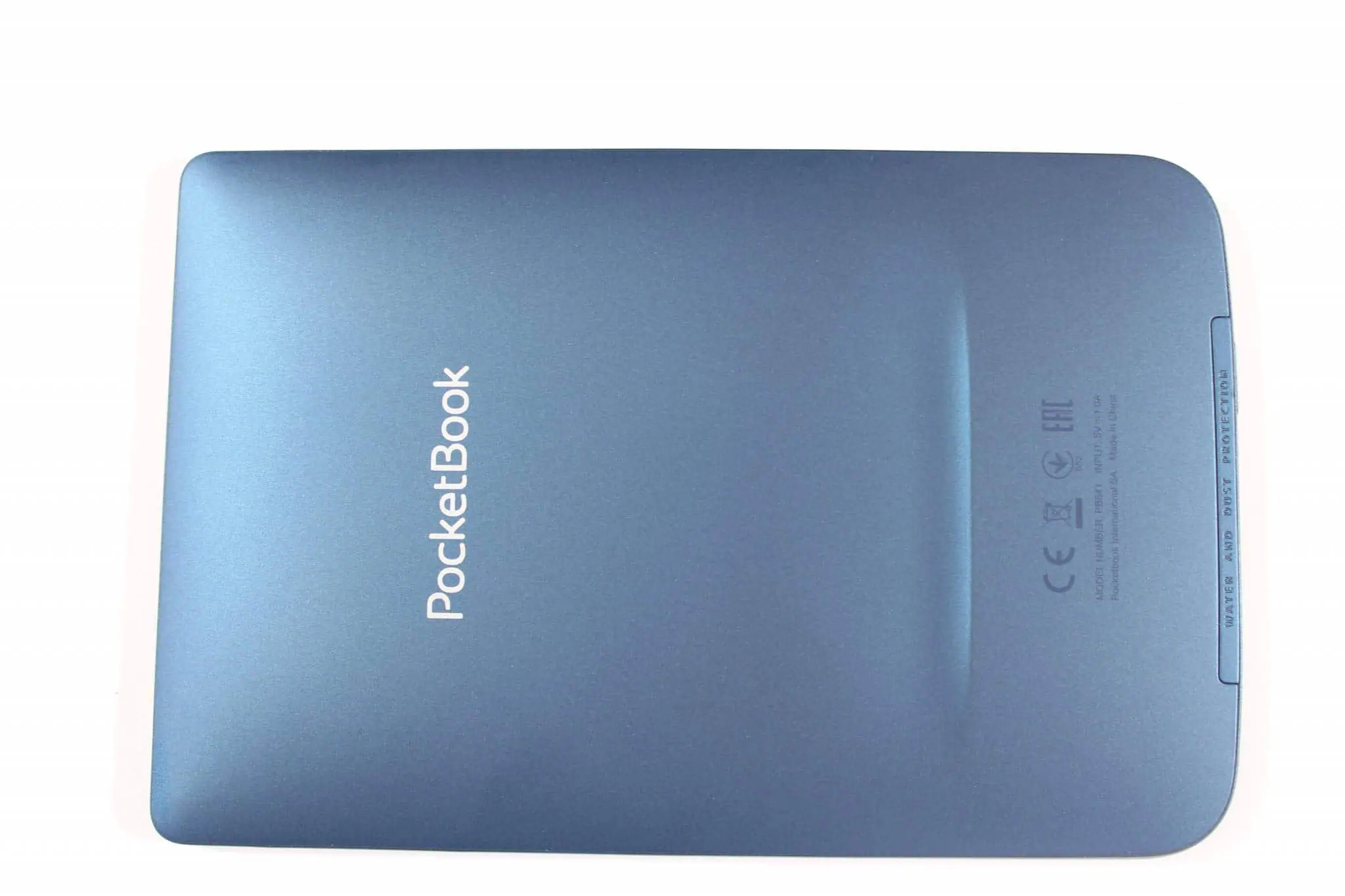 The Pocketbook Aqua 2 features a six inch E Ink Carta display with a resolution of 1024 × 758 and 212 PPI. It has eight LED lights on the bottom of the bezel that project light evenly across the screen, allowing you to read in the dark. Most e-readers with a front-lit display have light spillage, but you would be hardpressed to notice any on the Aqua, the light is vibrantly white.
Underneath the hood is a 1GHz IMX6 Freescale processor, 256MB of RAM and 8GB of internal storage. There is no SD card to expand the memory further, but PDF and EPUB files do not take up a copious amount of space, so you should be fine with what is provided.
On the bottom of the Aqua 2 is a small flap that reveals the USB port. The device comes with a cable that allows you to charge and transfer e-books to the device. It also comes with a USB to female 3.5mm headphone jack so you can plug in headphones or a speaker. When we plugged in a really good portable speaker I was impressed with the audio quality.
There are a few different options when it comes to the overall audio experience. There is a text-to-speech engine for EPUB books. You can have the standard robot voice read the book aloud and each word is highlighted as the audio option is engaged. This will allow you to read along with the narration. There is also an audio app, found on the main drawer. You can copy MP3 files to your e-reader and listen to music or audiobooks.
The Aqua 2 looks like it has a brushed aluminum case, but it is in reality made of plastic. The build quality is passable, but not stellar. On the front of the e-reader is a home bottom, manual page turn keys and settings. The page turn keys allow you to forgo using the touchscreen and can turn pages of an e-book by just pressing forward or back.
There are few waterproof e-readers on the market, that appeal to a wide audience. The NooK Glowlight Plus is only available in the United States and Kobo only makes a few waterproof models. Tolino has a waterproof design, but they are only really applicable for a German audience. Pocketbook may have the widest appeal, because it is e-book agnostic, you are not locked into a specific ecosystem.
Software and e-reading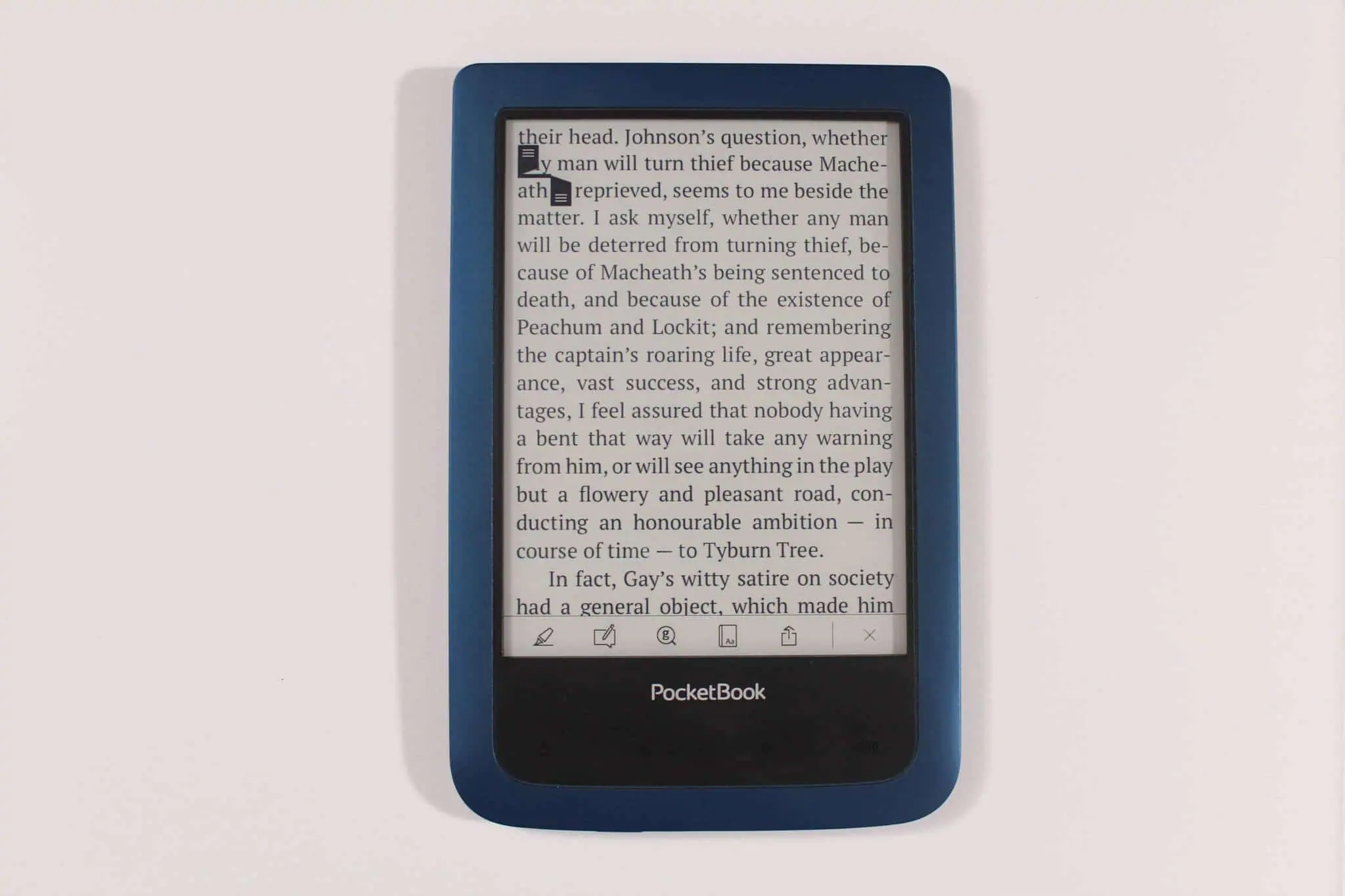 The main home screen comprises of a carousel that lists all of the books you have recently added or are in the process of reading. You can use the touchscreen to select a book or you can use the manual page turn keys to navigate around. The library menu is fairly basic, you can sort by authors, title or date added and all of the e-books show the cover art. The library menu has inertial scrolling, which means you can drag your finger down, let go and it will continue to scroll down a little bit. The app menu has a number of usable things, such as a few games (Chess and Sudoku) and some proprietary Pocketbook apps such as Send to Pocketbook, Dropbox for Pocketbook, The Pocketbook Bookstore, Pocketbook Cloud and a RSS Reader. What is most impressive is the stock note taking app they have. It is seriously robust as heck, and allows you to choose a bunch of different pen sizes to jot down notes, although it is not compatible with any stylus.
The settings menu has some default options, such as page refresh speed and firmware updates. If you want to borrow e-books or audiobooks from the public library or purchase digital content from other booksellers, the Aqua 2 has Adobe DRM support. This will allow you to enter your Adobe login and password on the e-reader and then use Adobe Digital Editions to copy it to your device. Many e-readers do not have this kind of support, because Adobe license fees are really expensive.
The Aqua 2 primarily supports EPUB and PDF files. You can change the line spacing, margins and a bunch of fonts. You can increase the size of the text and it even has a hyphenation option, which emulates Amazon Bookerly, which truncates spaces between words. In most e-books there are formatting problems when a book is not optimized for a particular device. Some words have a normal space, but others (appear like this, and are hard to read). The hyphenation option solves most of these spacing errors, but not all of them.
What impressed me the most about the Aqua 2 is the PDF rendering engine. Pinching and Zooming is instant and you can even take notes and highlight/annotate words. When you are zooming, there is a small mini map that appears in the top right hand corner. It provides you with an indication on where you are in a document. When you initially start pinching and zooming you can literally just drag one finger on the screen to position where you want to go. I have a feeling the reason why the PDF rendering speed is so smooth, is because Pocketbook is employing a hybrid A2 mode, similar to the one Onyx employs on all of their e-readers to increase performance.
Wrap up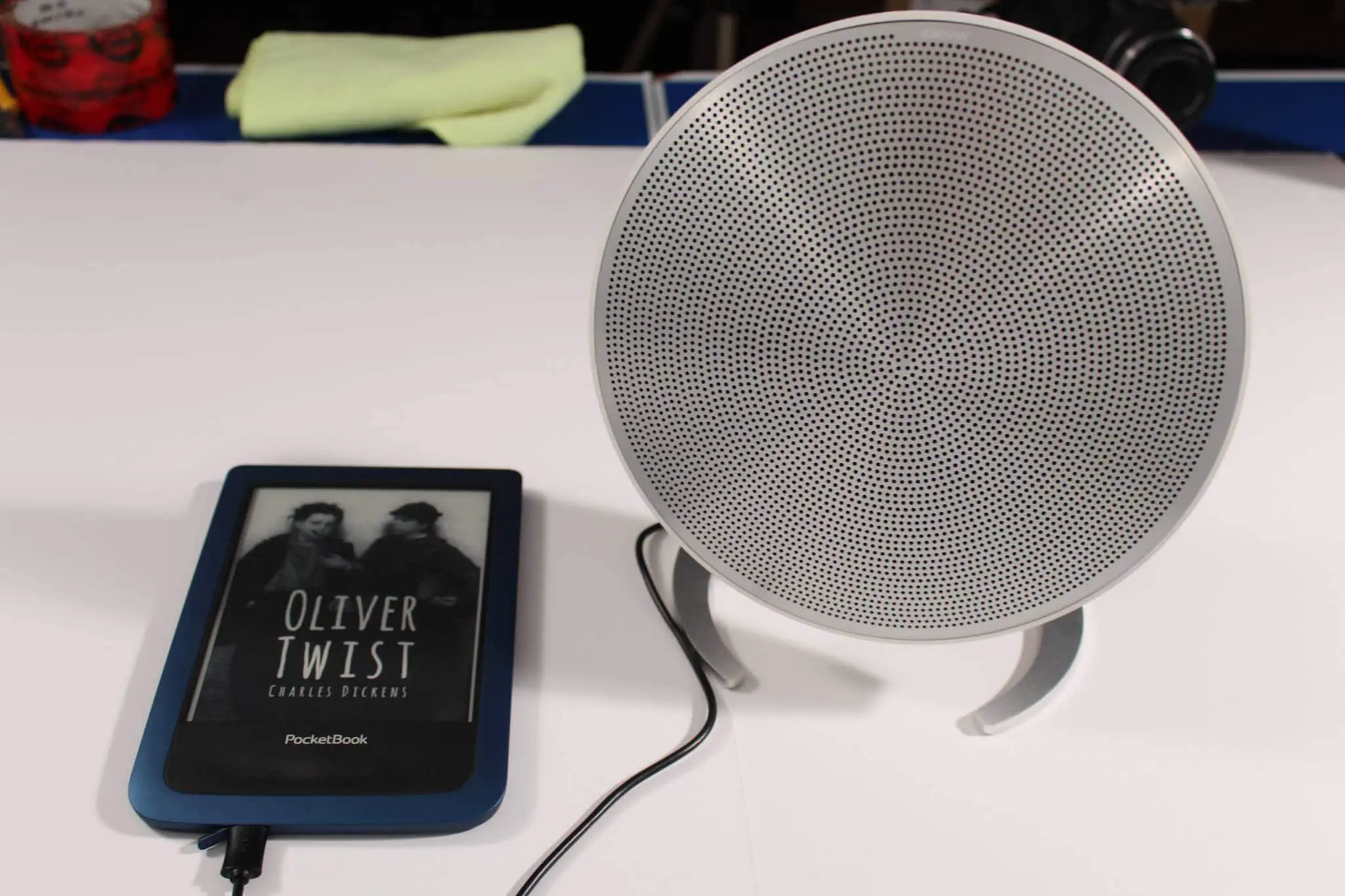 The Pocketbook Aqua 2 is really good when it comes to handling EPUB and PDF files. They have enough proprietary apps that you can access your extensive collection in the cloud or Dropbox. It has an internet browser so you can read all of your favorite blogs and RSS feeds. The audio support is critical because the vast majority of e-readers have scrapped this feature.
40% of all Pocketbook e-readers are sold in a retail setting in Europe. Pocketbook notes down the serial numbers that are sold at a specific retailer and changes the destination link to the bookstore so customers can purchase digital content through them. Our sample did not have a bookstore attached to it during the video review, so Pocketbook had to manually change the destination link to Bookland, which primarily has royalty free/open source books.
There are a few things hampering this e-reader, the lack of a 300 PPI display is one of them. 1024×768 was good enough four years ago, but is a huge determinate for people who consume a lot of e-books. The design feels cheap, you can tell it is plastic and does not feel high end. This is likely by design, the Aqua retails for $141 in most markets.
PROS
PDF and EPUB experience is great
Front-lit display is vibrant
Waterproof design is compelling
Audio support is a nice addition
Internet browser
CONS
Resolution is poor
Design is cheap, but not flimsy
Rating: 7.5/10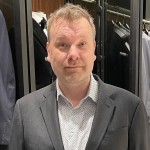 Michael Kozlowski has written about audiobooks and e-readers for the past twelve years. Newspapers and websites such as the CBC, CNET, Engadget, Huffington Post and the New York Times have picked up his articles. He Lives in Vancouver, British Columbia, Canada.