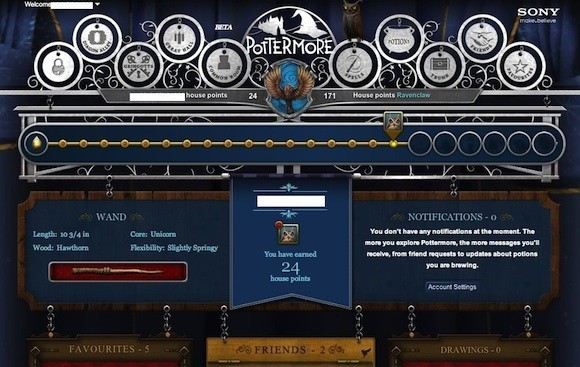 Digital reading fans have clearly spoken about their love of the wizarding world. Pottermore, the site dedicated to all things Harry Potter, apparently has sold almost $5 million worth of the eBook editions of the seven-book series in its first month of sales.
The eBooks which are available in English, Spanish, French, Italian, and German, are available exclusively through Pottermore, although Kindle and Nook users can access the titles through a dedicated portal on the Amazon and Barnes&Noble sites. That portal takes consumers to the Pottermore site for purchase then, through an agreement with the retailers, the eBooks are sent directly to consumers' devices without having to download them via cable.
Laura Hazard Owen of paidContent.org came up with a figure for total sales based on an average of the prices. Allowing that the first three books amount to $7.99 each, with the remaining four books in the series priced at $9.99 each, the article asserts that sales likely fall into the realm of about 525,000+ titles sold.
Her article goes on to discuss some very interesting information concerning two key issues that critics of digital reading contend. First, sales of the print editions have increased in the time that the eBooks have been available through Pottermore, most likely asserting that digital does not actually mean the death of print books. But even more interestingly, despite the eBooks' status as DRM-free and in spite of some initial piracy, it would appear that piracy of the books has actually gone down now that the books have been made available and that they are easily transferable to readers' devices. Supporters of DRM-free content may actually have Pottermore to thank for giving such a clear and successful example of what they have maintained for some time, that readers simply value good content and they will rise to the occasion to read.

Mercy Pilkington is a Senior Editor for Good e-Reader. She is also the CEO and founder of a hybrid publishing and consulting company.