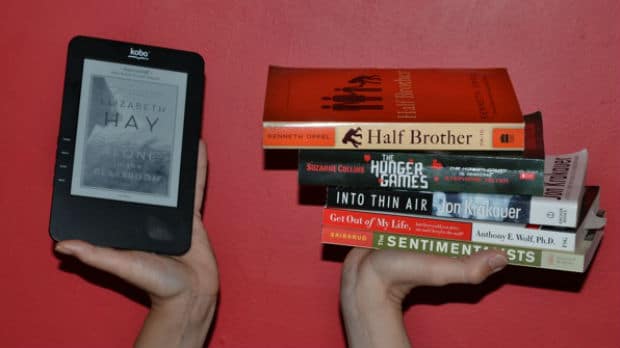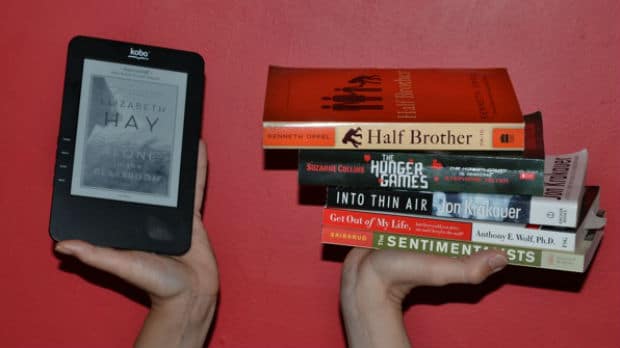 Hardcover and paperback books have a number of health hazards such as dust, mites, mold, and mildew. These books can be borrowed from your local library, secondhand bookstore or can be innocently sitting on your shelf at home. e-Books on the other hand are always pristine and will never cause an allergic reaction or even death.
Mites
If you have old books sitting on your bookshelf they attract dust mites. They are microscopic, but when seen under a scope, you will see that they are actually kind of a creamy white to creamy blue color and, as adults, they have the obligatory eight leg thing going on. The male dust mites don't live very long; two, maybe three weeks if they're lucky. Females, however, can make it up to about eighty days. In that time, they can lay up to 100 eggs.
The problem with these little critters is that they can trigger allergic reactions such as;
sneezing
itching
watery eyes
wheezing
chest congestion
skin rash
Can aggravate eczema symptoms.
While there is a little controversy on the matter, it is widely accepted that there is a strong link between dust mites and asthma.
If you think you have dust mites in your old books check out some popular removal methods HERE and HERE.
Mold and Mildew
Imagine: You just came across a wonderful book in your favorite used book or thrift store, and it seems to be everything that you were looking for to add to your shelf. It is nearly perfect, except for the pervasive, dank smell that comes along with it.
Unfortunately, that smell can be an indication of improper storage in a cold, damp basement or uninsulated attic, leaving it open to the growth of mold and mildew. These fungi are the most common culprits of the familiar "old book smell," but that odor is the least of the detrimental effects possible.
Mold and mildew live off of organic material (leather, wood, paper, cloth) and over time their presence can weaken the structure of the book, stain the cover and pages, and prompt negative effects in your health, especially for folks with allergies or asthma.
Here are some sobering health hazards of book mold and mildew
A groundbreaking report from 2007 stated that scientists found a direct correlation between a high presence of mold in households and depression.
Even more shockingly, studies have shown that the air inside our homes can be worse than the air outside. The average American spends around 90% of our time in enclosed buildings, and over 60% of our time in our houses.
Scientists have identified over 1,000 types of mold and mildew inside houses in the United States.
More than 100,000 types of mold exist!
"Stachybotrys" is a highly-toxic type of mold that has been related to human death.
Learn how to remove mold and mildew on your second hand books or old books HERE and HERE.
You should buy an e-Reader
From a pure health standpoint e-readers such as the Kindle, Kobo or Nook or ideal if you are worried about dust and mites. These devices are the closest thing to a real book, without all of the health hassles.
You might be saying to yourself, hey, I have read a few reports that e-Readers are bad for you. You might be referring to a recent study out of Harvard University found that reading an e-book before bed lessened the production of an important sleep hormone known as melatonin. As a result, people took much longer to fall asleep, experienced less deep sleep, and were more fatigued in the morning. "Sleep deficiency has been shown to increase the risk of cardiovascular disease, metabolic diseases like obesity and diabetes, and cancer. Thus, the melatonin suppression that we saw in this study among participants when they were reading from the light-emitting e-reader concerns us."
The problem with these types of studies is that they call any device that you can read books on, an e-reader. Frequently these reports call something an e-reader but in reality is a tablet or smartphone. This makes me angry because e-ink devices are proven to be better for your eyes and health. The models with light, project light evenly access the screen, not into your eyes.
I am recommending you purchase an e-reader. The older you get, the less inclined you might be to take really good care of your physical books. You might read in the bathroom, take a shower and before you know it the book gets damaged by water and starts to grow mold. An e-reader is immune to all of these things and is your best bet to maintain a healthy lifestyle.

Michael Kozlowski is the Editor in Chief of Good e-Reader. He has been writing about audiobooks and e-readers for the past ten years. His articles have been picked up by major and local news sources and websites such as the CBC, CNET, Engadget, Huffington Post and the New York Times.