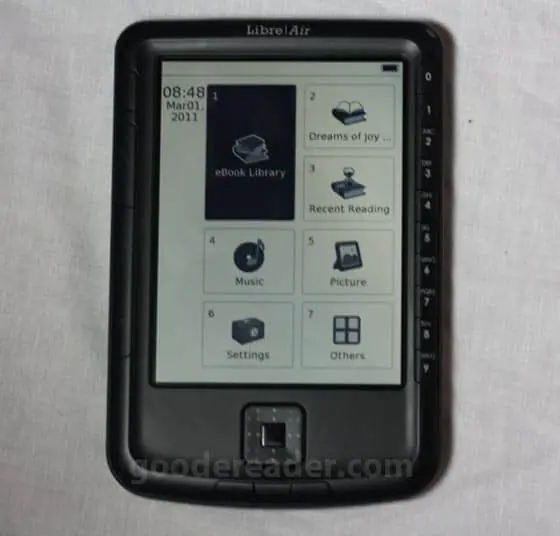 Aluratek showed off two new e-readers at CES this year; the Libre Touch and the Libre Air. Today we got our hands on the new Aluratek Libre Air to review it. The main question we are attempting to explore is whether or not the company is issuing relevant products in 2011 to compete with other popular e-readers such as the Kobo Touch or Nook Simple Touch?
The Hardware
The Aluratek Libre Air features a 5 inch reflective light LCD screen with a resolution of 640×480 pixels. It does not have a backlite screen like most LCD devices and feels like the full e-ink experience. One of the benefits of going for an LCD based e-reader is that you do not have the lingering flickering and refresh issues like you do on most entry level readers.
You have 200 MB of internal memory that will store your books, pictures, and music files. You can expand on this via the MicroSD card up to 32 GB to store tons more.
You connect up to the internet via the built in WIFI and you can enter password protected networks via the numbered keys on the side of the device. The numbered keys feel like a smartphone in the respect that you have to press the 2 button 3 times to get the letter C. This keyboard layout gets very tedious at times because any symbols involving periods or @ symbols for emails require you to hit extra keys to call up different symbol lists. One of the more unintuitive aspects of the keyboard layout on the side of the device is the unversial symbol key is the number 0. There are no visual cues letting the user know that the number key is what you need to press to call up symbols.
The Aluratek Libre Air has a Mini USB port in order to connect it up to your computer to copy ebooks, music, or pictures to your device. It also comes with a wall charger with a USB port on it, so you can use the cable that came with your device to also wall charge your unit. It seems also you can charge your device via the Micro USB cable as well.
Since this is a device does not feature a touchscreen, it has many buttons for different functions. On the left hand side of the unit it has a magnifying glass and page turn buttons. These buttons do different things depending on what application you are viewing. For example, when you are in the picture or music apps, they allow the user to perform different functions. On the bottom of the e-reader is a D-Pad that has 4 different directions to move around the various menus. It has has a mouse in the center which helps you scroll around the Kobo Book store. Underneath the DPAD is a HOME, Back, and Settings button. These quickly help you access advanced settings and feel like an Android device in terms of their overall functionality. There is also a power button on the top of the unit and a 3.5 mm headphone jack on the bottom.
There is an built in accelerometer with the Libre Air that gives you the ability to switch from landscape to portrait mode. It order to switch perspectives you have to activate the function in the settings menu.
This e-reader feels very light and you should get around 20 hours of use between charges or about 2 weeks in standby mode. The device is made of a durable plastic shell and feels flimsy, but the company does give you a carrying case to protect it.

Software
The Aluratek Libre Air is running a Linux based operating system and it really feels like there is only 128 MB of RAM on it. Navigating menus and settings feels clunky and slow and internet browsing is a harrowing experience.
There is an internet browser on the Libre Air, but you have no ability to visit various websites on the internet. When you load up the browser it defaults you the Kobo bookstore in order to buy books. The e-reader does not allow you to register your own Kobo account so you will need a PC to do one first before you can download books. You have a wide selection of books via Kobo and can buy books in EPUB format. Navigating the Kobo store is intuitive, albeit very slow, menus and different pages take around 15 seconds. If you want to download free ebooks from Kobo you need to also register with Adobe to get an account to read DRM content. It seriously took me 35 minutes to use the abysmal keyboard with the symbol keys to type in my user name and password and then my Adobe login name and password. The store experience with the hardware layout of the e-reader was easily the worst experience reviewing this device.
Hopefully via the WFI and internet that the Libre Air has, it will support pushed updates. We saw an update feature in the settings menu but there has been no firmware updates since the company has released it.
Lets talk about ebooks, since that is the bread and butter of any electronic reader. This model reads different formats such as ePub, RTF, TXT, PDF, MOB, FB2, and PRC. Different ebook formats give you different options when you are reading a font. For example when you read TXT books which come preloaded on the e-reader you can edit the font size and margins. If you load up an EPUB book you cannot change the size of the font, instead you have a clunky ZOOM function and no ability to edit margins. Also when you read EPUB there is no ability to make your device switch from landscape to portrait mode but you can do it with TXT formats. It seems reading TXT files gives you the most freedom in a solid ebook reading experience but EPUB books and other established formats such as PDF and PRC do not.
When you open and close books they are accessible under a Recent Reading application that lists the most recent 9 books you are reading and will put you right were you left off. To access them you can hit one of the number keys on the side of the unit instead of tediously navigating with the DPAD.
The Libre Air has added functionality such as a music player and picture app. You can load in your own MP3, WAV and WMA into the music player and even setup a playlist. There are no speakers on the device but you can easily listen to audio books or music via the headphone jack. If pictures are your thing you can load them in PNG, GIF, or BMP, but none of the pictures I loaded looked crisp or well rendered at all.
In order to access any media on your e-reader you have to manage your device via Windows Explorer. By default their are no folders other than the free books from Kobo. So I recommend recreating separate ones for your music, pictures, and books or your device will be cluttered very quickly.
Our Thoughts on the Aluratek Libre Air
What do you get when you cross the Jetbook Mini and the Augen Gentouch 78? The Aluratek Libre Air. This is a woeful e-reader that certainly does not do the company any favors with releasing a new product in 2011.
Firstly the company promotes the fact that you do not get any glare from being outside in the sun and I dispute this evidence, I found it was near impossible to read on the beach. Even in the studio under direct light it was horrible.
The entire Internet and Kobo store experience felt like a nightmare that would never end and there was nobody to wake me up. The built in keys that allowed you to call up different letters was tedious at best. If I only had to use the numbers it would not be so bad, but I had to physically press 3 different buttons on the device to switch between lower case and capital letters. If you want to delete letters if you mess up there are another 2 buttons you need to press, but keep in mind one of them would magically erase everything.
Buying books with Kobo was a daunting experience, I hope never to repeat on this e-reader and just thinking about it is making me cringe in utter and complete horror. The mouse wheel in the center of the DPAD is fine, but navigating menus and load times between screens made me want to fall asleep. Not only did it take forever to enter my Kobo ID, but then I had to enter an Adobe ID, for FREE BOOKS! If the Libre Air had a virtual keyboard used by clicking on things via the scroll wheel that would have been fine. They way they do it now feels like you are using a cell phone from the early 90's to type things.
The core e-reading experience was not that bad, page turn speeds were fine for an LCD based device. Since most ebooks on the internet are mainly available in EPUB and PDF formats, this device did not support them very well. It seemed like most of the effort in making this gadget shine from an ebook prospective went into making TXT files look great and everything else look weak. I found it terrible I could not adjust font sizes in EPUB files or edit my margins or line spacing. I could zoom sure, but all the text was centered and looked gruesome. I am sure if I wanted to convert all of my EPUB books to TXT files, it would be the only way I could ever seriously use this device to read anything. Finally when you read anything but TXT files you cannot really switch the device from landscape to portrait mode.
In the end, if you see this device in the stores RUN AWAY! The nicest thing about this e-reader is the box that it comes in and the carrying case. Once you take it out and load it up and spend ten minutes with it, you are doomed. The only redeeming factors is that it plays audiobooks and the TXT experience is decent. This e-reader felt like it could have done well in 2008 but in 2011 it already looks like a relic from the past.
Thank goodness Aluratek has better products then this such as the Aluratek CiniPad Android 2.3 Tablet due out soon. I would recommend a number of e-readers over this model for the price of $139 such as the Kindle with Special Offers, Kobo Touch, Nook Simple Touch Reader, or even the Jetbook Lite.
Finally what does Aluratek need to do to make this viable e-reader and not warrant our "head for the hills" forecast on this device? They need to implement a virtual keyboard to type. Take a look on how Pocketbook does this successfully with their e-readers. This unit needs a better, dedicated web browser. There is one in it, but it defaults too fast to the Kobo bookstore. Allow the users to check email and visit websites, this eventually can allow users to purchase audiobooks or music. The Libre Air needs more support for the industry standard EPUB; this unit NEEDS to get proper font changing, line spacing, margins, and the ability to increase the font size without having to magnify it. Many of the Libre Air's woes are software based and can easily be fixed if management was serious about updating this e-reader to actually make it work. It faces some hefty competition at this price point and needs to develop its own ecosystem and build proper brand identity to make their budget e-readers succeed in the current market climate. Aluratek needs to focus on their e-readers as community members and not a customer. There is no Aluratek portal, no community, and no way for users to talk to each other. The social fabric on these e-readers is nil.
Rating: 2/10
[cincopa AQPAqqKYsM8-]

Michael Kozlowski has been writing about audiobooks and e-readers for the past twelve years. His articles have been picked up by major and local news sources and websites such as the CBC, CNET, Engadget, Huffington Post and the New York Times. He Lives in Vancouver, British Columbia, Canada.