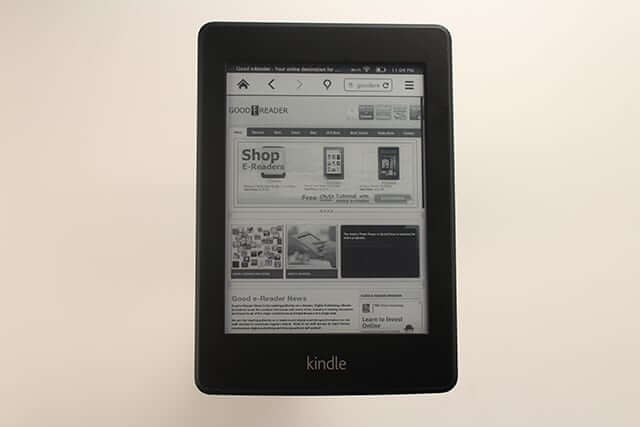 Amazon has finally commercially released one of the few e-readers in the world that let you read in any circumstance. The company has been actively developing their new Paperwhite for over six months and it will hit the USA market on October 26th. How does this device stand up to the competition and how does it truly rank in the grand scheme of eBook readers?
Hardware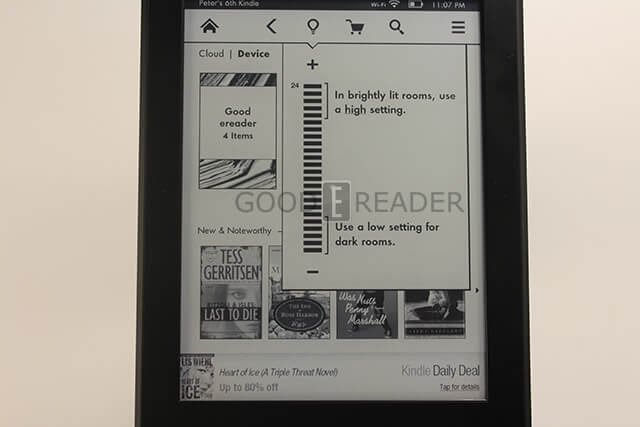 The Amazon Kindle Paperwhite fixes a six inch e-ink Pearl display with tremendous resolution. You are looking at a very solid 1024×768, which is on par with the Kobo Glo, in terms of text and pictures looking very crisp. It runs on a 800 MHZ CPU processor and has 512 MB of RAM. The Paperwhite has a full touchscreen interface and the company has done away with the home and manual page turn buttons. Ironically, the only button that this unit has is the power/standby on the bottom.
Amazon has maintained the same type of glowing LED lights built into the bezel as the Kobo Glo does. The both emit light from the bottom of the screen via 4 small lights that distribute illumination evenly on the screen. This gives you a way better viewing experience then the Nook Simple Touch with Glowlight, that emits light from the top.
In a side by side comparison with the Kobo Glo and Nook Simple Touch with Glowlight, there is simply no contest. The Kindle Paperwhite has the best e-Reader in the business and the glowing feature is almost pure white. Both Kobo and B&N give you a blueish tinge that sometimes gives you a weird contrast and saturation effect on cover art and images.
The one odd thing about the Paperwhite is that the glowing function is never truly off, you can turn it down all the way with the option in the main menu interface. Even in complete darkness it still emits a little bit of light, when you turn it into standby mode, it completely disappears. Despite all of this, you still retain around two solid months of battery life and you can eek out a bit more by turning the wireless internet access off.
There are 2 GB of internal storage, but realistically you have access to around 1.4 GB once you account for the operating system and the books loaded in by default. If you have made past purchased from Amazon and sync all of your new content it will decrease even further. There is no expandable memory via SD Card, so you will have to rely on the Amazon Cloud to store the books you are no longer reading and physically delete them from your device. If you have made any notes, highlights or other customized things while reading, this is retained when you store it in the cloud.
Hardware wise, this unit is very slick and surpasses any other pure e-ink based reader that the company has ever produced. It is tremendously responsive in all common menu interactions and browsing the bookstore.
Software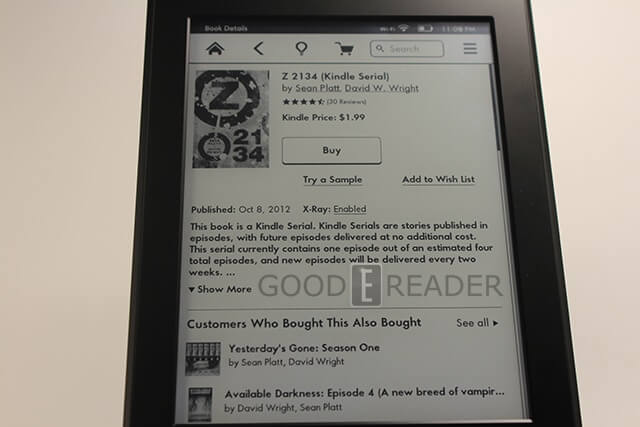 Amazon has completely absolved physical buttons and decided to gravitate towards a pure touchscreen experience. There is a persistent navigation bar on the top of the screen which allows you to access the home, glow, bookstore, search and settings. This top menu normally is event in all of the menus and sub-menus you may visit, which builds some stability in where everything is located.
The main home screen has undergone a tremendous revision from previous iterations of the Kindle e-Reader. In the past, you have received a chronological listing of the most recently loaded on read books on your system. The new home screen shows you cover art of the last few books you read or collections of books you have made. Below that are books showcased by Amazon, such as Kindle Singles or Kindle Series. The books displayed are based on your prior browsing or purchase history.  You can also access books stored in the cloud or located on your device.  I found that all of  your daily functions are accessed in one or two clicks. This makes doing all your normal tasks very easy, without getting buried in sub-menus.
This e-Reader is very internationally friendly and has a myriad of supported languages to customize the UI. You can set your default language to Dutch, English, Spanish, French, Italian, Chinese, and Portuguese. There is also 8 dictionaries that are automatically inserted into your Cloud account. This is tremendously useful because when you read a book, you can translate a specific word or series of words from one language into another. This is a critical new feature that will appeal towards people learning a new language or in an academic environment.
In many households there are normally one or two e-Readers and people share them with each other. There are strong parental controls on the Paperwhite that allow you to disable access to the internet, store or access to the cloud. Making your own collections further elevates this reader into a family friendly unit.
The Kindle Store remains consistent with the Amazon Kindle 4 and prior models. The interface is normally the same and you have around 1.5 million books to purchase. Unlike their competition, most popular books can be found in one or two clicks only. There is a strong emphasis on Kindle Series, Kindle Singles, Lending Library and their bestsellers.
When you click on a book you are greeted with one of the slickest ways to present all of the details. When you visit the main Amazon website you are greeted with user reviews, ratings, customer discussion and tons more. The e-Reader version mimics this experience and aesthetically borrows the best aspects of the web-based version.  Other features baked into the experience is; related books, Editors reviews, and if the book is compatible with X-Ray.
This reader is brimming with features; from playing games to surfing the internet. One of the cool things about the browser is that you can disable pictures, java and other elements from loading. There is also a feature to just capture the text from a page, so you can read it like a book. If you are a big fan of RSS or reading Blogs, you can use the popular "Send to Kindle" browser add-on for your PC/MAC and send tons of stuff directly to your Kindle.
From a pure software point of view, the Paperwhite is a culmination of six years of e-Readers into one of the well-rounded devices on the planet,  it puts all others on notice.
Reading Experience
The Amazon Kindle Paperwhite reads a myriad of eBook formats, including; AZW, PRC, Mobi, TXT, HTML and RTF. It does not handle the industry standard EPUB format, so you will be hard-pressed to buy content from other stores. When you purchase an Amazon device, you are effectively locked into their ecosystem, but sometimes isn't a bad thing.
There are two eBook formats the Paperwhite handles really well, PDF and Kindle Books. The process in which you customize your reading experience is drastically alterted based on the format of book you are reading.
First and foremost this latest device from Amazon is an eBook reader. If you purchase books from Amazon you get to enjoy all the extra features that make it unique. X-Ray is a popular program that gives you a run down of all the characters in a book, when they were directly referenced and even the dialog they have made. This not only applies to people, but places too. This is handy if you start reading a book and come back to it later. You can instantly familerize yourself with the main cast and what is happening in any given chapter.  X-Ray only works with books purchased from Amazon and not books you load in yourself.
Whether  you are sideloading books or buying them from Amazon the eBook experience remains fairly consistent. You can choose between eight different font types and sizes, to find your optimal comfort zone. You can then change the line spacing and margins, this works with purchased/sideloaded books.
While reading, you can long-press on a specific word or series of books and do a ton with it. You can make your own notes, which are quickly referenced for later, highlights are also a popular method to jot down what is important. You can then send this all to Facebook or Twitter, and share with the world on something that strikes a cord with you.  Anything you highlight or make a note of is retained in the Amazon Cloud once you sync it, so you can have all  your notes and highlights on the iPad version of Amazon Kindle.
One of the coolest new features found on the Paperwhite is the ability to instantly translate words. When you select a specific word the dictionary automatically appears to give you the definition.  When clicking on MORE you can translate these words to 12 different languages.
The PDF experience is very unique and allows you to easily pinch and zoom to find your comfort zone. You can also elect to double tap on the document and it automatically reflows the text. PDF viewing is best made in Landscape mode, which can be accessed via the settings menu. I found most image heavy things look noticeably better in this perspective.
The high resolution display really makes complex PDF files with images look really great. The text on both  PDF and other eBook types look phenomenal and crisp. There are tons of options to really augment your reading experience and changes you make are persistent across the entire Amazon ecosystem.
Our Thoughts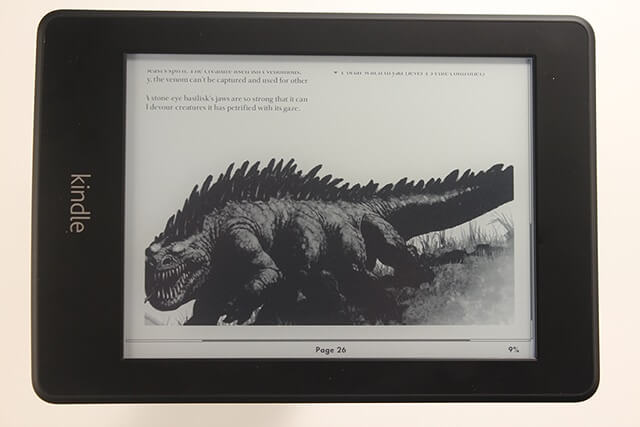 During the last five years we have seen the e-Reader industry mature in a very short period of time. Since we started to review Readers back when the Kindle 2 first came out, we have seen the rise of Barnes and Noble, Kobo and many indie companies. The technology is constantly being refined and price lowered to make it more accessible to the public. The Kindle Paperwhite is currently the apex of what all e-Readers aspire to be.
The Amazon ecosystem is currently the best on the planet when it comes to purely e-ink based readers. There are millions of free and paid books, newspapers, magazines, kids books and self-published content. With the agency model abolished the electronic book is becoming more cost efficient.  Some people might not want to get themselves locked into any one company and prefer to be more agnostic about it, and that's fine. The Kindle system is currently the best in the world, and as a reader you can't do much better.
In direct comparisons with the Kobo Glo and Nook Simple Touch, the glowing screen on the Paperwhite is the best there is. It gives a pure white illuminated screen, while everyone else gives you more of a bluish hue. You will notice this yourself on our YOUTUBE Comparison of these devices. (up soon)
In the end, this is simply the most fully featured e-ink based reader we have ever reviewed. It has the best resolution in its class, best illuminated screen,  expansive ecosystem and handles all book formats very well. It is currently the one to beat.
Pros
High Resolution
Expansive Ecosystem
Good Parental Controls
Handles PDF's Well
Home Screen is Upgraded from Prior Models
Best Demonstration of Glow Technology Found in e-Readers
Lots of International Support
Cons
Locks you Into the Amazon ecosystem
Does not read EPUB
Special Offers Costs $20.00 to Remove
Rating 10/10 (only 10/10 we have ever given)
[cincopa A8OAC-a52_sM]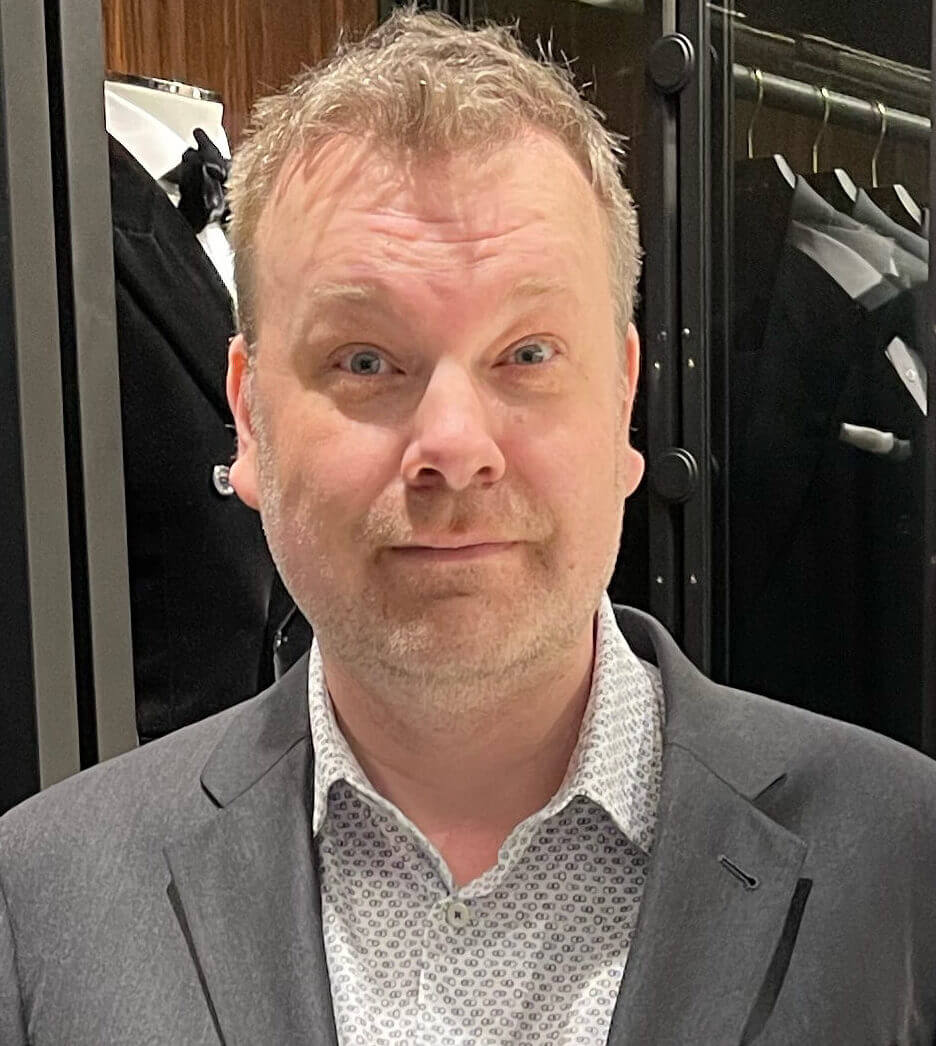 Michael Kozlowski has been writing about audiobooks and e-readers for the past twelve years. His articles have been picked up by major and local news sources and websites such as the CBC, CNET, Engadget, Huffington Post and the New York Times. He Lives in Vancouver, British Columbia, Canada.