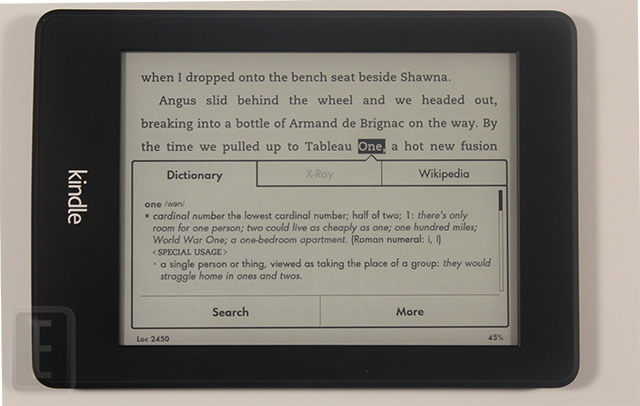 Amazon has just released the second generation Kindle Paperwhite 2 e-reader and the big hyping factors about this unit is the software. The hardware remains the same from the first generation reader with the addition of e-Ink Carta display screen, which gives a higher degree of contrast with the text. You will also notice less full page refreshes, which makes shopping and turning eBook pages lightning fast.
Hardware
The Amazon Kindle Paperwhite 2 features a six inch e-Ink display screen with a resolution of 1024×768. The front-lit display has received a small upgrade and gives a better illumination experience then the previous model. One of the neat little features is a software enhancement called "Max" which instantly brings the brightness level to the maximum. When we compared this reader against the new Kobo Aura, it seemed to play second fiddle against against it.
Overall the touchscreen is more responsive and text has higher contrast to make text more legible. This is most noticeable on the homscreen when you are sweeping through the eBooks Amazon is trying to sell you. There is less flickering, which makes it a little more more responsive.
Underneath the hood is a 1 GHZ processor and 256 MB of RAM. There is 2 GB of internal storage and the majority of your content will be held in the cloud.  During our review session, we were actually having having storage issues with a three larger PDF files and a number of sideloaded eBooks. The e-reader kept on running out of memory, which is problematic.
The back of the device says Amazon, instead of Kindle. I noticed that it tends to get oily from fingerprints rather easy because the back is not textured like Kobo's e-Readers.
You will gain around two solid months of battery life with WIFI on, and using the front-light. Amazon has boosted up the software side of things in order to maintain it for longer reading sessions.

Software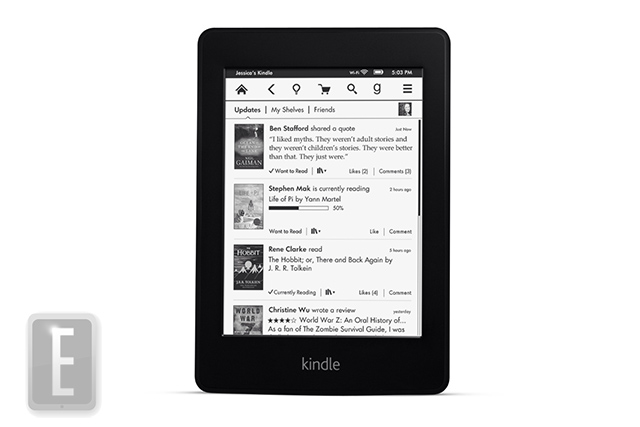 The main user interface is exactly the same when compared directly to the first generation Kindle Paperwhite. Amazon has promised two new software enhancements that will be released via a firmware update within the next month. The first is GoodReads integration, that will allow users to participate in the digital reading community, rate and review books and talk with their favorite authors. The second is Kindle Freetime which provides a valuable tool for parents to limit how long their kids can use the device and configure properties on what they can access, and that they can't.
There are a ton of different e-Readers on the market right now, and they seem to only be as good as the bookstore. Amazon now has around 2.1 million titles available in almost 16 different languages. You can access fan-fiction from Kindle Worlds, or read a brief Kindle Single. There are also plenty of newspapers, magazines and graphic novels to download too.
When you are reading newspapers there is actually a fairly cool feature to save them as clips. You can then turn your various clippings into an eBook, which makes organization a little bit more relevant.
One of the big new features is called Vocabulary builder. Any singular word you highlight will be placed in this folder accessed from the settings menu. Each word when you click on it will give you the dictionary definition and usage. The usage aspect is very interesting because instead of using the standard thesaurus, it will use the usage from the book you are reading. If you have a bunch of Vocabulary words, you can make Flashcards out of them, and have a virtual slideshow of all your words. This is useful for academic textbooks, bookclubs and a myriad of other practical uses.
Reading Experience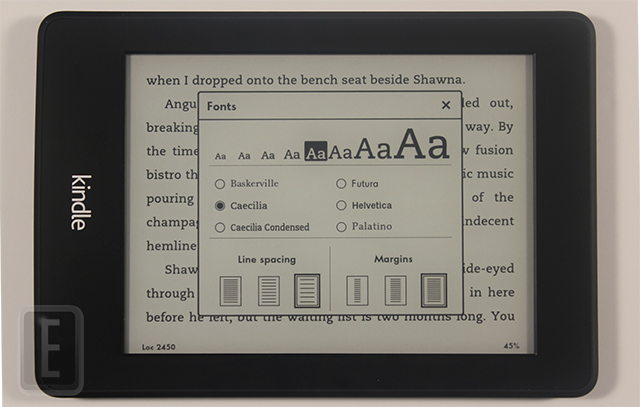 The Kindle Paperwhite 2 has certainly stepped up its game against the competition and has slowly refined its entire e-reading experience. You can buy books or load them on the device yourself and still have access to the dictionary, highlights, annotations, translations and font enhancements. What impressed me, was the ability to do this all with PDF files. Normally PDF files are somewhat limited in what you can do with them on the vast majority of e-readers, but Kindle really makes the entire augmentation process easy.
All books you purchase from Amazon come with the X-Ray feature. This gives you a listing of all the people, places and things in a book. It will reference how often they are mentioned in the book and by who. If you are unfamiliar with certain terms, you can easily look them up. Unfortunately, this feature is unavailable with books you downloaded from the internet and are only applicable to books bought directly from Amazon.
When reading a book you have a number of enhancement options to change the font, size of the text, margins and line spacing. All of these settings do not over complicate the entire process and makes it rather simple to customize the reading experience to your liking.
One of the best aspects of the Kindle Paperwhite 2 is the overall PDF experience. As I mentioned, you can translate and take notes right on them. You can also double tap to enter a special reflow mode, which smartphone and tablet owners will find fairly intuitive. The pinching and zooming functionality is also fairly robust, but not as solid as with the Sony PRS-T3. One of the drawbacks is the absence of the preview pane when navigating a PDF while being zoomed. This is something that both Kobo and Sony have always done very well, and helps orient you on where you are at on the page.
Wrap Up
The Kindle Paperwhite 2 does not reinvent the wheel in terms of the overall hardware experience. The vast majority of new features is via the software.
I dig the fact that you can translate words into complex Chinese characters, which bodes well for the feature of KF8 and the ability to read graphic novels, manga and comics. I also am impressed with the "Clipping" feature, which compiles newspaper articles into a singular eBook.
There are a number of drawbacks such as the lack of expandable memory and no options to buy higher tier models with more memory. I also lament that borrowing books from Overdrive is a bit over complicated, since you need to rely on a PC to send them over. Finally, you cannot shop with other bookstores, as Amazon has its own proprietary eBook formats.
PROS
Higher Contract
Better Front-Lit Display
Solid Translation Options
PDF Options not found anywhere else
CONS
Memory tends to fill up fast
Main Homescreen serves as a sales vehicle
Lack of Goodreads and Kindle Freetime at Launch
Back of the case prone to fingerprints
Rating: 9/10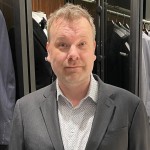 Michael Kozlowski has written about audiobooks and e-readers for the past twelve years. Newspapers and websites such as the CBC, CNET, Engadget, Huffington Post and the New York Times have picked up his articles. He Lives in Vancouver, British Columbia, Canada.