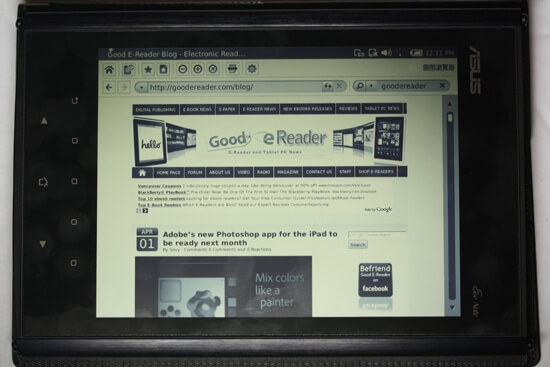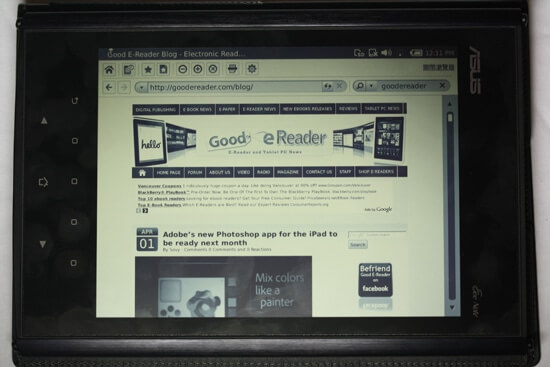 Welcome to the Good e-Reader worldwide exclusive review of the new Asus eee Note EA800 Tablet PC! We just got this review unit in directly from ASUS in China and we are the first site with a comprehensive full hands on review!
Hardware
The Asus EA800 or eee NOTE is a 8 inch TFT touchscreen with a resolution of 768×1024. It features 64 levels of grayscale on the capacitive touch screen and has a DPI rate of 2540. This is primarily a grayscale device with no color at all, but it does have the best stylus interactive display we have ever seen. It features 256 degrees of pressure and the Stylus that comes with it has a bit of torque, which means the pen aspect actually has some give on it.
The EA800 has a 2.3 GHZ Marvell CPU and 4 GB of RAM. We actually got a free 2 GB Micro SD card with our device but no word if the official release will have it. It does support up to 32 GB so you will have no problem enhancing the memory.
One of the great aspects of this device is the camera, manufactured by OmniVision. The EA 800 has a picture quality of around 2 Mega Pixels and looks tremendous when you are taking pictures. It also has 5 levels of zooming and the display actually gives you a visual indication on the resolution you are shooting in. The default resolution is 1600×1200 which gradually degrades as you zoom in. I found that the default camera zoom does indeed look the best and we have attached pictures we took in the neighborhood using to give you a indication on how it works. Asus has informed us that this unit will indeed shoot video, but our preview unit did not have any support for video. It did display video when you turned the camera on, but did not actually allow you to record it yet.
You can connect up to the internet via WIFI and can access both open and protected networks. The web browser that comes with the device is labeled as experimental and boy you can really tell. Web pages load abysmally slow. We found it impossible to stream music, watch videos, or even navigate the internet. With the web browser as it is, you will indeed needs lots of patience. Also, you cannot actually pinch and zoom because the only way to interact with the screen is with the Stylus. So you have to use the scrolling bar to look down a web-page, but it does not allow you to scroll down unless a web-page is fully loaded.
Most of the buttons and slots are at the very bottom of the device. It has a Micro SD port, Mini USB, a mono speaker, a 3.5 mm headphone jack, and a high quality microphone. Considering it only had a single VERY small mono speaker it actually did play audio back fairly well. We also tried recording voice memo's and the voice microphone was more superb by other tablets with a much larger microphone.
Lets talk about the battery life; it really only gives you around 13 hours from our tests doing normal tasks and can be enhanced if you turn the WIFI off. It has about 10 days of standby mode if you aren't using it.
This is not the type of device that does landscape and portrait mode on the fly, like many other tablets and e-readers. Most of the functions are done in portrait mode and the only application to take advantage of landscape is the internet browser. We have not heard any details regarding whether or not this tech has a built in accelerometer or gyroscope, so I can't comment if this functionality will transpire later on.
What I really liked about this device was the overall build quality. It is fully done in piano black and does look sleek and sexy. The eee NOTE is bundled in a really nice case with a magnetic clasp. One of the drawbacks is that the case and the unit are interlocked. We currently can find no way to actually remove the unit from the case. It has in all four corners these sunken grooves that clasp the case physically into the unit. There must be a way to remove it from the case, but at the risk of breaking it in a berserker frenzy, we abstained from this process.
Software
The Asus eee Note EA 800 runs on a Linux based operating system, so it is a departure from most tablets out there that run Android. This device is actually more comparable to an e-reader than a tablet in our minds. Mainly this is due to the grayscale only interface with no color at all.
There are many applications that come bundled with the eee Note that give you a ton of functionality right out of the box. One of the features I really liked was the first app called "Notes." The Note program allows this device really to shine! You basically use the stylus and assign functions to it, such as a pen, pencil, highlighter, fountain pen, marker, and more. As we mentioned, this is a mainly a grayscale device. You can assign gray, white, or black as the colors. You can then save your notes directly to the Micro SD card or your devices internal memory. If you want to even make the process easier you can take a screenshot of your notes and save it to the camera directory. Speaking of the cameras, if you take pictures, you can import the pictures right into your notes. Very cool.
Another great app is the e-reading application, although our unit just came with Chinese books. We did experiment with the device and found that it very easily loads ePub and PDF books. The process is as easy as loading ePub or PDF books on your MicroSD card and then inserting it into your eee Note and then in the settings menu importing your SD card data. Your books will then appear on the library. One of the neat things about reading books is you can use the stylus and interact with the book as you would notes. So you can draw, highlight, take annotations and look words up in the built in dictionary. One feature of the reading app that just did not work was the Zoom function. Whether we zoomed in 1% or 100% it made no difference. Hopefully this will be addressed in a future firmware update.
One of the great ways you can take advantage of the internal microphone is with voice memo function. You can simply record and playback from the devices speakers or via the headphone jack. When you save recordings they appear under your Music Player application. Since we only had a pre-release build of the Asus eee Note it did not have any music playing functionality from the dedicated player. We tried all of the supported formats that claimed to have worked such as MP3's, and even AAC, OGG, WAV, WMV and a ton of others to no avail.
If games are your thing it does come with two basic ones such as Sudoku and Bubble Breaker. They do have different difficultly settings and are basic iterations of the same games you have played on different platforms.
The Settings menu is very deep and has a number of functions you can edit on the device. One of the settings I liked was that you can add a password. Since the eee Note is mainly billed as a students device, this ensures no one is going to be changing your Facebook status update when you go outside for a smoke break. There is also a very neat feature to be able to store data via the Cloud Service that comes bundled with the device. You are mainly using Adobne Evernote and you must use an Adobe Account to access this feature. There is also a ton of pen calibration utilities, so you do not have to be stuck with the default sensitivities.
The eee Note has a ton of great features and settings when you plug it into your computer. There are basically 5 major prompts for you to interact with your device. First, you can install the software that comes bundled with your device that gives your computer the ability to read all of the pen input settings from the device. It also gives you custom PDF document printing software and a Microsoft Word Pen recognition plug-in. Other utilities is an option to let your PC charge your eee Note and access just to the Micro SD card. The best utility is being able to write on your computer as you would the eee Note. It has a pen interface for your PC that allows you to write on your eee Note and it displays on your PC. You can look at it as a portable Wacom tablet, where what you draw on the screen appears on your PC. You can click on things, draw, use it as a mouse and so on. Very cool and lots of potential, it even comes with a management application to configure it properly on your PC.
In the end, this device has the bare bones apps you would expect out of a work and student device. The Note taking app is the highlight and so is the reading application. I know this is just a preview build, so all of the kinks I mentioned on the software side of things should be fixed as it makes its way to Europe and North America.
Our Thoughts
The Asus eee Note EA800 certainly is a game changer in terms of stylus functionality in a hybrid e-reader and tablet. I have never seen either an e-reader or tablet with such high DPI and fluid writing and drawing. Considering it only has 4 GB of RAM and a 2.3 GHZ processor it certainly does get the job done with no lag at all as you are drawing or typing.
Although there is no way to get new games or apps on it, it's more of an e-reader than it is a tablet. This is an interesting conundrum because Asus is not billing it as either, they are simply calling it the EEE NOTE.
Also, one of the neat things is that there are no volume buttons or other superfluous hardware settings. Most of the functions like volume adjustment or most other things is done via the software side of things. If you are used to Android and in the top right hand corner you can click on things and edit everything directly on the screen. You can click on the Time, Volume, WIFI, and a ton of other functions.
Personally since this is a Linux operating system you figure that Asus or Hacking communities will develop other applications for the device, or tailor existing apps to suit this unit. Given that the hardware is decent and it has great RAM, most common apps should be able to be integrated. I would love to see a proper photo editing application or another program to take advantage of the pressure sensitive screen. At least, I would love to see a program with far more brushes and different sizes in order to really fine tune the art.
In the end, this is a tablet that is only able to be used with the stylus that comes with it. Asus actually bundles a second one with it, in case you loose it, which is solid. It does its job as a lower end student device and does a quality job of reading books. There is no backlit or any kind of LCD glare that you get with it, so you have to make sure you are in a well lighted area to do anything.
I would recommend this device to students the most, as you would get the most out of it, without being distracted by Android or Apple devices that have a ton of applications and games. The Voice Notes, written notes, and reading aspects really take it to the next level. It also allows you to edit anything you are doing on the fly.
This article is also translated to Serbo-Croatian language by Jovana Milutinovich from Geeks Education.
Good e-Reader Rating – 7/10

[cincopa AoOAPiKGXeae]

Michael Kozlowski is the Editor in Chief of Good e-Reader. He has been writing about audiobooks and e-readers for the past ten years. His articles have been picked up by major and local news sources and websites such as the CBC, CNET, Engadget, Huffington Post and the New York Times.