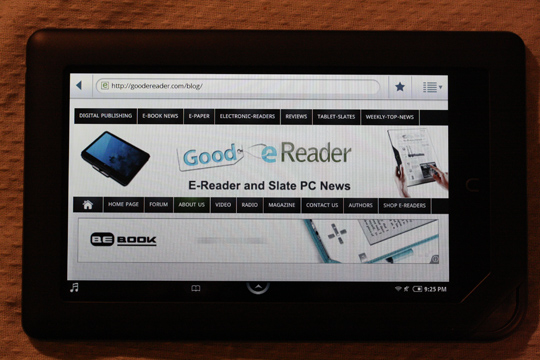 We just got our hands on the latest offering from Barnes and Noble just in time for the holidays, the new Barnes and Noble Nook Color e-Reader. Is LCD worth it, when until now the company has only offered e-ink ebook readers?
Hardware
The Barnes and Noble Nook Color is a 7 inch capacitive color touchscreen with a resolution of 1024×600. It has a built in accelerometer that will switch the screen between landscape and portrait mode. One of the things we noticed straight off is how some ebooks will open in landscape mode, such as children books, and most adult ebooks will only open in portrait mode.
The Nook Color comes with around 8 GB of internal memory, but you only really have 5 GB to work with, because the operating system and key programs take up a fair amount of space.
This device comes with WI-FI but no 3G, but it does allow you to connect up to open networks and closed networks. While online, you can surf the internet, send email and more in full color.
Like previous iterations of the Nook e-Reader, this model supports both DRM ePub and PDF and NON-DRM. Which means you can load ebooks onto the device that you download from the internet, if you do not just want to do business with Barnes and Noble. It also supports Microsoft Office formats such as XLS, DOC, DOE, PPT, PPS, TXT and more.
This model supports lots of multi-media content, audio, video, images and more. Audio formats are relegated to AAC and MP3, you can either listen to music through the built in Stereo speakers, or you can plug in headphones o the jack on the top of the unit. If images are your thing, you can load in JPG, BMP, PNG, and GIF, you can also use these images to customize your wallpaper. Video formats are lacking, and only plays MP4 formats, which means you will have to do a fair amount of converting using 3rd party tools in order to convert your existing videos to an accepted format.
The unit weighs as about as much as the Barnes and Noble Nook, around 449 grams. The dimensions of the unit is around 8.1 inches x 5 inches x 0.48 inches and the battery life lasts around 8 hours of moderate use. It does have a standby feature though that allows you to put the unit into stasis to get more life when you are not using it.

Software
The Barnes and Noble Nook Color runs on Google Android 2.0, but do not expect to get any access to the Android Market. You can expect more games and applications to be released in future firmware updates that are normally done over the air via WI-FI, but you can also manually load them in as well.
The Nook Color comes with a fair amount of applications right out of the box, you get access to Pandora, but only if you live in the USA, or register your device with a USA based address. Speaking of such, that is the only way non-USA based customers can get access to ebooks, magazines, newspapers and more, dispite the fact you can register the device in MANY countries, you cannot actually buy any content on it.
Along with Pandora, you get a media player, contacts list, a picture gallery, as well as games such as Chess, Crossword, and Sudoku.
The Nook Color takes advantage of the new Barnes and Noble "Lendme" feature that's been out the last four months, that allows you to share bought ebooks from Barnes and Noble with friends, and family. When you share your books with other people, it disappears from your device during the two week lending period, to prevent users from sharing the same book with many different people.
Many new software and menu systems have undergone a radical shift from people who have used the original Nook 3G or Nook WI FI e-reader. First of all, all options are interactive via touching icons. Many programs are new and unique to the Nook Color.
First of all, let's look at the Shelves, it allows you to customize different book shelves and name them. So if you share your device with other people, each person can customize their own shelf, from wallpaper, to the books that appear. So if you have a small child, you can populate their shelf, with rich colors and just have their own ebooks there. For the more adult reader, or people who share you can have your books visible on your shelf, and theirs on other. This is a great feature because although your device may have MANY books on it, they are not visible unless you manually add them to your shelf. They do show up though on the main shelf, along with all of your other content.
The main Library allows you to sort content more effectively than ever before, vs. B&N previous offerings. They have sortable tabs that allow you to segregate Magazines, Newspapers, Shelves, personal files and Lendme books.
You also have access to a whole ton of different device settings, some great new features include security and being about to share across social media platforms.
Let's look at the new Security settings, they allow you to block waking up the unit with a password, or allow you to just password lock access to the Barnes and Noble Store, to prevent other people from making purchases on your device.
Social Media is very evident in this device; it allows you to share book passages, via Facebook, Twitter and Google. This is a great feature to promote books and getting more people inspired to read.
Other settings you can configure of note is locking portrait and landscape mode, changing WI-FI on the fly, and dimming your screen depending on your environment.
Finally, when you power the device on for the first time, there is a multi-step process to get you familiar with the Nook Color. It allows you to watch a bunch of getting started Video Tutorials that walk you through most common steps of getting your device setup for the first time.
Content Distribution and eBooks
The Nook Color main focus is Barnes and Noble own eBook store. The store itself loads lightning quick, and has access to a ton of content.
You can easily browse between New Releases, Bestsellers, New York Times Bestsellers, kids' books, newspapers and magazines. This new version of the store is only available via the Nook Color.
Say you have a child and you are interested in kids books. There are allot available and most have the options to have the book read aloud to them, or they can read it by themselves.
Newspapers are magazines are available in a subscription; the price depends on the publication. For example, Popular Science monthly subscription is only $2.99 and to buy just one issue costs around $4.99. You can take out free trials on magazines, but you need an active Barnes and Noble account with a USA based address. We found so far, they have lots of tabs when you are looking at the magazine for reviews, editorial reviews and so on, but most of it has no content at all. If newspapers are your thing, you can for example take out a subscription to USA Today, for $11.99 a month, or one issue for $.75, free trials exist for that as well.
Most of this content such as Kids Books, Newspapers and Magazines are exclusively available to the Nook Color, and are oozing full color goodness. We really like how you can view kids books in full color and swipe for the next page. One of the draw backs that we noticed with the kids books, is if you are zoomed in, on a specific picture or bit of text, you cannot turn the next page unless you zoom out. Hopefully this problem will be addressed in a future firmware update.
Although the Nook Color is in essence tailored to the Barnes and Noble store, you can load ebooks you get from other sources, or have downloaded from the internet. The Nook Color supports Adobe and ePub DRM, which means you can purchase books from Kobo or Smashwords and then load them onto your device via Adobe Digital Editions. If you download ebooks that do not have DRM you can load the ePub books directly on your e-reader via plugging it into your computer via USB cable.
The Nook Color, offers users to really self-manage their content really well, the directory structure offered by Windows Explorer, makes it so everything is neatly in its own independent directory. It makes it very intuitive right out of the box to be able to manage your content. They have directories for audio, pictures, music, video, and ebooks. When you load content into your device, you actually on the Nook Color have an Explorer based Tab called "My Files" you basically have a graphical view of all of the folders on your device, so you can create your own folders, and they will show up under My Files. When browsing content you have uploaded to your device, via My Files you can tap on say a video, or a music file and it will automatically load, which is very good.
Our take on the Nook Color
The Nook color is one of the best LCD based e-readers we have seen to date. We have played around with many, including the Sharper Image Literati e-reader, but the Nook Color is the best of the lot currently.
You can tell that they put a ton of time into the development of this little dandy and it looks really polished. The unit itself is sleek and black and all of the buttons are almost sunken into the frame, so nothing needlessly sticks out. Ascetically it's a very well designed unit, and the Vividview LCD screen really makes it a viable e-reader to read out in the sun, or under direct light without getting the glare as you would on an iPad.
What we really like about the unit, is that its head to toe almost one giant touch screen, all of the icons and menu items are easily clicked one, with rarely any accidental clicking. Even the small tabs built into the GUI of the Nook Color, respond to touches very well. The one drawback with clicking is browsing the internet. There is only one degree of zooming, so when you double tap the screen to zoom, it often does not really zoom all that much. The device constantly implores you to visit the B&N website to configure your Nook Color, and it's an arduous endeavor to say the least. This is mainly due to the fact, that internet browsing is not really indicative to the Nook Color, especially if there are user fields for you to enter, we missed clicking fields many times, because even when we were totally zoomed in, they seemed small and feeble. We almost were wishing they included a Stylus to be able to interact with the device while internet browsing.
Although some websites that mainly written content, such as our own Good e-Reader Blog, were easy to navigate while surfing the internet, websites that had lots of fields, or complex websites did not look so good, and were a nightmare to navigate.
From beginning to end, this device is great! The one feature I would say is going to create a ton of controversy is the LCD aspect of it. Many e-ink purists may knock this device, saying LCD is not conducive to a proper e-reading experience. E-Ink shows things in sharper contrast, and shows between 16 and 24+ levels of greyscale. It comes down to a matter of preference. Some peoples prospective, is LCD is actually better, mainly because how saturated we are with LCD based devices. From Televisions, to MP3 Players, to Smartphones and computer screens LCD dominates our lives; some people find adapting to e-ink this late in the game is something they are not willing to do. Most people, who find themselves reading in lowlight conditions or reading at night, find e-Ink is not the best option for their environment. With LCD it does offer a back-lite screen so you can read in most circumstances, and with Vividview the new proprietary anti-glare system Barnes and Noble is employing, it actually reads better outdoors. It will be interesting to compare Pixel-QI screens with VividView technology to see how they both rate.
When it comes down to it, this unit is not as expensive as an Apple iPad, which is the device of choice for LCD based e-reading, if sales numbers do all the talking. Both screens are made with the same IPS screen technology, minus the Vividview, which allows for 178 degree viewing angles of the screen. Also both devices fail to play Adobe Flash content, where as Apple never will do it, maybe a firmware update will allow the Nook Color to do it, it would certainly give it a LARGE edge over the iPad. Also the unit plays Youtube videos, although the resolution over WI-FI is not that great, it makes up for it when you load your own videos into it.
I think Barnes and Noble scored a total win with the Nook Color. After a few days of playing with it, it has been stable and easy to manage. I have encountered a few bugs and drawbacks of it, but nothing huge.
For example, if you are on a website that has image bases Google Adds, they do not display well, it seems like the Nook Color has a hard time loading the animations that are built into them. While browsing Youtube videos we have had some troubles getting higher quality, even with 1080P videos. Also, there is an ongoing problem with the USB cable and various versions of windows. Apparently some of the cables that have shipped with the Nook Color are defective, and I had to use my Blackberry cable in order to even work the device. Other users report troubles with 64 bits of Windows 7 and Windows Vista and recognizing the device as a valid USB device. I also had this problem, and had to use my Laptop which only has Windows 7 32, and it had no problem recognizing the device with my Blackeberry USB cord, but the one supplied from Barnes and Noble did not work at all.
In the end, the pros outweigh the cons, and if you are looking for an e-reader to give to someone for the holidays, I cannot recommend this unit enough! I have reviewed over 30 e-readers just this year, and this one is at the top of my list for color based electronic ebook readers. I would even say, for its price, it is the most viable device you can get with your money, followed by the iPad, and there is a huge gulf in price between the Nook Color and even the lowest end iPad.
I can really see this device catching on, if they lower the price a bit, it retails from $254 to $299. You can purchase this device if you live outside the USA, since Barnes and Noble does not ship e-readers outside of the USA from our retail partner Shop e-Readers. They currently have the Nook WI-FI, Nook 3G and Nook Colors in stock.
Update: Markus has done a video review of the Barnes and Noble Nook Color!
[cincopa AgNAuXKtBDsJ]

Michael Kozlowski has been writing about audiobooks and e-readers for the past twelve years. His articles have been picked up by major and local news sources and websites such as the CBC, CNET, Engadget, Huffington Post and the New York Times. He Lives in Vancouver, British Columbia, Canada.