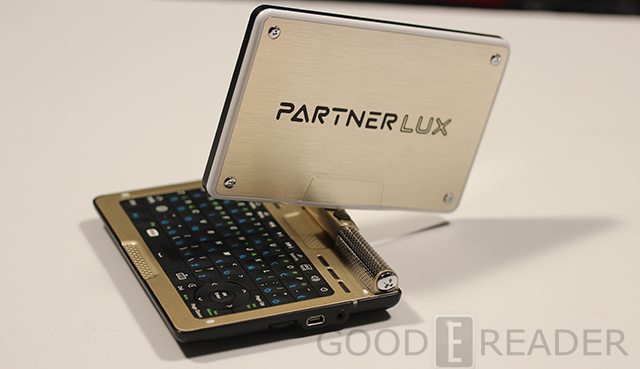 Ectaco recently released a new breed of tablet with a built in keyboard. The essence of this new device is a language translator, made by a company synonymous with e-reader culture. How does this rank up against other tablets on the market and is it a viable investment?
Hardware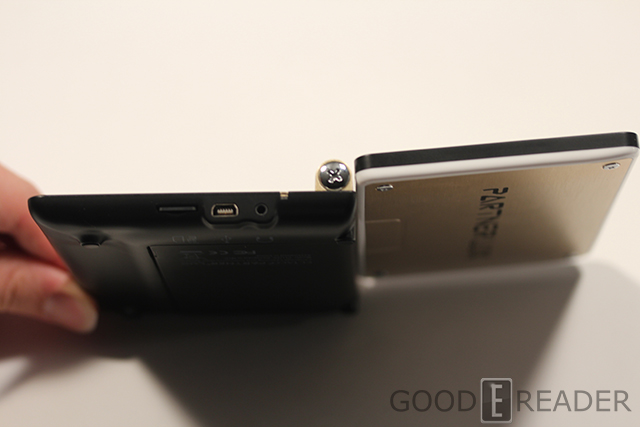 Not much is known with the internals of the Partner Lux from Ectaco, which is seldom a good sign. The tablet features a five inch resistive touchscreen display with a resolution of 800×480 pixels. It comes bundled with a stylus, which is used for pin-point precision. There are also two GB of internal memory and you can expand it via a Micro SD card for up to 32 GB.
Battery life is fairly solid at around 10 hours, thanks to the 3350 mAh Li-Polymer rechargeable battery. You can power it via the DC Adapter that ships with it and use the accompanied Mini USB to USB cable. I found you could easily do your tasks all day long and not be struggling to find a power outlet.
One of the most endearing factors of this device is the built in keyboard. It is a full QWERTY edition and makes email, text messaging, and writing a walk in the park. Most tablets on the market have a docking port to plug in an external keyboard. The Microsoft Surface and Asus Transformer Infinity are two examples of this. The keyboard folds up into the tablet and you can even twist the screen 180 degrees, so it overlaps the keyboard. This allows you to purely interact with the touchscreen and only use the keyboard when necessary.
The exact dimensions are 5.2 x 3.9 x 0.9 in (132 x 98 x 23 mm) and makes it very pocket friendly. This Lux resonates with me on a fundamental level because I love the tectonic feel of keyboards, and have been a loyal Blackberry user for many years. I like the fact the keyboard is built into the overall design and it's way easier to not exclusively use the touchscreen for many programs.
The Lux feels like a very high-end item. It has brushed aluminum and little design enhancements that make it stand out from a very crowded tablet PC space. One of the drawbacks is the lack of 3.1 mm headphone adapter. Instead it uses 2.5.

Software
The Ectaco Partner Lux is running Google Android 2.3.2, which is fairly outdated by today's standards. Still, this is being billed as a language translator, instead of your run of the mill tablet.
The Lux is brimming with Ectaco's Education and Translator software. You can purchase many different models, depending on your native tongue and the one you are trying to learn. Our review model was English to French and was seriously overflowing with cool software.
One of the best elements is the real time voice to speech software. You can speak in English, for example, and have it automatically convert your prose over to French. If writing is more your style, it will read to you in French what you wrote in English. You can even fire up the audio language dictionary and look up the words and have their audio definitions be read to you.
There are four other main apps in this program that round off the translation aspect. The Language Teacher has four main elements; Alphabet, Words, Phrases, and Dialogs. Each set is loaded with an advanced speech recognition system so you get a detailed view and correction of your pronunciation each time. You can backtrack lessons and restart the entire learning process as often as you like with no limit.
Learning a new phrase or want to get more familiar with cultural idioms? The Phrase Book has over 14,000 commonly used phrases and authentic human narration for all of the different languages.
Ectaco has also bundled a number of their educational apps into this device that played a central role in the Jetbook Color. There is an English grammar course, American idioms and irregular verbs, and video courses (interactive course of American English, US Citizenship test, and many more!).
One of the things we had fun with was playing games and not relying on the touchscreen. We ran a test with Sonic the Hedgehog for Android and were happy to find out we could control everything with the keyboard. PC Gamers might like the fact they have a dedicated keyboard to use the directional arrows or establish hot keys.

e-Reading Experience
Most of the main UI does not switch from the default portrait view to landscape. Thankfully the device shipped with Kindle and Moon+ Reader which allows you to control the orientation via the advanced settings.
The Lux is an TFT screen, which means it might not be ideal as your main e-reader device. Many of the most popular apps out there from Nook, Kobo, Overdrive, and indie readers will all work on Android 2.3.
One of the drawbacks about reading is that you have to get by on a five inch screen. This is too small for most normal readers and you will find yourself tweaking the sizes of the fonts and in order to find your sweet spot. Technical PDF documents requires courage to constantly pinch and zoom on a resistive touchscreen display.
I found comic books actually look fairly great, once you install them from the 1Mobile market app that comes bundled on it. This company provides a number of mainstream apps, but if you want more newspaper, magazines, ebook, or RSS Readers, download the Good e-Reader APP store.
Wrap Up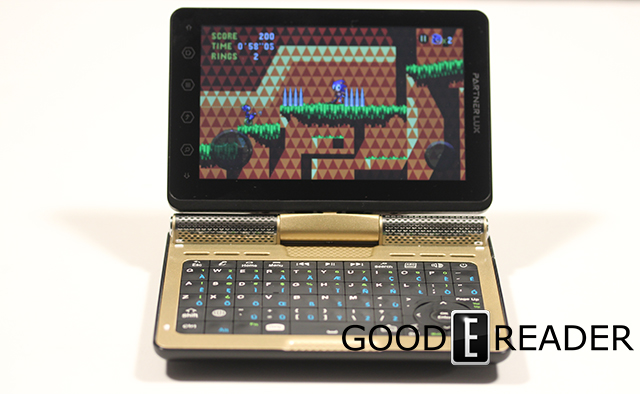 The Ectaco Partner Lux was designed to be a translator and not a full blown tablet. The actual specs are fairly abysmal, but does feature two front facing speakers and a mic for all of your language needs.
On a fundamental level, this device costs too much to buy as an e-reader or daily tablet. You would only purchase this if you needed to learn another language or buy it for an older parent. It is fairly easy to use and most of the $499.99 cost stems from all of the apps Ectaco has loaded on it.
In prior interviews we had with the head of the company, they sold us their products often cost more because of the amount they invested in app development and R&D. They need to charge more, because they are not a volume based business.
In the end, as a translator, it is one of the best in the world. It comes with all of the software you will ever need and really helps you learn a new language. Using this for anything else would be foolhardy.
PROS
Excellent Voice Translation
Tons of Learning Apps
Educational Based Programs
Built in Keyboard
Front Facing Speakers
CONS
Outdated Version of Android
Prohibitive Cost
Must Charge with DC Adapter, PC will Not Charge It.
Flimsy Hardware Specs
Rating: 7/10
Michael Kozlowski is the Editor in Chief of Good e-Reader. He has been writing about audiobooks and e-readers for the past ten years. His articles have been picked up by major and local news sources and websites such as the CNET, Engadget, Huffington Post and Verge.