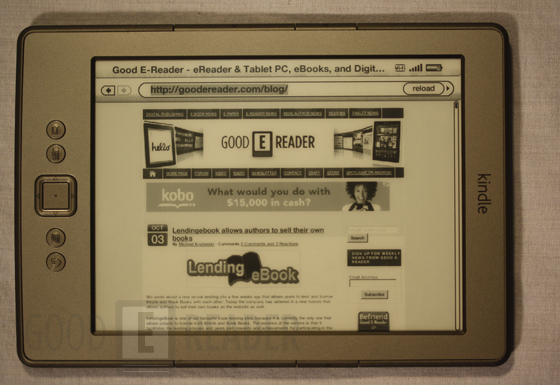 The 4th generation Kindle e-Reader has been released and Good e-Reader brings you a full comprehensive review. The new model is simply known as the Kindle and the prior Kindle is now known as the Kindle with Keyboard. How does the most affordable offering from Amazon rate up against its prior e-readers?
Hardware
The new Kindle features a six ink e-ink Pearl display with a resolution of 600×800 pixels. It has 167 PPI and 16 levels of greyscale which is on par with prior offerings of the Kindle device. It has 2 GB of internal memory but only has 1.25 GB that you can load your own content onto it. There is no expandable memory via SD or MicroSD.
Battery life is fairly solid with the lifespan totalling around 4 weeks and it only takes 4 hours to charge.  You charge the device via the MicroUSB port that is on the device. You also use this port to load your own content such as books and pictures.
This new Kindle is the lightest one ever and feels noticeably different from the 3rd generation models. Amazon claims this edition is 30% lighter and it does fit into your pocket, unlike prior models. The big reason is because there is no physical keyboard and instead uses a virtual one. The big drawback is that this is not the standard QWERTY model most people are used to. Instead it uses a ABC style edition and is VERY hard to type on. Most people find they do not use the keyboard very much so it should not be a huge difference.
One of the other things lacking but contributes to the lightweight design is the absence of audio. There is no 3.5 mm headphone jack or built in speakers.  This means you cannot download or take advantage of audiobooks.
The fact that there is no keyboard or audio functionality puts it on an even playing field with most new e-readers hitting the market, such as the Nook Simple Touch or Kobo Touch. Keep in in mind this model is not touchscreen and instead uses the 5 direction D-Pad to navigate through different settings.
The new Kindle only uses WIFI in order to facilitate a internet connection and there is no 3G model of this one. I find there is no big deal with the free 3G service Amazon uses and Whispernet offsets this. If you are a prior Amazon user you can easily retrieve all of  your old books and sync them directly to your device. Like most Kindles you can pick up where you left off in a book. So if you are on page 35 after reading a book on your iPad or via Kindle for PC, the book opens when you sync it on page 35.
The hardware design is very minimalist and there are not very many ports or buttons on the device. There is a home, back, settings, and keyboard button on the front of it, and left and right page turns on the right and left hand side. The bottom of the unit has a MicroUSB and Power button. The power button is not the slider that has come with past models and instead uses a simple push button. I found the power button will not physically shut the unit off if you hold it down and instead has to be shut down within the settings.
In the end this is a very slick looking device and it is finally awesome to have a Kindle that fits in your back pocket and weighs next to nothing. It certainly hits the right price at $79.99 for the Special Offers version with adverts or the normal one for $109.00.
Software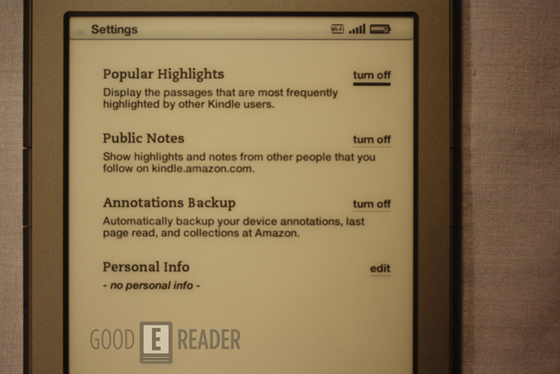 The new Kindle uses an updated version of the Amazon Kindle OS with version 4.0. I found menus and books load very fast and the refresh rate with books and web surfing are more robust then prior models of the Kindle.
There is little difference with the main home screen if you are a prior Kindle user. It simply lists all of the books that are on your device and you can scroll between them with the page turn buttons. If you have a fair number of books, there is functionality to create your own collections.
The main settings bar allows you to access the Kindle Store, change your orientation, access the web browser, and sync.
The Web browser has not really changed with this updated release but it does have a slew of new features which really makes this model the best one yet for surfing the internet. It has options to change the font size of the website you are visiting to make it lager or smaller. This is handy to make blogs with small fonts appear larger in size.  The best feature which really surprised me is the Article mode. This condenses the text, making blogs like Good e-Reader very easy to read. It makes the text appear from left to right and fits the screen perfectly. This is amazing because you do not have to scroll from right to left to read, or make the font small to display all the text on the screen. This is the best feature of the web browsing experience so far.
The main settings menu has a number of options like being able to check out peoples notes and highlights who have read the same book as you have. It gives an indication on how popular a book is or how people have tweeted or have updated their Facebook status with certain segments.
Lets talk about the e-book experience! Books look tremendous, and the cover art and other aspects are stellar with high contrast and resolution. The Kindle is able to read Kindle (AZW), TXT, PDF, unprotected MOBI, PRC natively; HTML, DOC, DOCX. Amazon tries to lock you into their ecosystem, but does allow you to load in your own books. If you use a program like Calibre you can convert non-DRM books from EPUB or other formats to MOBI, which is a Kindle friendly one.
When you are reading a book, you can easily switch the orientation from landscape to portrait mode to get the right perspective. If you are left handed there are page turn buttons on that side to seamlessly assist you. There are many options as well to adjust your reading experience. You can change fonts, margins, and linespacing. This is handy for people who need larger fonts to read effectively.
I noticed this model of the Kindle has most robust page turns then prior Kindle offerings. When we did our side by side comparison with the last generation of Kindle 3G vs, I noticed that in this one there was no weird refresh issues. The last generation Kindle when you turned a page flickered the page and it almost went back as it refreshed. This model does do that as well, but only every six pages. This ensures that you will have a better experience reading books.
The Kindle store has not changed much with this iteration of the Kindle you have many options to buy newspapers, magazines, and books. You can check out the current list of New York Times Bestsellers and if you see a book you like, you can instantly buy it. Kindle Singles continues to prove to be very popular and has its own dedicated section. This gives you solid reads that are too short to be a book and too long to be a newspaper/magazine article. The recent Stephen King book, Mile 81, is doing very well and is the current Amazon most successful book in the Kindle Singles program.
If you are a gamer, the Kindle Store is offering a dedicated section of games exclusively designed for the e-reader. Most are priced aggressively and is more extensive then the quintessential "Snakes" which is found on most low-end devices.
Finally, if you are into borrowing books and not buying them, Amazon recently introduced Kindle Lending. This means you can now checkout books from libraries using the Overdrive system to deliver content. We will soon be making a video showing you step by step how to get books, so make sure to keep checking our blog to look out for that.
In the end, the software is better designed with this new Kindle! Most common options are found more intuitively then prior models. Page refresh rates are amazing.
Our Thoughts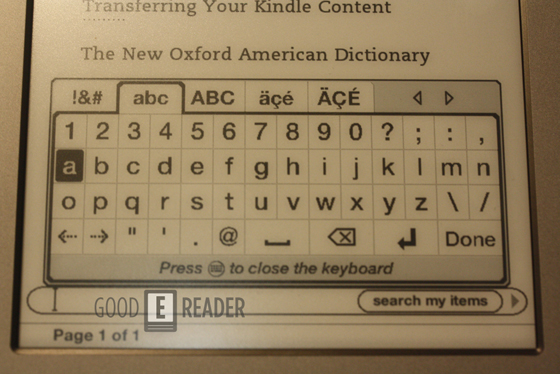 The new Amazon Kindle with WIFI and Special Offers is putting all other low priced models on notice! If you look at the current market there are very few models that are priced below $99. You have the Jetbook Mini, Aluratek Libre Air, or Pocketbook 360 Plus as being the ones this model will compete with. I feel there is n0 competition with those devices and this one. Amazon has the most extensive ecosystem and allows you to digest not just books, but magazines, newspapers, and library books.
The big reason I can see this device being successful other then cost is the extremely portability. Amazon  has done away with the physical keyboard and the on-board sound which makes it the lightest e-reader ever. I fit this easily in my back pocket and can foresee many people using this to travel or bring to the beach or on vacation.
Some of the drawbacks include the virtual keyboard and the lack of expandable memory. If you have a bunch of magazines on your device I can see it filling up fast, since you only have 1 GB of storage. The keyboard is not the standard QWERTY that you are used to on most e-readers or smartphones or even tablets.
Honestly, the ros really outweigh any of the cons! You can view this model as a normal Kindle without some of the hardware features! I really like the updated Kindle OS, you can really tell the difference between everything that you do. During our side by side video we made on the 3rd generation Kindle vs the 4th generation Kindle, this model beat it in all respects.
Currently this device is only available online and not in stores  yet. If you live outside the USA it is very hard to get. I would recommend ordering it from our retail partner Shop e-Readers if you live in Europe, Australia, or New Zealand and you want to get your hands on this right away. With the holiday season quickly approaching I can see this model habitually sold out.
Rating 9/10
[cincopa AcIA3uaYtO4V]

Michael Kozlowski has written about audiobooks and e-readers for the past twelve years. Newspapers and websites such as the CBC, CNET, Engadget, Huffington Post and the New York Times have picked up his articles. He Lives in Vancouver, British Columbia, Canada.