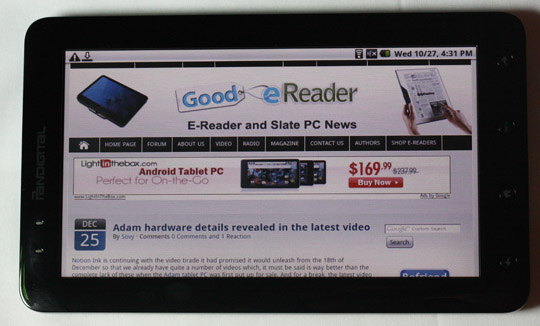 We just got our hands on the newest edition to the Pandigital e-Reader and Tablet PC line with the Pandigital Novel 9 inch e-reader. Considering some of the woes the first Pandigital model had, with recalls and firmware troubles, can the new one be solid right out of the box?
Hardware
The Pandigital Novel 9 Inch features a 9 inch TFT LCD resistive touch screen with a paltry resolution of 800×480 pixels. For processing power it has a 800MHz CPU, so its not too bad at flipping between screens and loading up applications. It features a G-Sensor which will switch it between landscape and portrait mode in a 360 degree arc. It has 2 GB of internal memory and can be further enhanced via an SD card for another 32 GB. Internet connectivity is limited to WI-FI only, but it can connect to Public and Private networks. Battery life is around 7 hours of constant use, and you can recharge it with the USB cable in your computer or via the wall plugin. The dimensions of the Pandigital Novel 9 inch is Dimensions: 5.75″ x 9.5″ x .05″ and weighs around 20.5 OZ.
For Audio it comes with a headphone jack and built in speakers, it also has volume switches on the side of the unit.
Software
The Pandigital Novel 9 inch features Google Android 2.0 as the operating system of choice and comes bundled with the standard applications, such as a web browser, email, facebook, video, audio and an e-reader application. As with all Android Tablets using the base operating system it also has a calender, address book and many other run of the mill applications.
As far as e-reader formats go, it only has support for ePub and PDF, if you have never side loaded in ebooks to your Novel before check out our video tutorial on how to load ebooks on the Pandigital Novel 9 inch.
For audio formats you can load in MP3, AAC and WAV extentions, if videos are your thing you can only use MP4 format unless you load in other applications. You can also setup your own wallpapers and picture galleries, provided your images are in JPEG, BMP, GIF or PNG.
One of the big drawbacks, is unlike the Archos line of e-Readers/Tablets Pandigital does not have an app store of note, so many first time users will find that there is NO options to load in more applications such as; Twitter, Kindle, MSN Messsenger, eBuddy and many more popular applications. The Pandigital Novel does not come with support for the Google Android Market, so finding new apps is hard. To make your lives easier with your Pandigital investment we just wrote a very comprehensive article on Google Android Market Alternatives and essential e-reading applications that can be directly loaded on your Pandigital Novel via its SD Card.
Content Distribution System
There are two different versions of the Pandigital Novel 9 Inch e-reader, one is the USA model and the other the Canadian. The distinctions between the two are merely the bundled e-reading applications that come bundled with the device. The USA model features access to the Barnes and Noble Android Application and the Canadian version has the Kobo. It was good on Pandigital's part to make two different models for their customer base.
Both models via the respected ebook retailer bundles have access to Newspapers, magazines and ebooks. The Pandigital Novel 9 inch is of course a full color device, so magazines really shine.
With the stock unit that you purchase, you are pretty well locked into the content system that comes bundled with your device, but it is possible to load in alternative applications. We have provided a list below that will allow you to manually load into your Pandigital e-reader via the direct Android APK's.
Our take on the Pandigital Novel 9 inch edition
When we first opened it up and did our unboxing they Stylus was totally neglected because it really looks like a piece of the hardware. The unit itself is totally black from head to toe, and some of the buttons are sunken into the device so in low light situations its almost impossible to make out any of the interactive features.
Interacting with the device uses sweeps with the Stylus or with your finger, to browse menus, open up applications and so on. The one thing that irked us is if you want to turn pages of ebooks with your sweeps, be prepared to sweep, and sweep again with nothing happening. The best way to turn pages in ebooks is to use the back and forward button, but this method is only compatible with the built in e-Reader application that your Pandigital comes bundled with. If you decide to side load in any alternative ebook stores, the back and forward button do not turn pages, instead it closed the application. So if you device to side load in an ebook store altnerative be prepared to use the Stylus to turn the pages.
The resolution of the device is very small compared to its direct competition in the Barnes and Noble Nook Color. The Pandigital 9 inch resolution is 480×800 while the Nook Color is 1024 x 600, giving you much more crisp images that are less pixelated. While you do not notice the pixelation on many of the icons on the Pandigital, you do notice it more when you watch video. Speaking of video, the Novel has NO Youtube support right out of the box. Your main hope is to get the Dolphin HD web Browser via one of the alternative Android Markets and install the Youtube search plugin.
All in all, the Novel for what it is, is a decent entry level tablet computer, when you compare it to the other budget tablets out there, its not too bad. The cons are 'no android market or alternative built in, and no instructions on how to install it, no firmware or factory updates if you mess your Novel up trying to sideload applications in, there is feeble video codecs, the resolution is too paltry to really watch videos via Youtube, and the resistive touchscreen makes it hard to turn ebook pages, no matter what app you use.
Some of the pros of the device are; slick black design, responsive menu navigation, bundled content distribution, able to charge it via the PC and once you side load applications and alternative android app stores, its actually a not bad tablet.
For your money, if you lived in the USA we would recommend the Nook Color over this unit, if you live in Canada, this one might suite you a bit better. Finding someone to sell you one of these will be a bit of a challenge, currently you cannot buy it via Pandigitals own site, but you should be able to get it soon, estimated price is around $220 to $250.00.
[cincopa AoJAhZaMBOUO]

Michael Kozlowski has been writing about audiobooks and e-readers for the past twelve years. His articles have been picked up by major and local news sources and websites such as the CBC, CNET, Engadget, Huffington Post and the New York Times. He Lives in Vancouver, British Columbia, Canada.