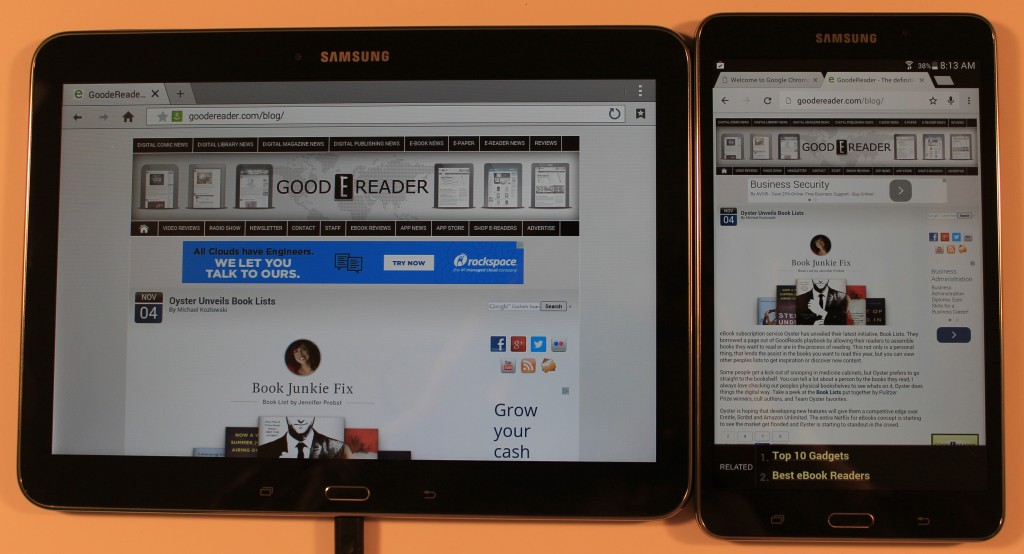 Barnes and Noble has been making tablets since 2010 and designed all of them in-house with their RND team in California. After four generations and $1.2 billion dollars in loses they decided to outsource the hardware to Samsung and focus on developing apps. The Samsung Galaxy Tab 4 Nook 10.1 is the offspring of this new partnership, giving people the safety and security of being able to walk into their local Barnes and Noble bookstore to buy the device, but also take it back for tech support.
The bookstore as a primary vehicle to sell e-readers and tablets has always been B&N's greatest strength. Often when you buy things from eBay or from Amazon, it is quite difficult to return products or get any type of warranty. Many users have stuck with the Nook brand over the years because if anything goes wrong, from a cracked screen or a faulty battery they often swap it out on the spot or assist you with common issues or firmware updates.
Is the Samsung Galaxy Tab 10.1 a viable investment? If you own the Nook HD+ or Nook Tablet, is this a good upgrade? Today, we evaluate this 10.1 inch device and answer all of your questions.
Hardware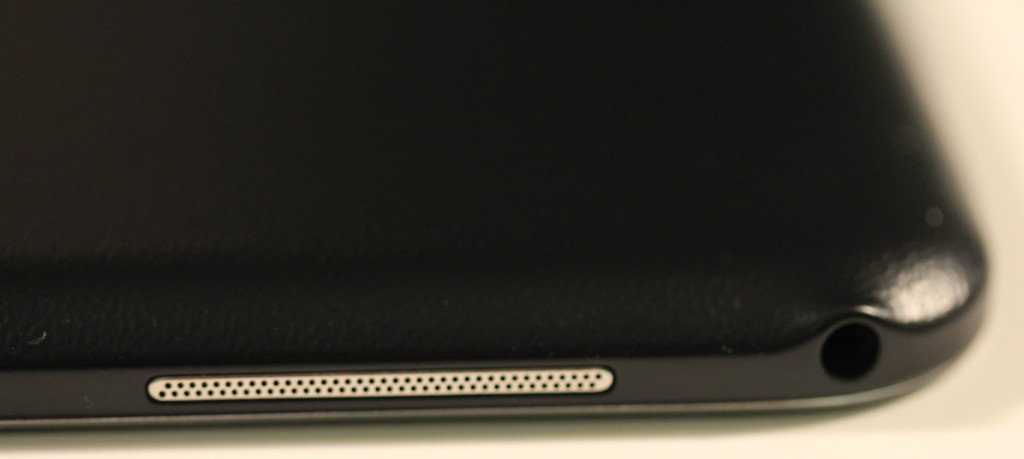 The Samsung Galaxy Tab 4 Nook 10.1 edition has the largest screen found in any Nook device in the past. The Bookseller often just sold seven inch tablets and broke the mold with the HD+ which was nine inches. Having a largest screen displays more characters in an eBook and makes media content really shine. The resolution is only 1280 x 800 pixels at 149 PPI, which is a bit of a downgrade on paper from the Nook HD+ which had 1920 x 1280 pixels. In reality, if you put the two tablets side by side, the Samsung variant actually has a better screen. You simply don't notice terrible resolution, in-fact the new model looks better.
Underneath the hood is a 1.2 GHZ Quad core ARM Cortex-A7 processor and 1.5 GB of RAM. This keeps things rather speedy overall, but I did find that some of the apps created by Nook actually took a few seconds to load, which was abnormal.
Nook owners have been clambering for years for the inclusion of a camera to be able to take pictures or shoot video. Their pleas have been heard and you now have a 1.3 MP front facing camera and 3 MP rear facing. This certainly won't win any awards as more companies are touting their super high-end cameras, but at least you will be able to use apps like Snapchat, Instagram and Vine.
Make no mistake about it, this is a Samsung tablet with no Nook branding on it at all. The only thing that makes it feel like a Nook is the logo on the boot screen and some of the customized widgets and apps that are on your home screen. It may have made economical sense to source the hardware to Samsung, instead of developing it yourself, but its at the expense of brand recognition.
Software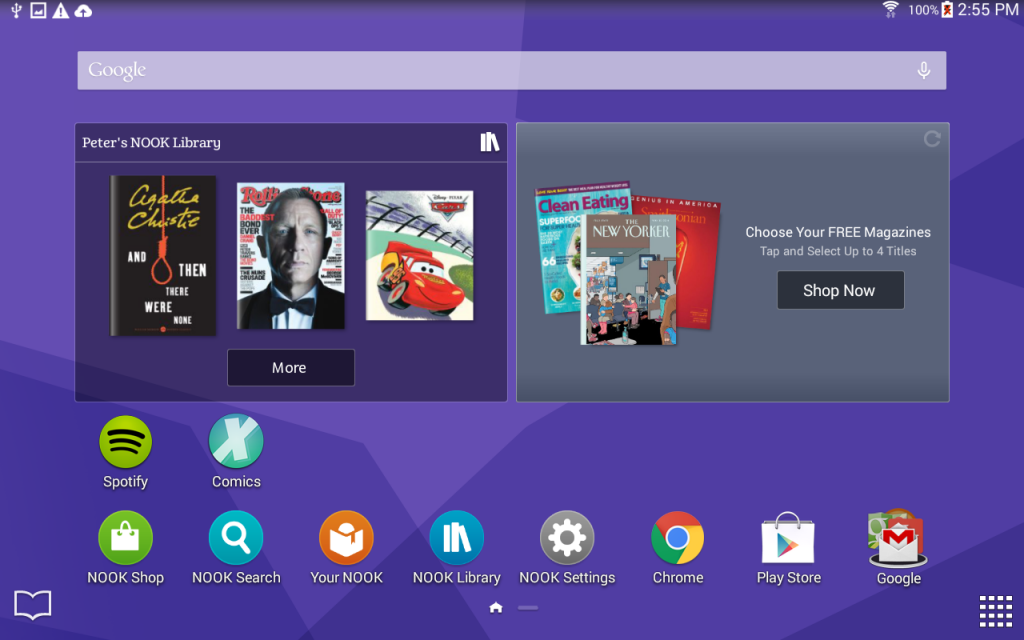 The Samsung Nook 10.1 tablet is running Android 4.4, otherwise known as Kit-Kat. There is no word on whether or not it will receive the latest Lollipop update to provide further enhancements to the OS.
When you turn on the tablet for the first time there are two main widgets on your home screen, one that accesses your library and the other to visit the store. This provides easy access to all of the new purchases you have made, but also if you are upgrading from an older tablet or even the Nook line of e-Readers, everything is stored in the cloud.
There are three app stores packed on the device, the Nook App Store, Samsung Galaxy App Store and Google Play. All three require you to register and make a new account, but I think Google is the logical choice. There simply are better quality apps available, chiefly because the Samsung store is fairly woeful and only has a few thousands. The Nook App Store does not allow any apps that compete its core business. You won't find Comixology, Amazon, Kobo or any other magazine, newspaper or e-reading app.
There are a few customized apps that Barnes and Noble has made to give distinctiveness to the user experience. Lets take a look at all of them.
Nook Library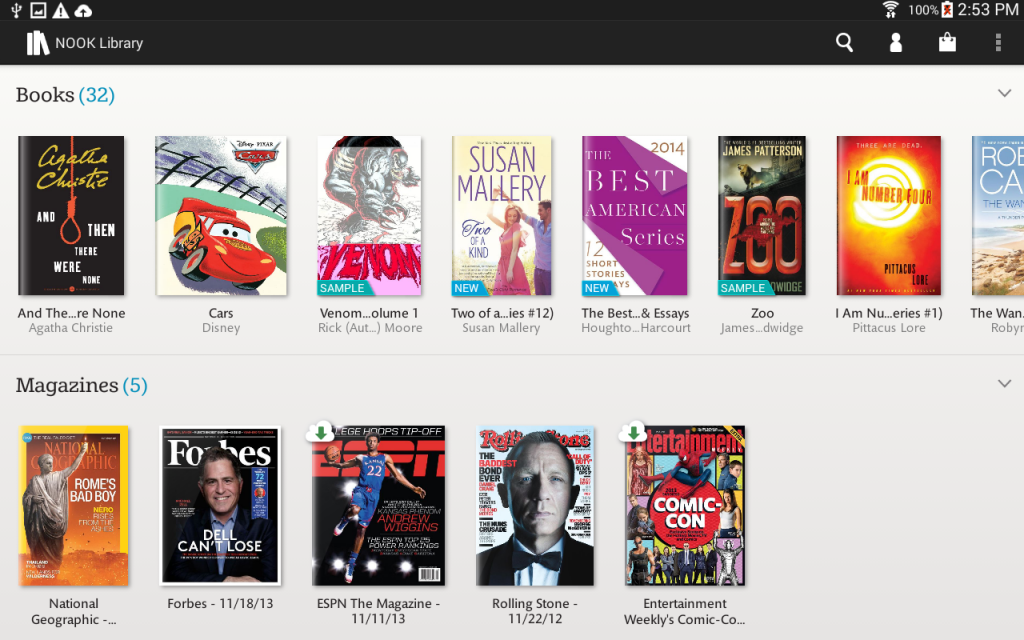 The Nook Library houses all of the purchases you have made from Barnes and Noble. This includes eBooks, comics, magazines, newspapers, television shows. There is a shop button on the top right hand corner, which opens up their online store that sells all of the content.
eBooks are opened by the quintessential Nook app for Android, which has been available on Google Play for years. One of the things I always liked about reading on the Nook is the different backgrounds. Kobo and Kindle have always just had three different background colors, but Nook has six. You can easily change the bright white background to Sepia or different shades of off-white. This makes it easier to read in the dark, without having to strain your eyes. I also dig the way Nook handles animated page turns, wikipedia lookups and built in dictionary.
Magazines and Newspapers are opened via a special Nook for Magazine app that has been completely revised for this new Samsung model. The one thing I really like, aside from the animated page turns is "article view." This strips away all of the images and CSS and turns a magazine into an eBook.
Nook Shop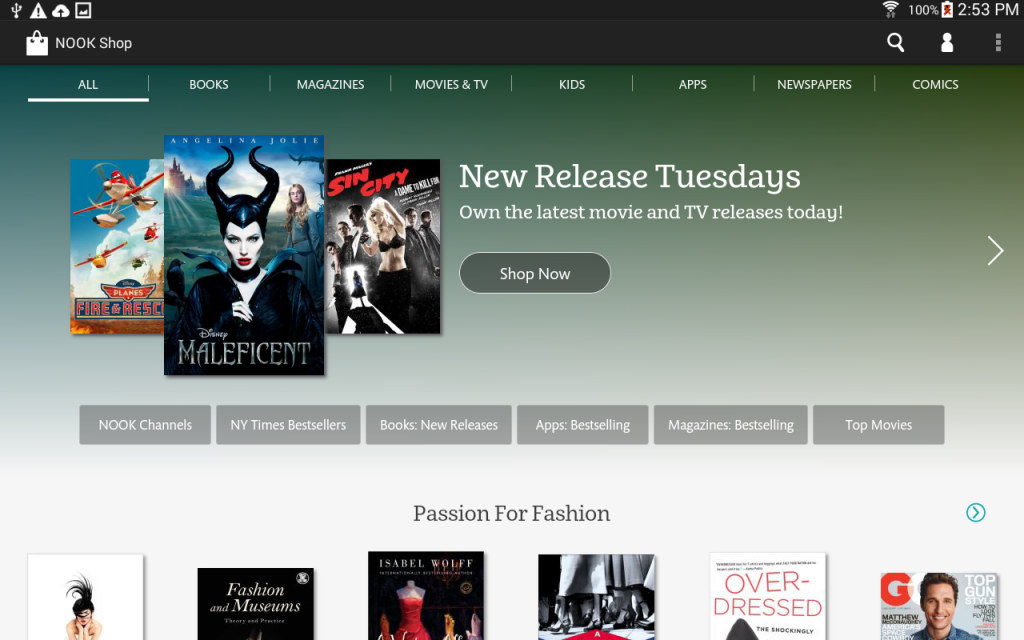 The Nook Shop was designed as a standalone app that lets you browse books, magazines, movies & TV, Kids, Apps, Newspapers and Comics. The only thing international users cannot access is media content, but all others are completely viable. The Home screen is curated content by the Nook team, currently they are hyping "Passion for Passion" and "Your Favorite Heroes."
Nook Search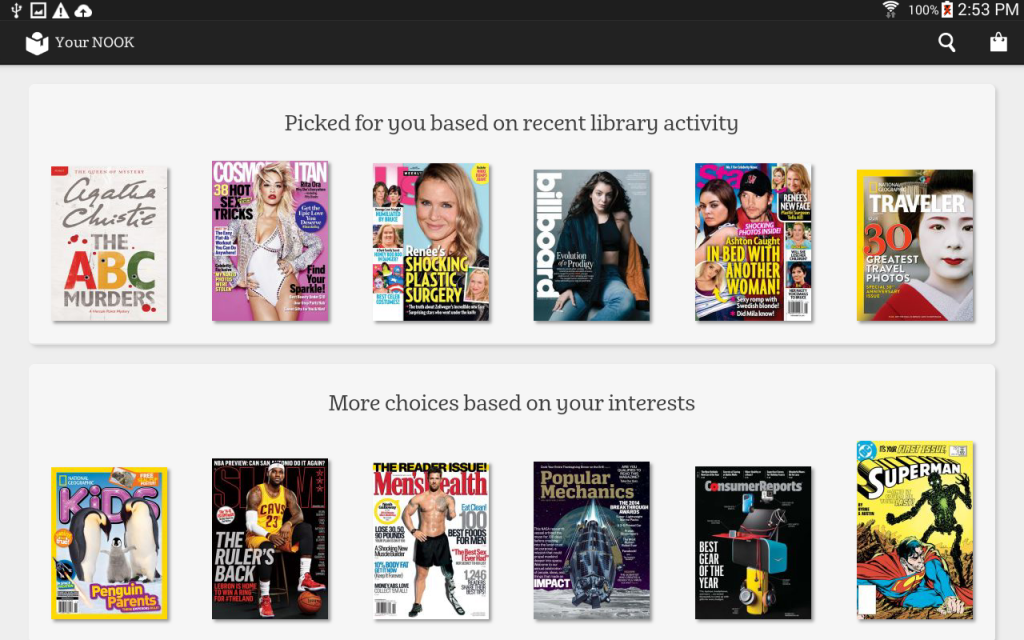 Nook Search is a standalone app that allows you to type in key terms that you want to look for in the shop. You can look at specific keywords, such as "post apocalyptic" or "Potter." It will then give you a huge list of titles matching your search results in everything B&N offers in their store.
Nook Settings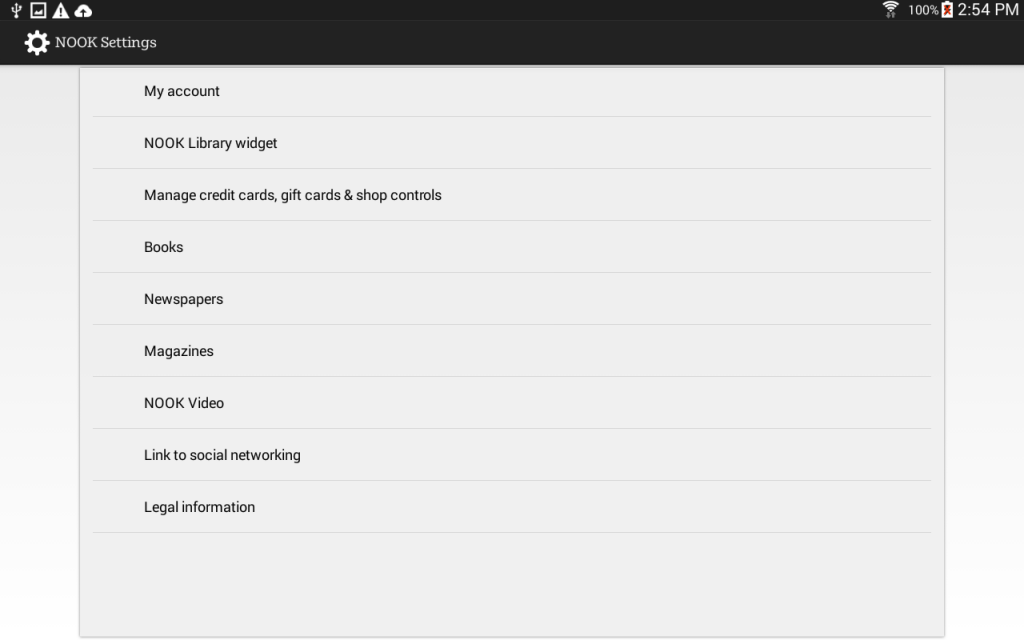 The last unique aspect of the Samsung Galaxy Tab 4 Nook is the customized Nook Settings. Now it is important to note that you do have access to traditional Android settings too.
Nook settings allows you to control the way all of the dedicated Nooks apps behave. You can download alternative dictionaries and make them your default. Right now there is only six, but I was told more are on the way.
Reading Experience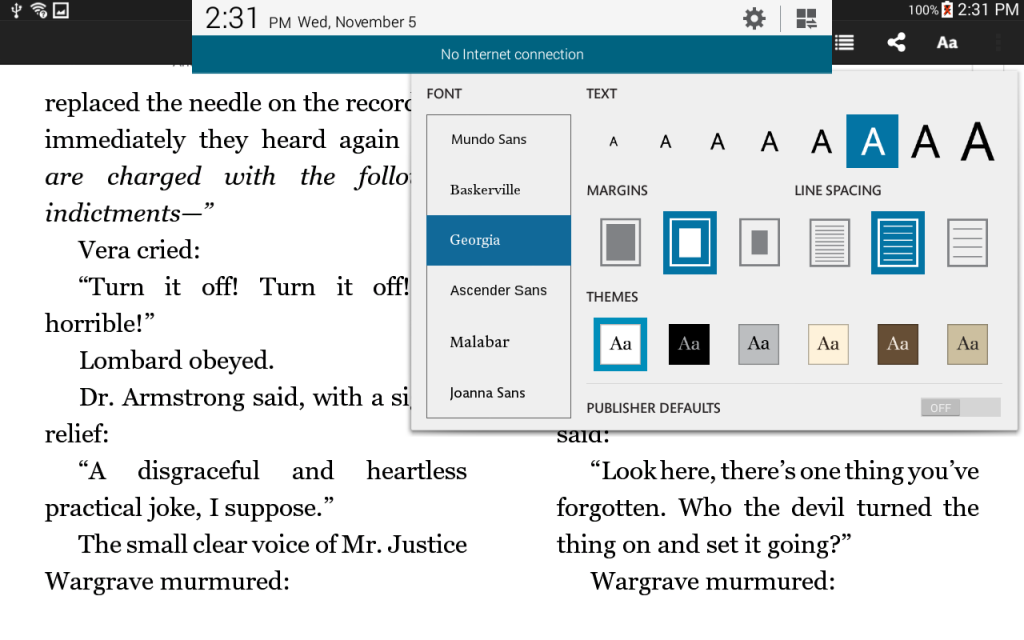 This tablet really shines when reading the average eBook title. Ideally, you want to read eBooks in portrait mode because in landscape it gives you a two column view. To be honest, I prefer to read in landscape mode, but was disappointed that there was no way to remove the two column reading experience and instead was relegated to reading in portrait.
There are eight different font sizes to choose from and six font types. There are plenty of options to optimize the line spacing, margins and themes. I like the way the themes work on this device. I am sure we have all tried reading on a smartphone or tablet and the black text on bright white background can be straining on the eyes. The inclusion of themes mutes the background color into all sorts of off-whites that remind me of vellum and Sepia. Switching between any of the reading options is really inutitive and easy to determine what setting you want to tweak. This is a stark contrast to the new of Fire Tablets where nothing is labeled, and you have no idea on what setting does what.
This tablet falls off a cliff when it comes to comics, magazines and newspapers. The rendering engine they use does not really give you much zooming options, and often the text is too small to read. You will have to rely on ArticleView, which is the option to strip away all of the CSS elements, and give you pure text. This is useful, but for example with a newspaper, you have to do this every single page, and gets really tedious.
I think the problem is that it is using the magazine rendering engine for all content and newspapers and comics are not optimized properly. I would firmly encourage everyone to not buy this content from Barnes and Noble and instead do business with a company specializing in it. If comics are your thing, Comixology. Marvel, Dark Horse, Made Fire and plenty of others have excellent user experiences. If you are into Manga, Chrunchyroll Manga and VIZ are two solid ecosystems to buy and read. For newspapers, I would firmly recommend Press Reader, as they have replica editions of thousands of newspapers from around the world. Finally, if digital magazines are your bag, Zinio continues to be the best value for Android.
So aside from eBooks, you ideally want to do business with different companies, but what about audiobooks? Barnes and Noble has just unveiled their new Nook Audiobook app that is available on Google Play, Good e-Reader and the Nook App Store. It has 50,000 titles, which has something for everyone. The app is really solid, has a great interface and another reason to buy into the Nook ecosystem.
Wrap Up
The Samsung Galaxy Tab 4 Nook 10.1 edition costs $319 dollars and provides huge screen real estate for all of your reading needs. There is more text on the screen at once when compared to the seven inch version released last month. The speakers are actually really nice too, they are placed on the top right and left corners, ensuring that you will never be muffling them when holding the tablet with two hands.
After using this 10.1 inch tablet for a few weeks, I have actually grown to really like it. Living in Canada the only restrictions that Nook places on me is the ability to rent or buy television shows or movies. This content is geographically locked, so you can't access content unless you live in the US or UK. Really, I wouldn't even buy this type of content from Barnes and Noble anyways because I have a subscription to the WWE Network, Netflix and Crunchyroll. If I need to buy a movie, I'll just get it on iTunes and sync it to my iPad or Apple TV.
The question is, should you upgrade to this model if you have an older Nook tablet. I would, it is very modern and will easily last you a few years of constant use. Nook HD and HD+ owners will get value, but if you have any of the older models, this will be a night and day experience.
PROS
Giant 10.1 inch screen
Great Speakers
Excellent eBook experience
Google Play makes it easy to download new apps
Two Cameras
Huge Keyboard makes typing easy
CONS
Exclusive two column view on eBooks
Comics, Magazines, Newspapers viewing is weak
Takes 8 hours to charge it from max power when battery is drained
Does not feel like a Nook Tablet, no Nook branding
Rating: 8/10
Michael Kozlowski is the Editor in Chief of Good e-Reader. He has been writing about audiobooks and e-readers for the past ten years. His articles have been picked up by major and local news sources and websites such as the CBC, CNET, Engadget, Huffington Post and the New York Times.