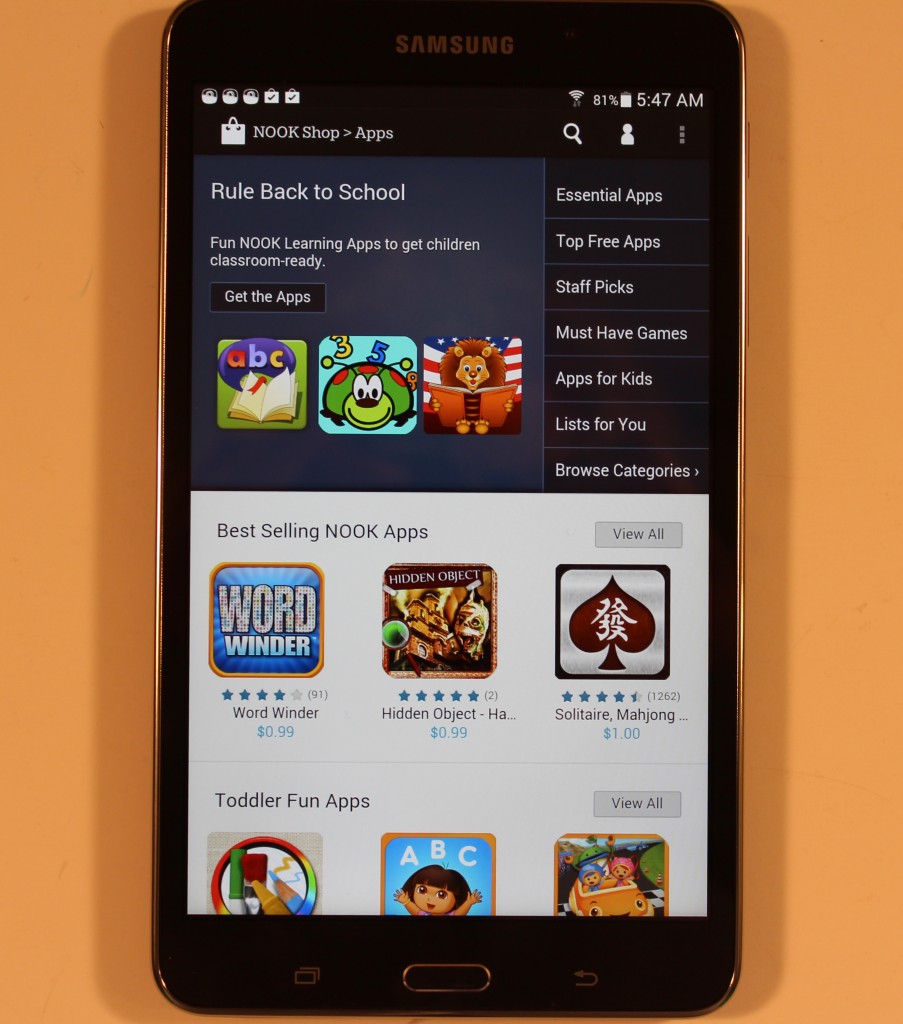 Barnes and Noble has collaborated with Samsung for the latest generation Nook tablet. Samsung provided the hardware and B&N designed custom reading apps for Android, which gives users a very unique experience. How does this new device compare to the Nook HD or Nook Tablet and is it a viable upgrade?
Hardware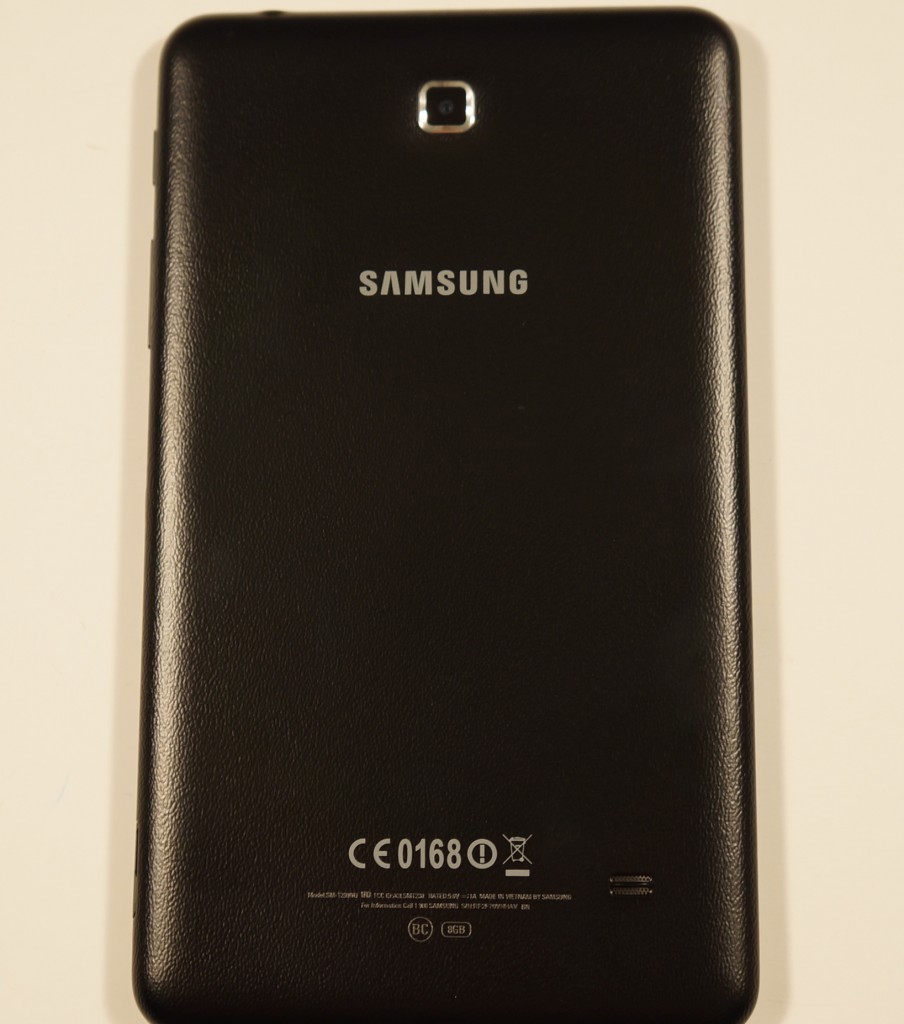 The Samsung Galaxy Tab 4 Nook features a seven inch capacitive touchscreen display with a resolution of 1280 x 800. The resolution overall is a big of a downgrade from the Nook HD, but not enough to be noticeable for your average user.
Underneath the hood is a 1.2 GHZ quad-core processor, 1.5GB of RAM and 8GB of storage, plus support for MicroSD (up to 32GB) The Samsung Galaxy Tab 4 Nook features a 3Mp rear camera and 1.3Mp front-facing webcam, with the former capable of 720p video recording at 30fps. This is the first time a Nook device will have front and rear cameras.
The Samsung Galaxy Tab 4 Nook measures 186.9x9x107.9mm and weighs 276g. Part of this weight comes from the 4000mAh battery, claimed to allow for up to 10 hours of video, 190 hours of audio, or 10 hours of internet usage.
When it comes to the audio experience there is a single speaker on the back, but it is in stereo. This allows you to listen to audiobooks, music, video or the read aloud feature in kids books.
Barnes and Noble tried to stem the tide of constant financial losses in their Nook division by outsourcing the hardware to Samsung. This is a double edged sword because there is no Nook branding on the tablet at all. If the device is totally powered down, you would have no idea that it is anything else but a Samsung Galaxy Tab 4.
Software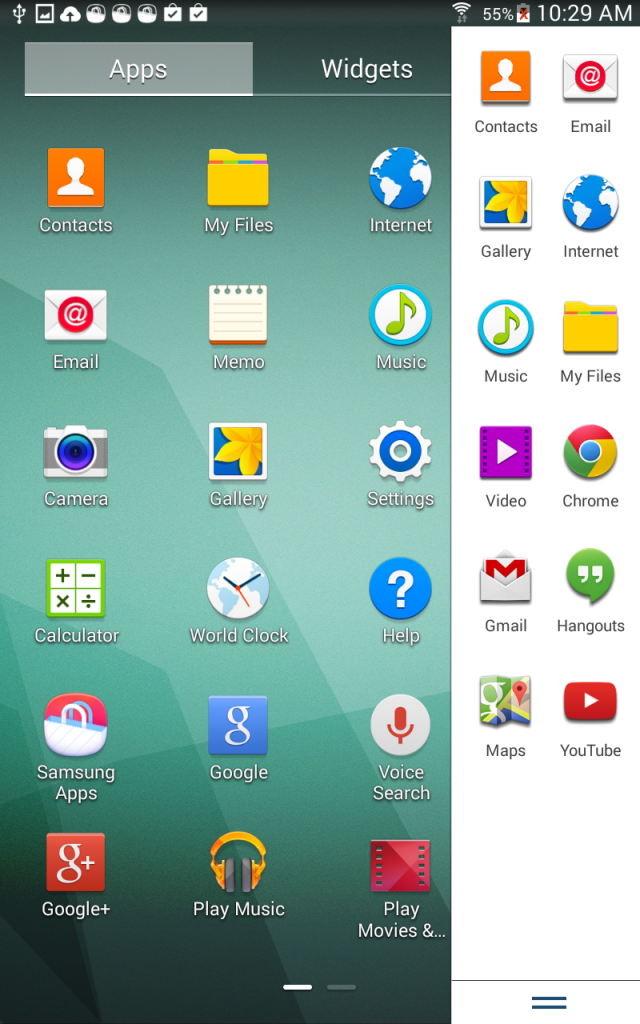 Every single tablet that Barnes and Noble has even released ran a heavily skinned version of Google Android. This was the same tactic that both Amazon and Kobo employed to make their devices stand out in the crowd. The Samsung Galaxy 4 Nook is the first time users get a vanilla Android experience, allowing them to install live wallpapers and even change their keyboards.
Instead of heavily augmenting Android, Barnes and Noble has firmly embraced it. They company has developed a series of custom apps that get users participating in the booksellers ecosystem. There is a dedicated store, Nook Video, Library, eBook Reading Apps, Nook Search, custom settings menu and the ability to view all of the notes and annotations you have ever made.
One of the strongest benefits of the new Samsung tablet is the ability to finally download apps from outside the US and UK. The Nook App Store used to lock customers out of purchasing or downloading apps, due to geolocation. This seems to be disabled in the new Nook, which allows users to download apps not only from B&N but also Google Play. The only limitation placed on customers is Nook Video, you still have to be in the US to buy or rent videos or television shows.
The Home screen mainly comprises of all of your Nook Reading App, Nook Store and a bunch of official Google ones. Chrome, Gmail, Google Maps, Play and all of the standard Google apps are all included in a mini folder. If you swipe the screen from the right to the left on the edge of the bezel there is a side screen full of apps. By default, its all the official Google ones, but you can add or remove any of them there, adding to the customization capabilities.
The one thing I really want to focus on during this review is the Nook content and not really dwelling on the standard Android functionality.
Nook Library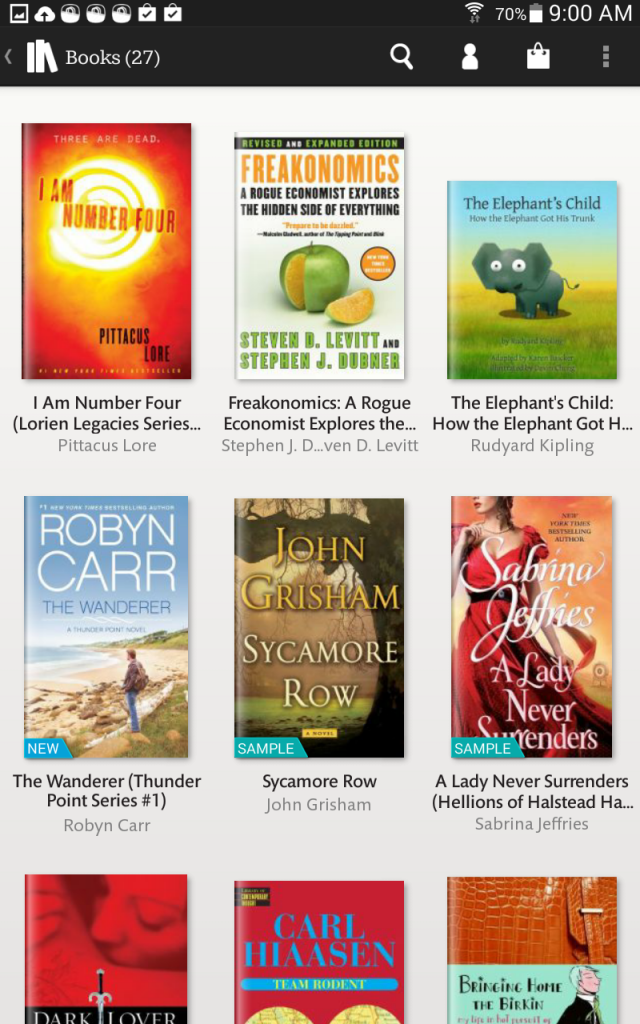 The Nook Library houses all of the purchases you have made from Barnes and Noble. This includes eBooks, comics, magazines, newspapers, television shows. There is a shop button on the top right hand corner, which opens up their online store that sells all of the content.
eBooks are opened by the quintessential Nook app for Android, which has been available on Google Play for years. One of the things I always liked about reading on the Nook is the different backgrounds. Kobo and Kindle have always just had three different background colors, but Nook has six. You can easily change the bright white background to Sepia or different shades of off-white. This makes it easier to read in the dark, without having to strain your eyes. I also dig the way Nook handles animated page turns, wikipedia lookups and built in dictionary.
Magazines and Newspapers are opened via a special Nook for Magazine app that has been completely revised for this new Samsung model. The one thing I really like, aside from the animated page turns is "article view." This strips away all of the images and CSS and turns a magazine into an eBook.
Nook Shop
The Nook Shop was designed as a standalone app that lets you browse books, magazines, movies & TV, Kids, Apps, Newspapers and Comics. The only thing international users cannot access is media content, but all others are completely viable. The Home screen is curated content by the Nook team, currently they are hyping "Passion for Passion" and "Your Favorite Heroes."
Nook Search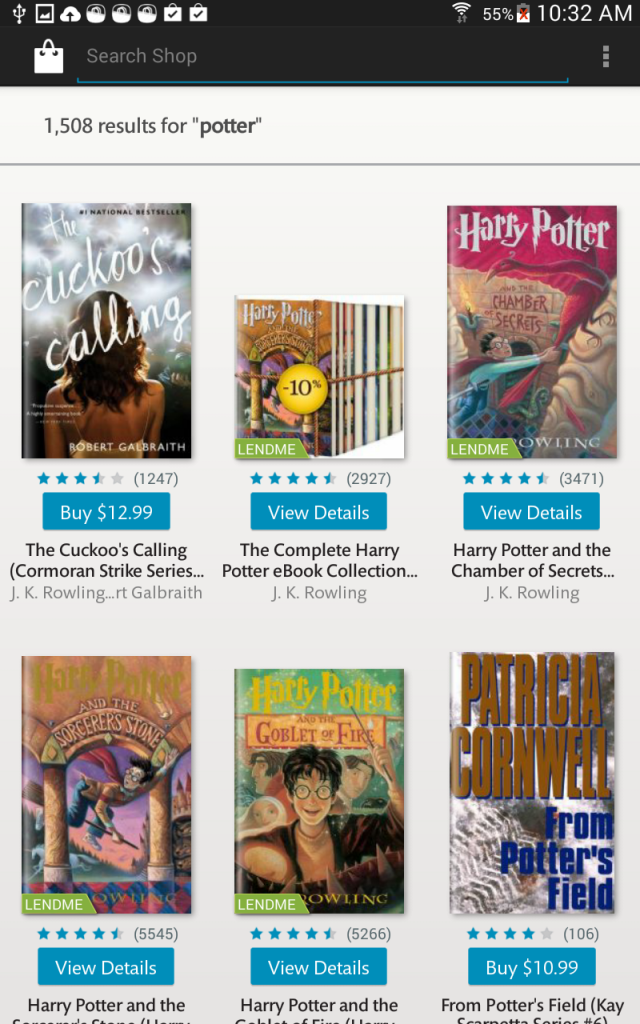 Nook Search is a standalone app that allows you to type in key terms that you want to look for in the shop. You can look at specific keywords, such as "post apocalyptic" or "Potter." It will then give you a huge list of titles matching your search results in everything B&N offers in their store.
Nook Today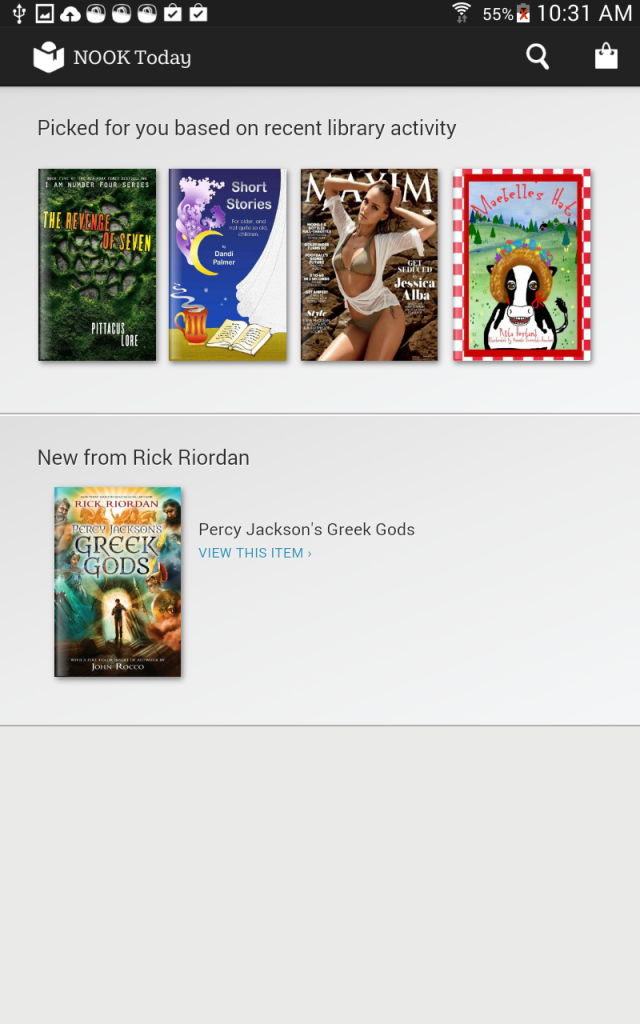 Nook Today scans all of the content you purchase or samples you access from the online store. It then gives you a recommended reading list, which helps with discovery. In addition, it remembers your results from Nook Search and also recommends similar titles.
Nook Settings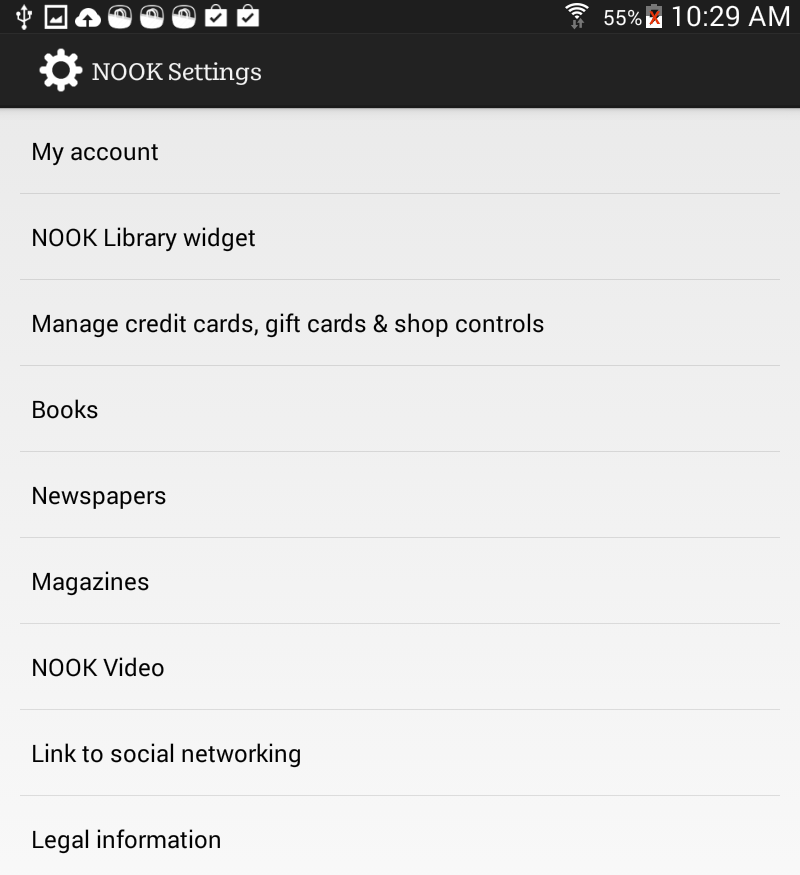 The last unique aspect of the Samsung Galaxy Tab 4 Nook is the customized Nook Settings. Now it is important to note that you do have access to traditional Android settings too.
Nook settings allows you to control the way all of the dedicated Nooks apps behave. You can download alternative dictionaries and make them your default. Right now there is only six, but I was told more are on the way.
You can also control the way the magazine and eBook reading apps function. Cool options include turning off animated page turns, or two page layout in landscape. This is also where you can associate your Ultraviolet account with Nook Video to get the digital copies of the movies you buy from retail stores.
Wrap up
Good e-Reader has reviewed every single tablet Barnes and Noble has ever released, from the Nook Color to the Nook HD. This tablet is a step in the right direction. It gives you a unique e-reading experience and allows a deep level of customization.
I like the fact you can opt into dealing with Barnes and Noble, but aren't exclusively roped into it. Google Play allows you to basically downloading any 3rd party reading app, Overdrive Media Console, Amazon Kindle, Kobo or thousands of others.
PROS
Reading digital books is impressive
Tons of unique Nook Apps
Allows you to download any app you want from Google
Live Wallpapers and Widgets
CONS
Setup involved a Google, Samsung and Nook account.
Speaker quality is not the greatest
No Barnes and Noble branding on the hardware
Rating: 8.5/10
Michael Kozlowski has been writing about audiobooks and e-readers for the past twelve years. His articles have been picked up by major and local news sources and websites such as the CBC, CNET, Engadget, Huffington Post and the New York Times. He Lives in Vancouver, British Columbia, Canada.