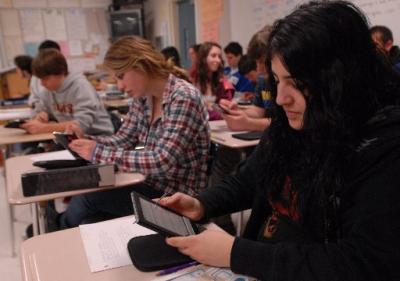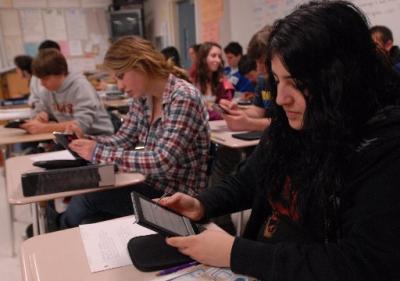 With school funding constantly hanging precariously on the edge of being whittled down to nothing, schools have had to become very creative about how they still maintain a minimum standard of academic excellence while also preparing students to be 21st century learners. Part of the different curricula in schools all around the country is the full incorporation of technology instruction and digital citizenship in order to prepare students for a future in higher education or the workforce.
One way that schools have been able to skirt the funding issue is by simply acknowledging that a lot of students have a variety of portable devices already in their possession. Where schools once held onto strict "no personal electronics" policies, more and more schools are seeing the benefits in teaching public school students to be responsible with their devices in a school setting. The initiative, known in many schools as "bring your own device," or BYOD, is becoming popular around the country; by not having to divert funds into purchasing technology for every student, many schools that allow this type of learning have been able to find the funds to provide a limited number of laptops or classroom computers for students who don't have the means to provide their own devices.
Now, schools are also seeing the benefits in taking advantage of companies that are making their digital services available, strictly to the schools and intended to be used on the students' own devices. Entire school systems are being set up as stand-alone libraries, so that students can check out ebook titles and download them to their own devices via the school system's website and their user passwords. Just as with a library, the ebook disappears from the device within a set time frame, usually two weeks. And just as with any print-book library, public or educational, if the book is already checked out by another student, there is a waiting list.
One of the things that has appealed to the students themselves is the convenience of being able to get a particular title from home, especially in the case of a forgotten assignment or a text left in a locker at school. While studies from groups like the Book Industry Study Group had once shown that teenagers were the readers least likely to adopt digital reading, the rise in digital sales in young adult fiction shows that more are taking to reading on their devices.

Mercy Pilkington is a Senior Editor for Good e-Reader. She is also the CEO and founder of a hybrid publishing and consulting company.