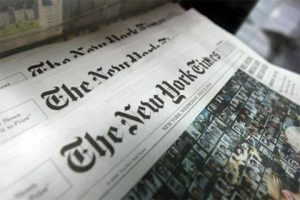 Does anyone still remember the arguments from only a year or so ago, the ones where critics said that digital publishing was going to destroy the book industry or where fans of ebooks promised it would be the death of paper books? Or the literary agents and publishers who firmly held the doors shut in order to keep the digitally and self-published riff raff from being confused with the "real" authors?
Apparently, no one remembers. Mark Coker, CEO of ebook distribution platform Smashwords, posted a startling announcement on the site's blog: as of yesterday, four self-published authors have a total of seven books on the New York Times' ebook fiction bestseller list.
"Congrats to Colleen Hoover (Slammed at #8, Point of Retreat at #18), R.L. Mathewson (Playing for Keeps at #16), Lyla Sinclair (Training Tessa at #17) and Bella Andre (If You Were Mine at #22, Can't Help Falling in Love at #23, and I Only Have Eyes for You at #24).
All the credit for these results go to the authors who wrote the books, the readers who purchased them and the retailers who connected these books with readers," wrote Coker.
Coker went on to gently admonish those writers who may still be lingering at the whim of the traditional publishing industry, not only encouraging the next bestselling author, but any writer who has put in the time and effort to produce a quality book.
"Maybe tomorrow's bestseller is languishing on an undiscovered writer's computer, still waiting for a publisher to give it a chance. Maybe that writer will now realize they don't need the blessing of a publisher to become a published author, or to reach readers…Give your book a chance. Get it out now. If you're exceptionally talented and work your butt off, then lightning might strike for you too. Or, if you're like most authors, you'll find the journey of self-publishing is reward enough, even if you don't make the New York Times bestseller list."

Mercy Pilkington is a Senior Editor for Good e-Reader. She is also the CEO and founder of a hybrid publishing and consulting company.