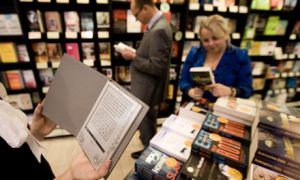 Just in time for the holidays, GalleyCat has released its weekly bestseller list of self-published titles, compiled from sales data from Amazon, Barnes and Noble, and Smashwords. The list, which crosses a variety of genres, includes separate sales data from the three major ebook distributors, but does not include specific sales figures.
For romance fans, the top three titles are Trouble by Samantha Towle (#1), A Little Christmas Romance by HM Ward (#2), and Jake Undone by Penelope Ward (#3). Two titles by Caisey Quinn, both from the Keep Me Still series, came in at number five (Hold Us Close) and number seven (Keep Me Still). Not surprisingly given the sheer volume of content that fans of the genre consume, numbers eight and ten on the self-published bestseller list from Amazon were also romance titles, Christmas on Main Street by E. Ayers and Western Kisses by Carré White.
Two thriller titles, The Atlantis Gene: A Thriller (The Origin Mystery, Book 1) by A.G. Riddle and 9 Killer Thrillers by Russell Blake, finished the top ten on Amazon in the sixth and ninth spots, respectively.
According to GalleyCat's research, the following titles earned the top ten spots on Smashwords for the past week:
1. Principles for Written English, Workbook 1 by Maggie Sokolik
2. Fifty Ways to Practice Writing: Tips for ESL/EFL Students by Dorothy Zemach
3. Unattainable by Madeline Sheehan
4. The Great Convergence byJoseph Lallo
5. The Battle of Verril by Joseph Lallo
6. Why Do Dramas Do That? Part 1by Dimension Four
7. Nine Goblins by T Kingfisher
8. Butterflies in Honey (Growing Pains #3) by K.F. Breene
9. Enhancing Performance: Mental Training for Coaches, Athletes, and Parents by Dan Yarmey
10. Attainment (Book 3.5 in The Temptation Series) by K.M. Golland