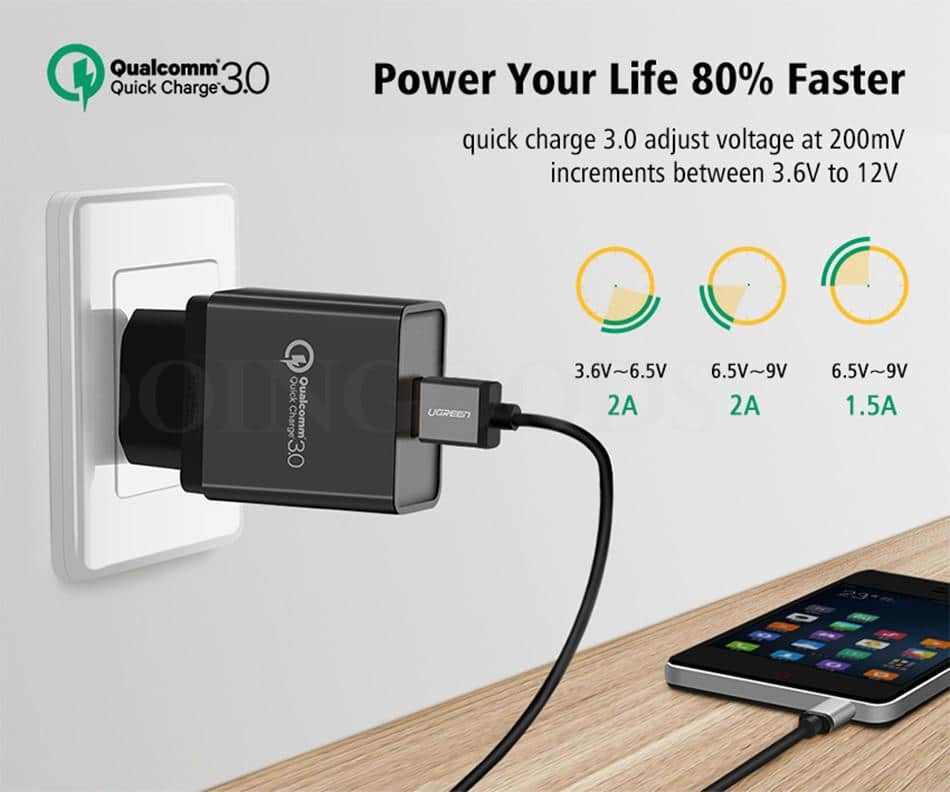 E-Readers these days are quite powerful. Boyue e-readers have a octacore processor and the upcoming Wisky EE Pad has a decacore. These devices all run Android and if you are using apps on a regular basis you will drain the battery in a matter of days. The first generation Kindle Oasis with the accompanied case with a built in battery only lasts less than a week. It is time these top of the line electronic readers adopt a fast charge function so we can get back to reading faster.
In a nutshell, fast charging increases the current sent to the battery to fill up its capacity quicker. The basic USB specification only sends 0.5 amps (A) of current using 5 volts (V) for just 2.5 watts (W). Fast charging technologies boost these figures. Huawei's 10V/4A SuperCharge2.0 produces 40W and Samsung's 9V/1.7A Adaptive Fast Charging produces 15W of juice. All fast charging services share a common theme — more power.
Fast Charging is all the rage these days. Apple's newest AirPods come with an optional Wireless Charging Case that enables Qi-based wireless charging. When you put your AirPods into the Wireless Charging Case for 15 minutes will give you three hours of listening time. Xiaomi is teasing a new high mark for speedy phone charging: a "100W" quick-charge solution. Xiaomi Senior Vice President Xiang Wang shared a video on Facebook of the new charging solution in action, saying that "Xiaomi's engineers have created a 100W fast-charging solution, which can fully charge a large 4000mAh battery in just 17 minutes!"
There are a few different proprietary fast charging systems available on the market. The most popular is Quick Charge which only works on Qualcomm Snapdragon processors, which many Android phones employ. Qualcomm claims the latest version of Quick Charge 4+ can recharge smartphones to 50 percent in just 15 minutes. The more ubiquitous Quick Charge 3.0 delivers about 50 percent capacity in half an hour.
Apple has their own system that works on the Apple iPhone XS, iPhone XS Max, iPhone XR, iPhone X, iPhone 8, and iPhone 8 Plus implement USB-PD, the same industry standard used by the iPad Pro, the 12-inch MacBook, Google's Chromebook Pixel, and Lenovo's X1 Carbon. Intercompatibility is its biggest advantage — USB-PD doesn't require any special cables or wall adapters. Fast charge kicks in when the capacity is between 0 and 79 percent, but stops when it reaches 80 percent.
If you don't mind forking over a few extra dollars for charging accessories, you get much faster charging than you would otherwise. The fast charging iPhones can charge from 0 to 50 percent in 30 minutes using USB-PD.
Samsung has their own system called Adaptive Fast Charging. Samsung's Adaptive Fast Charging is exclusive to Galaxy devices like the Galaxy S9 and Note 8. Unlike Quick Charge and other competing fast standards, it's fully compatible with Exynos, the system-on-chip commonly found in international variants of Samsung's devices.
Motorola's TurboPower standard, a tweaked version of Quick Charge 2.0, ships on Motorola devices like the Moto Z2 Force and Moto G6 Plus. Motorola claims TurboPower 30 can deliver up to 15 hours of battery life in 15 minutes.
The Wisky EE Pad is the only mainstream e-reader to use a Mediatech processor, but I do not believe it is compatible with the MediaTek Pump Express. The company primarily focuses on budget and midrange devices, has its own charging standard: Pump Express. Pump Express 2.0+ and Pump Express 3.0, the two newest revisions, coexist — Pump Express 2.0 targets lower-cost MicroUSB and USB-C devices, and Pump Express 3.0 targets high-end USB-C phones. Pump Express 3.0 devices can charge up to 75 percent in 20 minutes, according to MediaTek. Pump Express 2.0+ devices take about 30 minutes to reach the same capacity.
The vast majority of Android driven e-readers are mostly using Rockchip processors, because they are powerful and inexpensive. Rockchip currently does not support fast charging in a official capacity. NXP/Freescale power the rest of the e-readers out there, such as the Amazon Kindle, Barnes and Noble Nook, and Kobo. Freescale supports fast charging on a few of their processors, but they do not support the IMX6 Solo Lite or the Freescale IMX7 dual core.
We likely will not see quick charging accessories or any sort of mechanisms to power our e-readers quicker and this is a shame. This is primarily due to the two major chip makers that power the vast majority of e-readers have no fast charging function and will likely not introduce one anytime soon.
Android e-readers batteries are quite large, but this is because the background processes and apps that are regularly accessed destroy battery life. This is because the state of the E Ink screen is always changing and this consumes the most power. The first generation Oasis has a paltry 1,000 mAh battery, which is why it only lasts less than a week with constant reading. Linux driven e-readers are mostly optimized for extended battery life, but have less features. This is why most Kindles and Kobo e-readers last longer, because there are less processes in the background and reading ebooks does not consume much battery, but they are considered to be pretty basic.

Michael Kozlowski is the Editor in Chief of Good e-Reader. He has been writing about audiobooks and e-readers for the past ten years. His articles have been picked up by major and local news sources and websites such as the CBC, CNET, Engadget, Huffington Post and the New York Times.