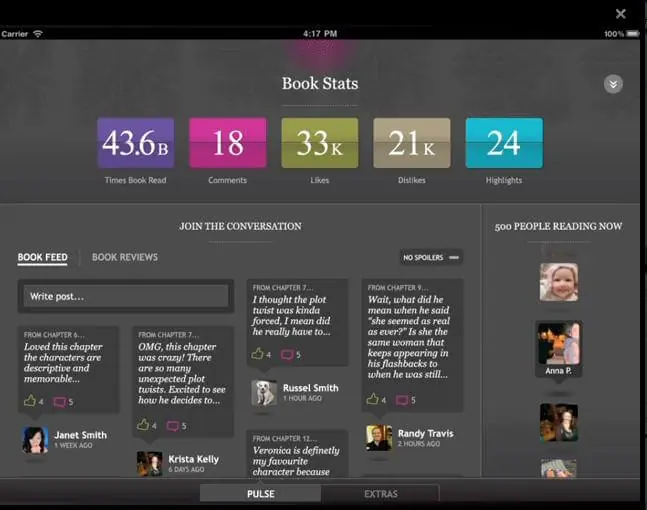 Many e-readers such as the Amazon Kindle and Kobo Touch have embraced social media, but in very different ways. Amazon allows you to share via Twitter and Facebook quotes and passages from the books you are reading. Kobo has developed "Reading Life," which takes this premise a step further and earns you awards and achievements. Kobo even allows you to access Reading Life with no software on the Kob Vox and Apple iPad gives you the freedom to talk with other people in real time who are reading the same book as you are. Are these companies doing enough with various social media platforms or is this a feature that takes away from the book experience?
Social Media is growing. A recent survey conducted yesterday on Facebook Burnout states that even though the social network is many years old, people are clearly not jaded or banal about it just yet. Facebook is in the news a ton lately due to its recent IPO filing and the company imminently going public, making many people rich. Twitter is the other mega-network that helps foster the revolutions of the Arab Spring and lets you find out what your friends ate for lunch.
Clearly, social media has come a long way since the early days of Friendster and Myspace. These networks are embedded into the fabric of our society and at the very least people can keep track of their old high-school friends. The question is how these networks enhance the reading experience or take away from it.
Reading is often an anti-social endeavor and whether you read for a few hours or an entire day it can be quite cathartic. People love to get into a book and live the life of someone else, battle dragons, or find out how Apple was created. Reading gets you away from your normal life and even for a brief moment you forget about emails, text messages, work, or the kids. Do people really want the distraction of popup messages or social media elements taking them out of reverie?
Many people who have emailed us or commented on our blog during the last few years have mixed reactions about social networks employed by Amazon and Kobo in their book experience. Some think its a great idea to chat with friends about quotes they are reading or form their own virtual book-clubs. Others find it a nuisance and a distraction from the process of reading. The companies offering the service do give you options whether you even want to use those features and are not embedded into the book experience, yet.
Clearly social media elements are severely lacking in the whole e-reader and ebook experience. I can send Tweets of a paragraph or make a Facebook status update of a book I am reading? How 2009. Kobo is about the only company that actually does something unique with the whole social experience while your reading a book. They stared with Reading Life, which was basically updating your status with text from a book. They expanded on this and offered merit badges and progress achievements on books you read and allowed you to share with it friends. Recently with their VOX Tablet they unleashed "Pulse" which allows you to read comments other users made about the book. It even gives you "spoiler" options so you will not read any comments made by users who have progressed further in the book as you. People use it to post reviews, ratings, or even just to chat. A few weeks ago they updated their "Timeline" feature into Facebook which was a culmination of their partnership with Facebook they announced at the D8 conference last year.
I think companies aren't using social media right and are not offering anything very innovative or indicative of how it should work in the book experience. For one, this is no great virtual bookclub feature that allows me to talk with other users about the book I just read or are in the process of reading. Kobo Pulse strives to do this but falls short in the execution. I would love to see each book published in ebook form to have an automatic Facebook Group page started that is developed to be a virtual bookclub for that specific book. People who are reading the book have options to talk about it as they are reading it and say "I loved it when the character said this" and see an immediate response like "OMG ME TOO." Blending a Facebook Page with a live chat option would really develop a sense of community. Personally I love the idea of a bookclub that meets once a week for coffee and discusses books they read, but seriously, they are so hard to find. I want to talk with other tech savvy people with e-readers that are reading the ebook version. When I am not reading at work, I want to login to the Facebook eBook Page and talk to the new friends I made or just relive past chapters.
There are clearly other major options, and standalone Twitter API and Facebook APP coding knowledge will reap you huge rewards. The sky is the limit based on the limitations of the platform to develop innovative ways for an e-Reading program to let you socialize more. Humans are naturally social beings and adding an expanded twist on the reading process might encourage more people to actually read. If a company were to use social media correctly, they would have a major selling point for their product or service. Customers who were looking for a more social book experience would gravitate to that company and everyone would make money.
In the end, social media in electronic books is severely lacking. Most companies are not exploring the myriad of ways that you can improve the experience of talking to other like minded people. What paltry features we have now really just spams other peoples walls and most of your friends don't have the same taste in books as you do. Having more embedded social functions in an e-reading indie app or mainstream company taking to the next level will only help the industry grow and spurn more companies to offering competing or better options.

Michael Kozlowski has been writing about audiobooks and e-readers for the past twelve years. His articles have been picked up by major and local news sources and websites such as the CBC, CNET, Engadget, Huffington Post and the New York Times. He Lives in Vancouver, British Columbia, Canada.