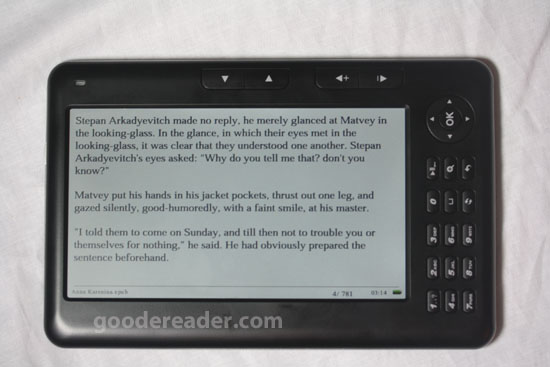 Welcome to another Good e-Reader Review! Today we take a look at the latest Skytex Primer Colour eReader Media Tablet! This is a full color e-reader and comes bundled with a ton of accessories. The full model number is SX-EB700. How does this rate against other multimedia tablets such as the Pandigital Novel?
Hardware
The Skytex Primer Colour eReader features a 7inch TFT color display with a resolution of 800×480. Under the hood it is running a 400mhz ARM9 and has 2 GB of internal memory. It does have a MicroSD card so you can enhance your storage capacity up to 16 GB.
On the back of the unit is a single speaker used for listening to music or audiobooks and also has a 3.5 mm headphone jack. There is also a mini USB port to connect up to your computer in order to facilitate a data connection. You can then transfer music, movies and pictures to your device.
Since the core functionality of the Skytex Primer is to read ebooks, it does the job very well. It supports a multitude of formats such as PDF, ePub,FB2, HTML, TXT, and Mobi. It also supports a myriad of audio/video formats such as MP3, WMA, APE, FLAC, AAC, RMVB, VOB, DAT, MP4, FLV, and 3GP. One of the more interesting aspects of this device is the inclusion of a built in microphone to do your own dictation or recording.
You interact with the Skytex Primer via the keyboard and D-Pad. The keyboard alphanumeric and each number key as 3-4 letters associated with it. This means you have to sometimes press the number 4 times to get the letter you want. This makes typing in email addresses or writing an email an exercise of patience. You can scroll between various menus with the D-Pad and then press the center OK button in order to call up various menus and functions as your ENTER key.
On the side of the device sit your page turn buttons and volume keys. The page turn buttons are on the right hand side and positioned very well in order to function properly.
The unit came with a ton of accessories to get you going right out of the box. It came with a neat little carrying case and headphones. It also had a Mini USB to USB cable and a DC charger to power your unit.
Finally, although it does not have an accelerometer or gyroscope it does have a manual button you can press when reading ebooks. It will allow you to switch between portrait and landscape mode, but only has two options, which means it does not have 360 degree orientation.
Software
The Skytex Primer Color is running a custom built Linux based operating system. The menus are just brimming with features and I was very impressed by the scope of its functionality. The main menu has a ton of options and is intuitively laid out. You can choose between ebooks, music, videos, photos, radio, record, explorer, calender, search, and options.
Navigating the menu systems is VERY snappy and everything loads very fast, which impressed me with a $99 device.
The eBook experience is great! The Backlite allows you to read in any kind of situation and even in direct sunlight the screen makes it readable. One of the more interesting features when reading a book was not only could you turn the page by hitting the manual page turn buttons, but you could press the volume buttons to slowly scroll up and down within the book. There is also a button on your keyboard to change your orientation from landscape to portrait mode which is handy because most budget e-readers don't even allow you to do it.
While reading, do not expect any fancy e-reader functionality with changing margins, fonts, line spacing, and so on. The best you are going to get is changing the screen brightness and hitting the magnifying button. It seems to do the job while reading though and I am firmly impressed with the experience.
Finally on the reading front it does have support for Adobe Digital Editions so you can shop for EPUB books via various stores on the internet and then load them into your gadget.
The Video player is very bare-bones with just a file explorer type interface to open and close videos. Video playbook on this little device was more than what I was expecting. There was a number of videos preloaded on the device in MP4 format and defaulted to landscape mode. The resolution on this multimedia tablet is really nothing to write home about but does have 800×480 pixels. Videos actually looked really good, though of course they were not true HD, but I was pleasantly surprised.
The Music Player was really developed very well and you can tell the company put a priority on this. Your main music interface is broken up between a ton of different options such as All Music, Resume Play, Album, Genres, My Favorites, Recordings, and so on. You can easily create your own playlists and even artists are easy to find. Within the music menu is an option called "Media Update," this is the button you want to press to copy over your own music to sync it up to the device. Music on the MONO speaker did not sound that bad. Unfortunately there is no EQ or any kind of ways to augment your sound other than edit the volume button. On the bonus side of things, if you play an audiobook or music you can exit the music player and do other things on your Primer and it won't stop.
One of the best features on the Skytex Primer is the inclusion of an FM transmitter! This means you can scan FM stations and listen to live radio. You can use the page turn buttons to automatically scan for stations. I think this is the most unique feature in any tablet I have reviewed over the course of the last few years and the only tablet able to do it. Sure you have internet radio with most devices, but nothing beats FM radio!
The only factor to make this e-reader not the best deal for your money is the absence of a web browser and the inability to purchase any books on the device itself. It does come preloaded with around 60 free ebooks from Project Gutenberg but does not give you ANY way at all to purchase books directly. It leaves it entirely in your hands to not only buy books by yourself but also copy them over too. Most users may not have any any idea on how to do this and may account for many returns to the retail locations selling it.
Our thoughts
The Skytex Primer is tremendous value for the money. Most retail locations are selling it only for $99, which is a must buy in my opinion. The entire unit looks sleek and the build quality is above average. It does allow you many options from listening to music, watching videos, reading books, and listening to FM Radio.
On the downsides there is no way to browse the internet and the inclusion of a dedicated web browser would have went a HUGE way into making this one of the must have entry level devices of 2011. It also does not allow you to buy books directly on the Primer at all. You must use your PC to buy the books and then copy them manually to your e-reader yourself. We will be making video tutorials outlining this entire process and even Skytex on their home page gives no information on how to do this.
Web browser and buying ebooks aside this gadget has everything to make it a great solid investment. I like the fact it reads so many different ebook formats and does switch from landscape to portrait mode at the touch of a button. Truthfully I was not expecting much when I opened this up for the first time and decided to review another tablet billed as an e-reader. What surprised me is how much I enjoyed playing around with it.
Rating 7/10
[cincopa A0OArp6x7Mi2]

Michael Kozlowski is the Editor in Chief of Good e-Reader. He has been writing about audiobooks and e-readers for the past ten years. His articles have been picked up by major and local news sources and websites such as the CBC, CNET, Engadget, Huffington Post and the New York Times.