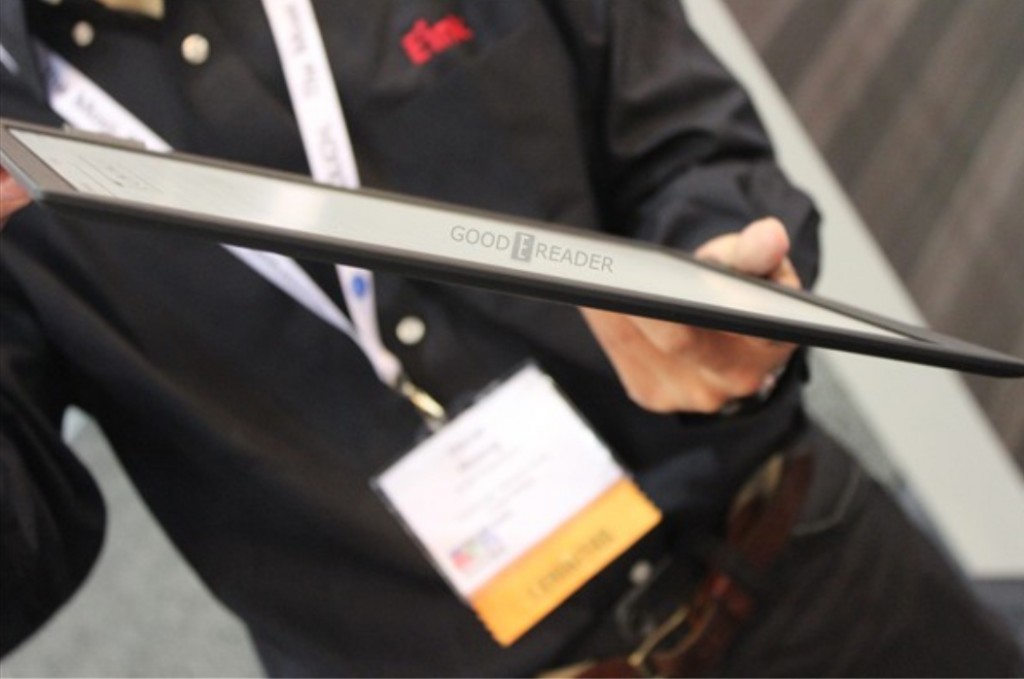 Sony has been quietly developing a 13.3 inch e-Reader that is specialized for reading and editing PDF Files via a Stylus. The company has announced today on their Japanese website that they intend on commercially releasing it in Japan this December for $1100 US. The move to sell it in Japan first is due to a trial that five Universities engaged in to test the feasibility of the product in an academic setting.
The first time Sony had displayed this product publically was at the e Ink booth at SID Display Week in Vancouver. Not only is this the first 13.3 inch e-reader in the world, but the screen technology was developed by Sony, called Mobius. This is a flexible high resolution e-paper display screen that makes it lighter and more durable. e Ink told us that the major benefit of Mobius is that the tech allows them to cut it to any size they want, and still retain all of the benefits.
The new Sony e-Reader 13.3 will be known as the Digital paper "DPT-S1." The PDF experience is the main attraction of this device, obviously you can take notes and make annotations by either writing with the stylus or the full virtual keyboard. If you make a note, you can save that page as an independent file. If you have a big PDF document and make all sorts of edits, you can save it as a "Workspace" into its own PDF document. This insures you have your virgin file, with no edits and then your changed document with all of your notes.
If you have a large document with many notes, you can actually initiate a new feature that will allow you to look up all of the notes or changes you made on the document. A search feature will bring up a list on the right hand side, listing every single change you have ever made. If you tap on any of them, the page will open.
When we reviewed the e-Reader at SID Display Week it did not have support for EPUB books, just PDF Files. Sony has confirmed today that the e-reader will ONLY support PDF files, so you won't be able to read your normal eBooks on it, unless you use a 3rd party program to convert your books from one format to another.
Finally, Sony intends to launch this in Japan first, but plans on doing an international rollout in April 2014 to Canada and Europe. They are trying to market it to schools and businesses that can push out documents from a centralized server right to the e-readers via WIFI.