The Sony Digital Paper DPT-RP1 has been available since the summer of 2017, but the only choice of color was black. The white edition was a Japanese exclusive, until a few weeks ago. The Sony Digital Paper is now available in the United States in black and white and today Good e-Reader is going to review the white edition.
Hardware
The DPT-RP1 features a 13.3 inch E-Ink Carta screen with a resolution of 2200 x 1650 and 207 PPI.  The screen is completely flush with the bezel and not only does this make the device have a premium feel, it also provides a ton of benefits. You can easily draw edge to edge, which is quite useful for people who are editing a full screen  PDF file.
Underneath the hood is a Marvell IAP140 64-bit Quad-core IoT Applications Processor and ARM Cortex-A53 CPU, up to 1.2GHz, and has a separate power low-power Cortex M3. It has 1GB of RAM and 16GB of internal memory, but when you power it on the first time, there is 11 GB. The rest is reserved for the Google Android operating system and some of the stock PDF templates that are available.
There is WIFI, Bluetooth and NFC available. You cannot connect up to the internet or surf the web, since there is no internet browser. WIFI and Bluetooth are designed to connect up to local area network that have the Sony Digital Paper app installed. This could be your MAC/PC or your smartphone or tablet. This app allows you to transfer PDF documents to your Sony. You can also copy edited PDF files or notes from your Sony to your desktop computer or mobile app. You simply can't plug the Sony into your PC with a USB cable and drag and drop stuff via Windows Explorer.
The overall design of the Digital Paper is stylish and very minimalist. The front of the device has a very slim bezel and at the top of the screen is a softkey button that calls up the menu. On the top edge of the bezel is Micro USB port and a power button, along with a status indicator light. The back of the DPT is a soft silver finish and looks to be made of aluminum, instead of plastic. Their is a very non-intrusive Sony logo embossed in white. On either side of the bezel is two little verticale holes, this is designed to magnetically attach the stylus and it locks into place. If you move the device, the stylus tends to fall out.
The dimensions are 224 mm × 302.6 mm × 5.9 mm (8 7/8 in × 12 in × 1/4 in) and weighs a paltry 349 g (12.3 oz). It has a 2,000 mAh Lithium Ion battery which should give you around four weeks of usage with WIFI turned off.
Sony is the only company that develops digital note taking devices that gives a color option, black or white. The rest of the field either sell e-readers that are black or white, but don't give you the option to customize it.
What I have found with white bezels and e-paper screens is that there is little contrast. When you have a black bezel, the e-paper grey screen and black text really pops, whereas a white bezel, the contrast isn't as pronounced, and it instead blends together.
Software
The Sony Digital Paper DPT-RP1 runs Google Android, but it is very locked down and casual users would never know they were using it.  There are options to install a customized app launcher with Google Play, that allows you to install your own apps, but users that already have a Sony need to send it away or you can purchase a new one with the hacked firmware already installed.
There is no dedicated home screen, but there is launcher when you hit the home button. This comprises of a small drown down menu that has the following options; Return to Document, All Documents, Folders, All Notes, Create New Note, Settings and an entry that will give you the download path of the Sony Digital Paper app, along with a step by step menu on how to install it.
Return to Document will open the latest PDF file or note that you were working on. All Documents will show you in a grid format all of the PDF files currently on your unit. Folders will pull up a file explorer, allowing you to browse your device. This is useful for people who have loaded in many different PDF files and they created folders for better management. Some examples include a dedicated folder for PDF ebooks, another for work documents and maybe another for personal. All Notes will show you all of the notes that have been created on the Digital Paper, you can load up a note, even if it has multiple pages. Create New Note allows you to quickly open the note app and start freehand drawing or editing.
Settings primarily comprises of your WIFI network, NFC, Bluetooth, Start a WIFI Access Point, System Settings, About this Device and Regulatory Information. Firmware updates are primarily downloaded to the Digital Paper via the app.
The Stylus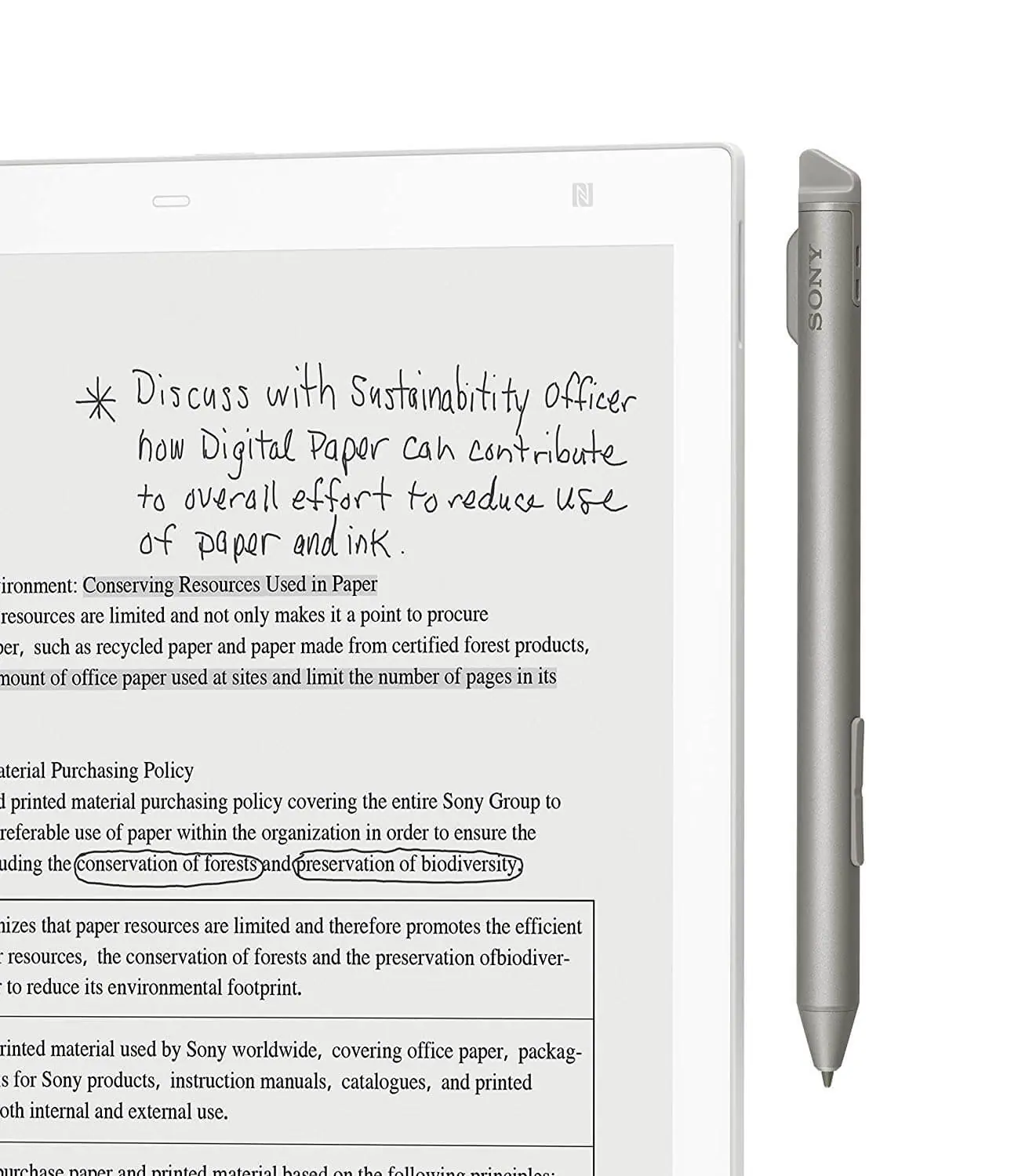 Whether you are creating notes or editing PDF files, you will be doing it via the Sony Stylus. The Stylus is made of cast aluminum and have graphite nibs. The stylus is self-powered and has an internal 1,000 mAh battery. You can easily spend a few hours drawing every day and get around a month's worth of usagage before you  have to recharge it.  The top of the stylus can pop off and it reveals a USB port, you can then plug it into  your PC or MAC with the accompanied cable and charge it. It takes an hour or two to recharge it to the max.
The stylus has two different buttons, one to make highlights and the other is an eraser. The highlighting experience is especially interesting, because not only can you highlight a specific word or body of text, but also you can make highlights over highlights. This is very innovative because you can for example highlight a paragraph, then a specific sentence in the paragraph and then finally a specific word. Each highlight makes the next one a little bit darker and very discernable. There is 11 different highlights that you can make superimposed on each other.
The graphite nibs on the stylus are replaceable, with purchase of the Sony you get around a dozen. There is also a bunch of different types of nibs that you can buy, one  is made of felt and the other is POM, which is like a regular pen tip.  If you lose your stylus, you can purchase  stylus replacement for around $79 from Amazon.
Creating and Editing Notes
The Digital Paper two different purposes. One is to view and edit PDF files and the other is to create notes.
The stylus does not provide you with different degrees of pressure sensitivity so you will be relying on the five different pen sizes. It goes from very fine lines to extremely bold. It also has two different pen colors, blue and red. These colors do not directly influence what is displayed on the e-ink screen, but when you copy your edited file or take a screenshot, the colors are preserved when viewing it on your MAC or PC.
When you open the note taking app you can establish a background. The current options are; Legal Pad, Blank Landscape, Blank Portrait, Daily Schedule, Graph Landscape, Graph Portrait, and Meeting Notes. Selecting one these backgrounds allows you to start drawing right away.
The top of the note taking app is where all of the UI elements are. There is a pen icon which allows you to choose a black, blue or red pen. These colors again do not appear on the E-Ink screen, but when you export them to a PC, the colors show up. You can also select the pen thickness and there are five different options. The Sony stylus does not have pressure or tilt sensitivity, so you will have to rely on the thickness options. There is also an eraser size, which is useful if you need to erase a large area.
Next to the pen menu is a zoom option, which allow you to manually zoom in on any notes you are taking. This allows you to get fairly technical or artistic while drawing. There is also a free transform tool, so let's say you draw a box, you can invert it or expand it, or even tilt it various degrees.
If you need multiple pages to take notes you can simply swipe left to right using the touchscreen and it will automatically create a new page. This is tremendously useful and intuitive.
PDF Editing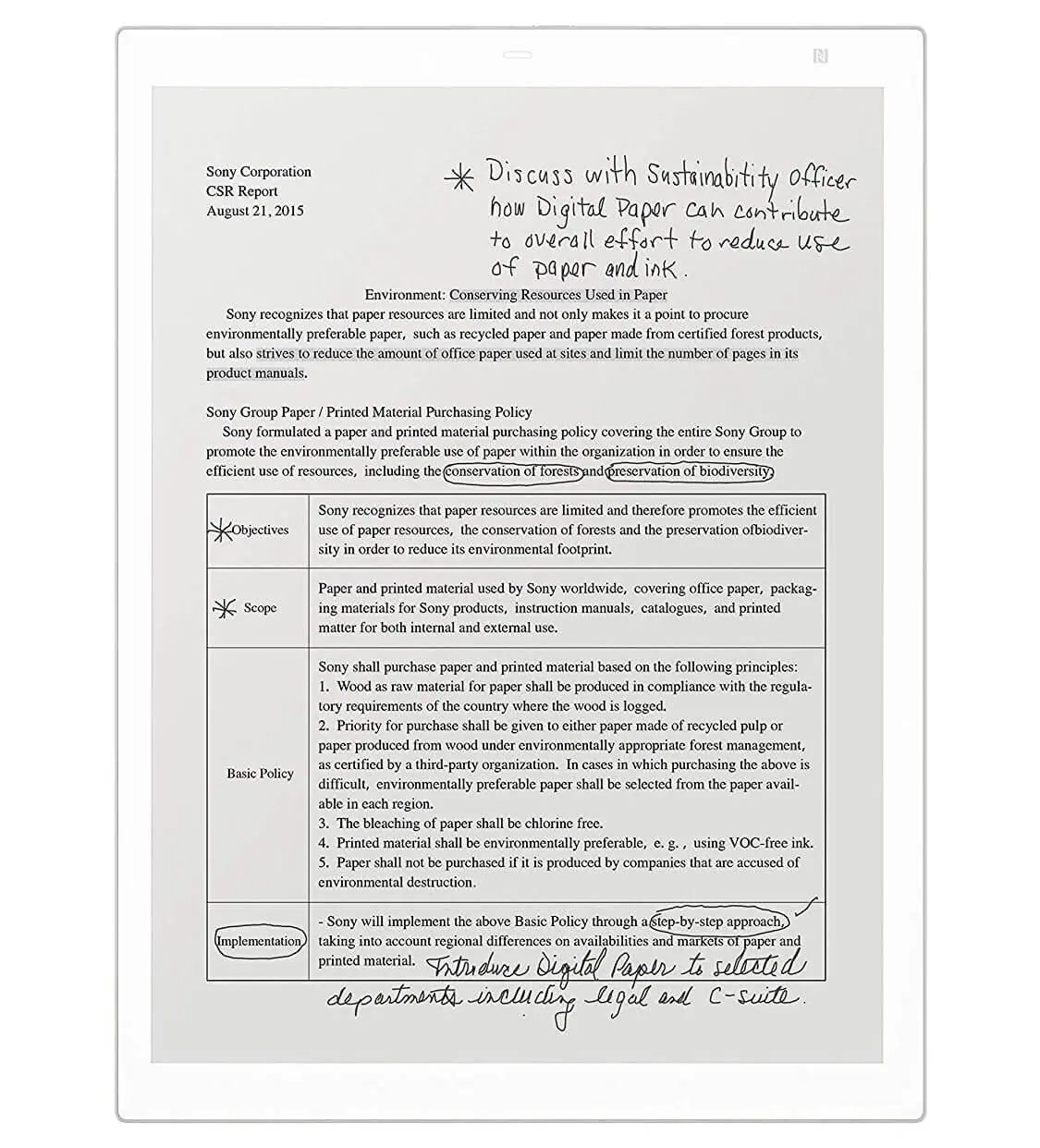 PDF files can be viewed and edited with the DPT. You can start drawing on a PDF file right away with the stylus, without having to engage the setting. In portrait mode you can pinch and zoom a PDF file and draw on the document while you are zoomed in. Since this device has a 13.3 inch e-paper display you can read A4 documents.
You have the same options as the note taking experience when editing a PDF file. You can adjust the pen thickness and eraser size and the pen color options. I find that editing PDF documents offers the best experience out of any digital note taking device on the market. The latency is the lowest we have found and we have reviewed all of them, including the Remarkable, Likebook Mimas, Onyx Note, Note PRO, SuperNote A5 and even the Wisky EE Write. Sony leads the charge with the best note taking experience, but it is rather a singular purpose device.
One of the best things about the Sony is being able to open multiple documents or have a PDF open on one side of the screen and the note taking app on the other. You can even have a two page spread, so you can have page 1 on the left side and page 2 open on the right side.
Some different use case scenarios is a teacher grading papers on the right side of the screen and their answer sheet on the right. Someone learning a different language can have a PDF on one side and a PDF dictionary on the other. There is also a search option on both sides of the screen, to quickly jump between pages.
Wrap up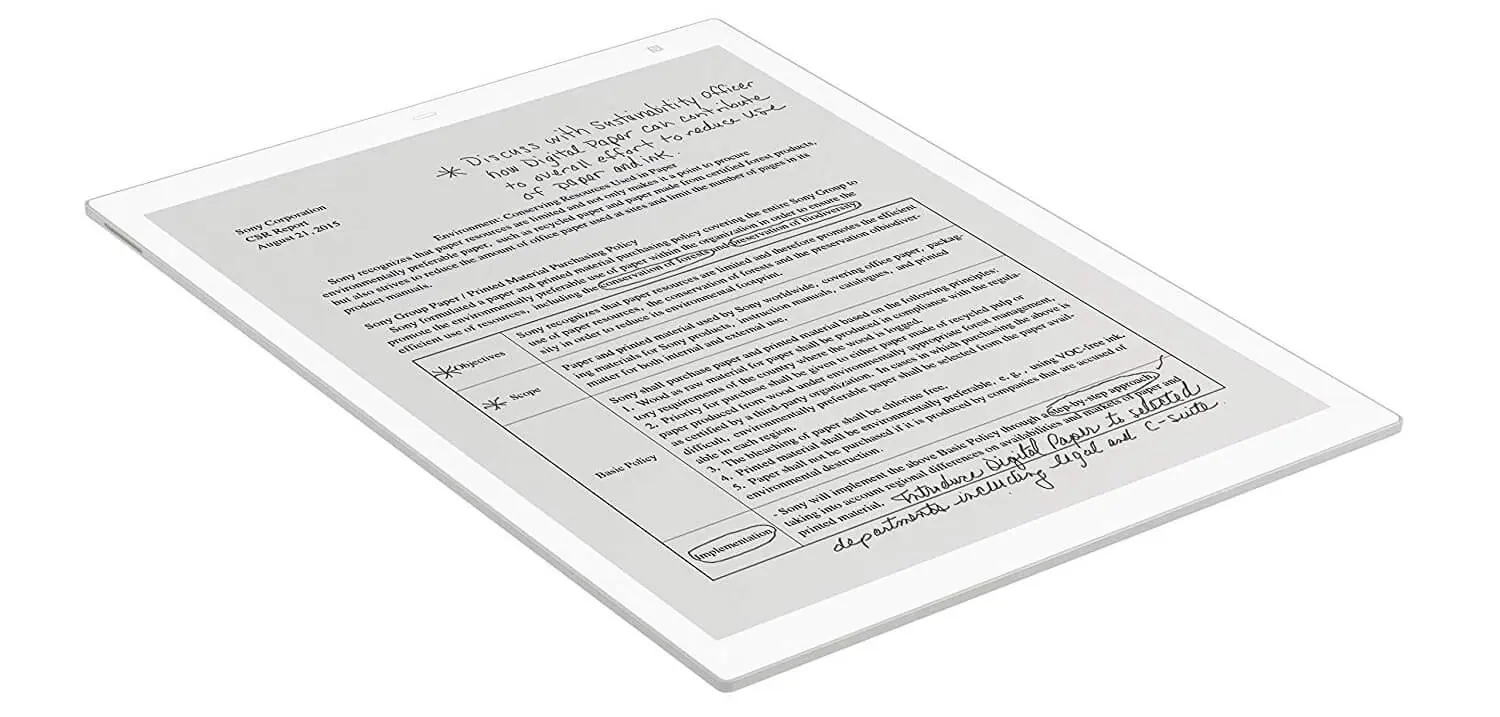 When the first Digital Paper hit the market in 2015 it changed the industry. There was a new line of products aimed at professionals who wanted an e-paper device that had a stylus and was designed to take notes. Over the years a number of other companies released their own products. Boyue, Onyx Boox, Remarkable, Good e-Reader and a handful of others had compelling value propositions. The Remarkable excels at digital note taking features, their experience is much akin to using Adobe Illustrator or Photoshop, with layer support. Their stylus has tilt and pressure sensitivity and their new Marker Signature Pen is likely the best stylus ever made. Boyue and Onyx each offer e-paper and glasses based displays and run a skinned version of Android and have Google Play to download and install your own apps, they are also dedicated e-reading apps with all of the major formats that are supported.
The RP1 is the latest gen Sony Digital Paper and it is likely the best in the business. The latency on the pen is virtually nil, but it does not have many advanced options. This device is frequently on sale for $599, so it is worth it.
Michael Kozlowski has been writing about audiobooks and e-readers for the past twelve years. His articles have been picked up by major and local news sources and websites such as the CBC, CNET, Engadget, Huffington Post and the New York Times. He Lives in Vancouver, British Columbia, Canada.