Sony will be releasing the PRS-T3S e-reader in the next few weeks and the big news about this device is the integrated back plate. The original PRS-T3 reader that came out about a month ago has a built in cover. You simply needed to always have the cover on because once you removed it, the back internals were showing. Many readers demanded a reader that did not force them to have a case and Sony listened.
Hardware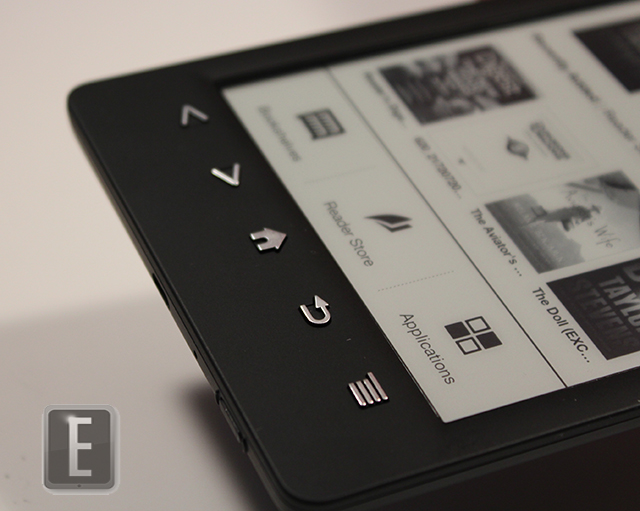 The Sony PRS-T3S features a six inch e-ink Pearl display screen with a resolution of 1024×768. This is about the same resolution as most other popular readers on the market, such as the Kindle Paperwhite 2 and the new Nook Glow.  One of the drawbacks is the lack of a front-light, which has been tremendously popular for the last calender year. Sony has been quite resistive about offering a built in light, citing lack of customer interest as being the deciding factor.
Underneath the hood is a 1 GHZ Freescale processor and 512 MB of RAM. Sony says that the built in memory is 2 GB, but when you take it out of the box for the first time, you only have a paltry 1.2 GB of storage space. If you are a voracious reader, you must invest in an SD Card.
As e-Readers have processed over the years, most have scrapped physical buttons to go with capacitive touchscreen displays. Tablets also have followed suite and all common functions are accomplished with software. Sony has buckled the trend by sticking with the page turn, home and settings buttons. This allows you to simply hold the device with one hand and are able to turn the pages, quickly and easily.
This device as built in WIFI, that will allow you to connect up to the Sony Reader Store and surf the internet. The built in web-browser is actually very solid and has three complete pages of settings and options. You can disable Javascript, popups and even strip away all images. This is useful for blogs that are image heavy and will insure quick loading times. You will have three months of battery life if you read a few books a month.
The hardware basically mirrors the Sony PRS-2  and is exactly the same as the Sony PRS-T3.  It does not come with a stylus but many of the note taking features are relying on the fact that should have one.
Software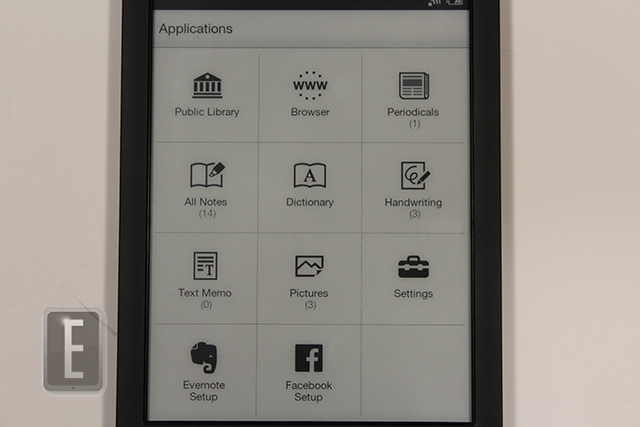 The Sony PRS-T3s is running on Google Android, which maintains the same theme as their entire modern line of e-readers. Nook is the only only mainstream brand that has their OS, much to the enjoyment of hackers who like to root their devices.
If you like to take notes and make quick annotations the T3S is the right e-reader for you. You can use an official Sony Stylus to augment any type of eBook, whether it is a PDF or EPUB. Any changes you make will be saved to your device, but you cannot export the books with all of your notes. Sony has always had deadly support for handwriting and note taking. The one drawback, is unlike previous models, this does not come with at Stylus. Instead, you must buy one from Sony and they normally cost $20.00.
There are a few key software features that make the T3S stand out from the competition. The first is Evernote, which allows you to connect up your account and sync notes, books and text changes directly to your account. The second main element is an Overdrive shortcut, that takes you to the Sony website with a stripped down version of the digital library lending service. You simply just need a library card and your four digit pin code, and you can select your library. Anything you borrow, you can read directly on your Sony e-Reader, and they are the only company that has a longstanding relationship with Overdrive.
The one thing that made me dig this e-reader was a very small factor, but is very unique. Most e-Readers if you are connected to WIFI have a timeout. This preservers your battery life, but automatically shutting off the internet. Kobo Readers are notorious for doing this and if you need to connect to a website, it often takes a good three minutes for everything to reinitialize. Sony has a cool option to let you disable the timeout.
e-Reading Experience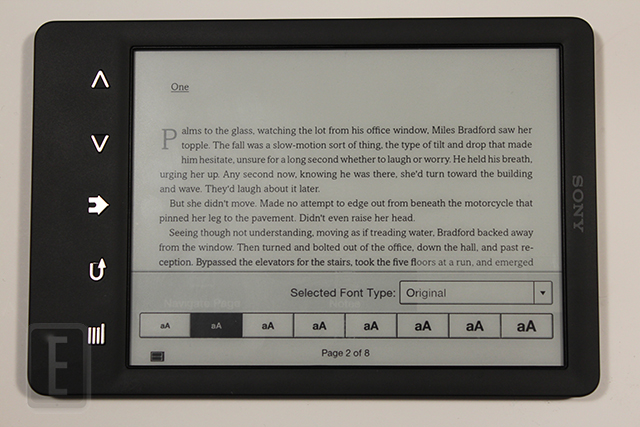 The PRS-T3S has a dedicated homescreen that lists the four last books you have purchased or open. At the very top is the book you are currently reading and displays the page you are on. The main menu is simply designed and a bit elegant. Kindle e-Readers often have links to books you can buy, directly on your main page, which can be dis concerning to always be prompted to buy something else.
You basically buy this e-Reader for EPUB, PDF and FB2 files, it supports little else. Still, you can buy books from other websites and load them directly on it with Adobe Digital Editions.
The overall reading experience lacks when you stack up the T3S head to head against the Kobo Aura or even the Kindle Paperwhite. Text seems to be a little dim, also there are plenty of advanced options to adjust There are a very options that you change the darkness of the text and background. None seem to really make a huge difference, might may offset the glare from the reading light.
There are nine different font sizes and when you select one, it updates live. This means the text changes in real time and provides the reader with an indication on any changes you make. There is seven different font types, but you would be hard pressed to really know what they do, without trying them out. I mean, when is the last time anyone used "Really No. 2″ or "Frutiger Neue" or even "Univers Next"? I have used over a hundred e-Readers and have never seen such a woeful attempt to not license any official fonts.
There are eight different dictionaries that are loaded on the T3S by default, but will really differ depending on what region you bought it from. The Canadian edition has different versions of French, English and Spanish. If you don't know what a word is, you can long-press on it and select the dictionary you want to use.
The PDF experience allows you to re-flow the text with settings options. You have to really go through a series of trial and error configuring, until you find that sweet spot. You can also pinch and zoom to more quickly find the perfect viewing perspective. When you are in the process of zooming a small notification area appears, that gives you a sense on where you are within the document. It pales in comparison to Kobo's options that actually lists text and images in in the preview pane, instead the Sony just has white on black. Once you find your ideal prospective you can use the page turn keys to flip a page and maintain your settings. You cannot use touchscreen swiping and gesturing to turn a PDF page, if you are zoomed in.
Wrap up
In the end, I am personally a big fan of the PRS-T3S. It really maintains the same sort of visual allure as prior models and is easy to hold with one hand. I love the fact Sony listened to their customers and made a cheaper model that did not rely on you having a bulky case permanently attached to it. It is one small thing, but makes a world of difference if you are reading on this hours a day.
The Sony PRS-T3S lacks a front-light, North American customers are used to all major brands offering a few e-readers with one built into it. If you look at the Paperwhite 2, Kobo Aura, Nook Glowlight 2, their main selling points are that you can read them in the dark. The Sony case with built in light does not evenly distribute it across the screen and is unfeasible for reading for an hour a night.
PROS
Physical Buttons and a touchscreen
Intuitive Interface
Borrow eBooks from the Library via Overdrive
Excellent Note Taking features
No case needed
Cons
Does not come with a Stylus
No Front-Light
Can't Export note taking edits in eBooks
Sony Reader Store books are more expensive
Rating: 8/10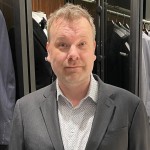 Michael Kozlowski has written about audiobooks and e-readers for the past twelve years. Newspapers and websites such as the CBC, CNET, Engadget, Huffington Post and the New York Times have picked up his articles. He Lives in Vancouver, British Columbia, Canada.