Storytel is an online subscription service for ebooks and last year they added audiobooks.  The company launched in 2005 and dominate the Nordic region. They currently have over 520,000 subscribers and are should attain 800,000 by the end of the year. They are continuing to grow by expanding into foreign markets such as Brazil and the UAE.  In order to generate additional revenue from their customers they launched a new e-reader and it is now available to purchase in Sweden, Denmark and Finland.
Hardware
The Storytel Reader is nothing to write about about from a technical standpoint. It features a six inch E Ink Carta display and resolution of 1024×768 212 ppi. It has a touchscreen and manual page turn keys,  so it appeals to everyone.
You will be able to read at night or via low-light conditions with the front-lit display. There are six LED lights, which is average for an e-reader. The lights are bright and white and fill the screen, there is minimal light spillage on its sides. You can control the illminstory via a slider bar that is pulled down with the control center at the top of the screen.
It is powered by an IMX6 single core 1GHZ processor and has 8GB of internal memory and 512MB of RAM.  There is no expandable storage via an SD card, but since you can only read ebooks you download it really doesn't make a difference. It has WIFI and airplane mode, which helps preserve battery life.
The Storytel is made for audiobooks and has Bluetooth for wireless headphones or a portable speaker. It also has a 3.5mm headphone jack for people who who prefer an analog connection.  It is important to note that currently there is no support for audio, Storytel will be pushing out a firmware update later this year that adds them, so they can be downloadable. Currently they only offer ebooks.
One of the aspects that I like about this e-reader is the retail packaging. Many companies simply have a branded box with the e-reader inside, along with a bunch of documentation and accessories. Storytel has a fun little greeting when you open it up and it is made of thick card stock. When you take out the e-reader out of the box there is a full sized print out lamented inside and shows you exactly what all the buttons do and how you charge it.
The e-reader is pure white, which stands out in a crowded arena where black reigns supreme. It has a orange button on the front. It acts as a home button, but if you hold it down, it turns on the front-light. It turns off by holding it down a second time. This is actually very useful because most e-readers don't have home buttons anymore, it is normally completely software driven.
Dimensions are 170x117x8,7 mm and is powered by a 3000 mAh battery, which gives you around three weeks of non-stop usage.
Software
There are a few components to the Storytel e-reader software. You have the home screen which comprises of the books you are in the midst of reading. It also has a search system where you can browse all of the ebooks. They are organized by bestsellers, most downloaded and has a search option if you want to look for specific authors. When there is a specific book that interests you, there is an option to click on it and read the book description and check out the cover art. When a book is downloaded it appears in your library. When you are done reading it, it is easily deleted with one click.
This e-reader is useless without a subscription, you cannot buy books, just download them. The amount of content that is available is different, depending on what region you are in. There are over 100,000 English books, but I had trouble finding anything by big name authors such as Stephen King or James Patterson.
The e-reader software is primarily used to read all of your digital content that you download from the storefront. You cannot sideload in your own ebooks via the USB cable. When you are reading you can access the settings menu by tapping in the middle of the screen. There are a few slider bars that control the size of the font and adjust the brightness of the front-light.
I think what Storytel is doing with their software is very unique in the e-reader world. Everyone just sells books and this can get very expensive if you are a voracious reader. Storytel is comparable to Scribd, except they do not throttle you if you download more than a few ebooks a month. To be fair, Scribd does have a better selection of ebooks, since they deal with major publishers.
Wrap up
If you live in one of the Scandinavian countries that Storytel operates in, this is the only e-reader that is compatible with thier unlimited ebook service. This device is appealing to anyone who gets eye strain while using the Storytel app for Android or iOS.
This certainly is not the most powerful e-reader around and lacks many of the features found in mainstream models by Amazon, B&N and Kobo. Still, this is a very unique and fringe device that is recommended if you live in the three places where you can actually buy one.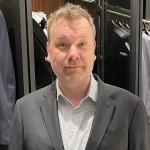 Michael Kozlowski has written about audiobooks and e-readers for the past twelve years. Newspapers and websites such as the CBC, CNET, Engadget, Huffington Post and the New York Times have picked up his articles. He Lives in Vancouver, British Columbia, Canada.