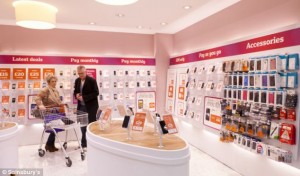 While the largest supermarket chain in the UK is keeping quiet and refusing to comment on market speculation, the news is out from reputable papers that Tesco will be launching its own branded tablet in time for Christmas gift buying. The tablet, an Android-powered device that is intended to compete with the iPad, will come pre-loaded with the Blinkbox entertainment streaming app as well as Tesco-specific shopping helps.
What makes this grocery store uniquely suited to a move into the digital realm? Its large presence in India, for one, where it has forged strong ties to technology manufacturers. Of course, Tesco is not entirely new to the technology market, as its cell phone carrier service is currently in the top five in the UK. Tesco also currently sells tablets and other devices for other companies, so adding its own branded device to the slate of tablets it offers is not a large stretch.
Tesco actually has two very important allies in this venture if they go forward with it. Apart from having a communications provider already under its umbrella, and in response to losing out to Amazon and Apple for sales of movies, books, and music, Tesco bought streaming service Blinkbox, which is already rumored to come installed on the tablets. Second, Tesco also owns a consumer trend tracking company Dunnhumbly, which helps it leverage marketing to its clients' specific purchasing habits through its Tesco Clubcard. With an entertainment giant in the family and a marketing data provider already within the company, Tesco has probably done its homework in terms of offering something unique to its customers in terms of mobile communication, data, and downloads.
Mercy Pilkington is a Senior Editor for Good e-Reader. She is also the CEO and founder of a hybrid publishing and consulting company.