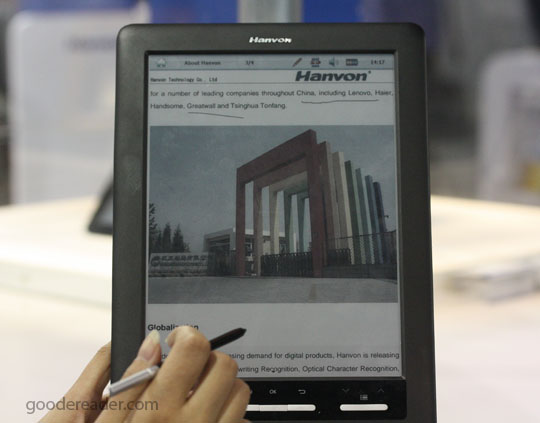 There is a battle brewing in the e-ink technology sphere and it is not in the American market, where over 75% of global e-reader sales take place. Instead, the newest version of reading is happening in the Russian Educational system.
During our discussions with executives at e-Ink and Plastic Logic over the weekend at the first E-Readers Conference in San Francisco, we talked in detail on the war being waged. Away from prying eyes two major companies are vying for market position and trying to land lucrative contracts in Russia.
The Russian educational system is providing an old west style free for all, that is encouraging many tech companies to vie with important contracts. Recently a top level decision was made to digitize the Russian educational school system. This has promoted companies to vie for contracts to be one of the technologies used in thousands of schools. This obviously means it's a very important race to be the one to garner over a hundred million in sales.
Right now in Russia many pilot programs are being launched with competing devices to find the right solution. Different tablets and e-readers who have firmware geared towards schools are jockeying for position.
The two most important companies who have the best chance in being selected have a tremendous amount of experience and a solid management team to make it happen. Both Plastic Logic and Ectaco are considered the front runners so far.
After 4 years of trials and tribulations, Plastic Logic cranked out their first official device that is aimed at the Russian educational school system. Plastic Logic CEO Indro Mukerjee officially debuted the electronic textbook at an event held at the Moscow Planetarium during a visit by British Trade Minister Lord Green. The event, organized by RUSNANO and UK Trade and Investment (UKTI), highlighted Plastic Logic as an example of the joint technology cooperation between the UK and Russia.
Plastic Logic had a major investment partner earlier on in the year from a Russian company looking to make a play at the educational market. Currently Plastic Logic has a Research and Development business in California, an office in Cambridge, a manufacturing plant in Dresdon Germany and an upcoming major factory in Russia. It is the plant in Russia that warranted the investment to create jobs, but more importantly to play an important role in why Plastic Logic should be selected. After all, it is an compelling case during negotiations that the device is made in Russia, for Russia.
The new Plastic Logic 100 is the new device they are testing right now and feels very polished. It uses a new technology that is neither LCD or eInk, it uses patented PlasticPaper. Because the base is not glass, the Plastic Logic 100 display is large, thin, lightweight and is uniquely shatterproof and rugged, which is especially important given constant use by students.
The new device sports a 10.7 inch shatter proof screen that reads like paper. The resolution is 1280×960 and has 150 PPI! It has a capacitive IR touchscreen interface that makes interacting with it easier then most touchscreen e-ink devices. This is the same tech found in the new Kobo Touch Reader. It has a 800 MHZ processor and 4 GB of internal storage. Battery life will last about a week of constant use, which is fairly solid.
The operating system and firmware is designed to be a students guide. It has all of the features of note taking, highlights, book reading and study guides to assist in this. The firmware is obviously evolving due to the constant feedback from the trial programs and is being polished.
Ectaco has been making e-readers for a number of years normally aimed at the end user. Due to the competition in the retail sphere the company is changing their business model to be more education based. This has prompted the company to launch their own Jetbook K12 e-reader that is aimed specifically at the education market. It is meant to be used by students from Grade 1 to 12 and has a myriad of options to make it student friendly. It has many books and firmware to maximize the effectiveness of a device made for schools. They have also purchased the rights to the Hanvon Color e-ink reader to distribute it in Russia. This is the new breed of e-ink Triton which mimics paper and gives thousands of colors and offers high resolution for books and images.
Ectaco is making a play with a color and non-color device aimed at various levels of the educational system. The K12 is for highschool and middle school while the Jetbook Color is aimed at higher learning environments.
I have had the pleasure of having hands on time with both of these devices and Ectaco has a more refined operating system and firmware enhancements directed at students. In retrospect, I see Plastic Logic as having better quality technology and their devices feel more polished and hightech.
What about the international market such as the USA, Canada, and the UK? Where do they fall into the plans to get their hands on Color e-ink technology? Both Plastic Logic and Ectaco stress that Russia is the critical market and will determine whether they have enough resources to penetrate markets that have more money to spend but are harder to break into.
Daren Benzi, an Executive Director at Plastic Logic, mentioned that the reason why they are focusing on Russia and not other markets is because of the "Top Down" approach. Russia on the highest level of government mandated that they want to digitize the school system with tablets or e-readers to conserve on money in the longer term. This means there is lots of money, set in stone, to be allocated to the companies who win the bids. When you look at the American educational market it is not "top down." You have specific schools wanting to make the change, and maybe specific districts, but never entire states or the country wanting to update.
A few months ago, Mercy Pilkington interviewed Governor Rick Scott of Florida about his proposition to implement e-readers and tablets in all of the classsrooms in Florida. "The decision on what devices to use will be left to school districts, with advice and technical assistance from the Florida Department of Education," says Press Secretary Lane Wright. "The law allows districts to decide how they're going to use the money required for digital learning materials, starting in 2015-2016. Districts will decide on which subjects and grade levels. Initially, school districts will only be required to begin buying digital instructional materials using 50% of the funds allocated by the state for instructional materials in the 2015-2016 fiscal year."
Although specific states in the USA might be making moves to gravitate towards a digital experience, it is not a sure bet. If Rick Scott does not make it into another term in office, this bill can be shot dead. Until digital readers are decided upon, on a Federal level, most companies will focus on markets that already have these things decided from the higher reaches of government.
If Color e-ink by way of Ectaco and new tech from Plastic Logic are not in the cards anytime soon, where does that leave the market that wants color in their e-reading experience? When we met with executives from Liquavista and Mirasol over the last few days, they told me that we will see devices by the end of the year using their technology. Although both use different types of technology that is not e-ink, remember e-ink Holdings is a company offering screen technology found in the Kindle, Kobo, and Sony e-readers of the world. It is popular, of course, but there are other avenues available that been in development for quite some time and could eat away at e-Ink's market share if marketed correctly.
Samsung recently acquired Liquavista earlier this year and this is why we have not seen their new Electrowetting technology in any products to date. I was told that "anytime you are acquired there is a always a long delay in manufacturing and management changes." Obviously Samsung has perhaps one of the strongest companies in the world in terms of "the total package." They make their own screens and components, and sell their items under their own banner. We could prospectively see some mighty new products from Liquavista that give us better resolution than e-ink and draw even less power, giving us longer battery life.
Mirasol based technology is another alternative that is coming soon and is developed in conjunction with Qualcomm. You might have heard a while back that Mirasol and Freescale had teamed up for an e-reader which was all over the news. When we spoke with Cheryl Goodman, who is in charge of Publisher Relations at Mirasol, she said that the e-reader was just proof of a concept to test the new chipset in their designs. It was never meant to be marketed.
The specialty of the Mirasol display technology is that the display does not depend on backlight, but instead uses the ambient lighting for it to show text on screen. In this respect, the Mirasol display can be considered similar to e-ink screens, though that's where the similarity ends. While e-ink screens have the advantage of low power requirements, they suffer from the disadvantage of being unable to render color displays or support moving pictures. This is not so with the Mirasol screens, which can handle both.
The e-Reader space is too competitive for Plastic Logic and Ectaco to make a play for the Western European and North American Markets. So many companies have tried and failed to make an impress on a fickle market that is obsessed with Nooks, Kindles, and iPads. Many people wonder why color e-ink or color displays on e-readers are not a reality here at home. Hopefully this article has shared some insight on why the two companies are not ready to bring it over here yet on a commercial level.

Michael Kozlowski is the Editor in Chief of Good e-Reader. He has been writing about audiobooks and e-readers for the past ten years. His articles have been picked up by major and local news sources and websites such as the CBC, CNET, Engadget, Huffington Post and the New York Times.