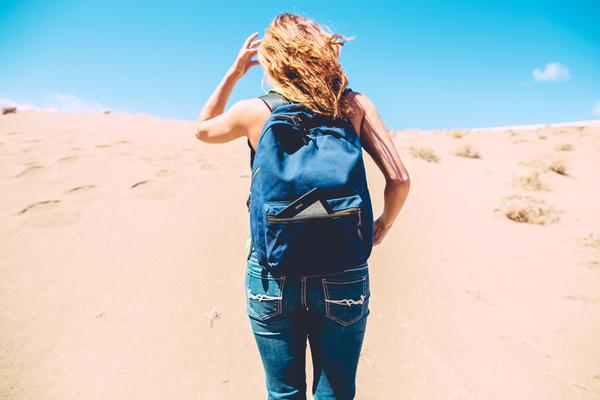 The Holiday season is right around the corner and many of the top brands have all released new e-readers over the course of the year. There are hundreds of different devices on the market and it can get overwhelming trying to find the best model that suits your needs. Today, we would like to present our end of the year wrap up of the best e-readers of 2015.
Six inch e-readers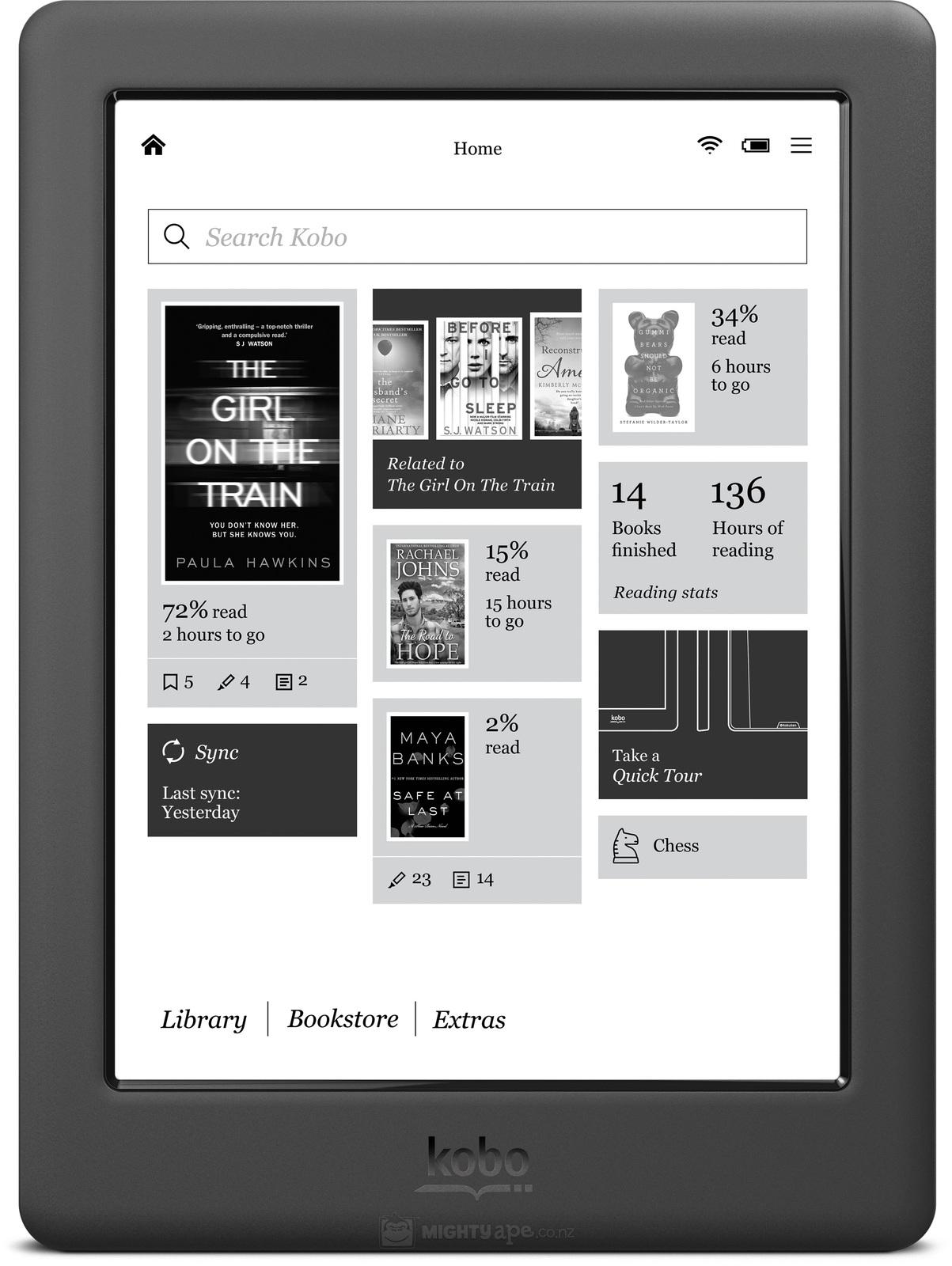 In early 2015 Kobo released their first high-definition e-reader that sought to compete against the higher priced Kindle Voyage, while trying to give you the same type of e-book experience. The end result is a great piece of hardware that you can use to read e-books anywhere in the world.
The Kobo Glo HD features a six inch e-ink Carta screen with a resolution of 1448×1072 and 300 PPI. It has the same front-lit display as the Kobo Aura H2O, so you will be able to read in low-light conditions or complete darkness. Underneath the hood is a 1 GHZ processor and 4 GB of internal storage. When you take the e-reader out of the box for the first time you only have 3.1 GB of memory, primarily because the OS takes up a fair amount of space.
The one thing that Kobo has always done really well is appeal to different audiences. People new to e-readers can get reading within a few minutes of setting up their bookstore account and simply start using the hardware. Advanced users really like being able to load in their own fonts and heavily augment the default settings.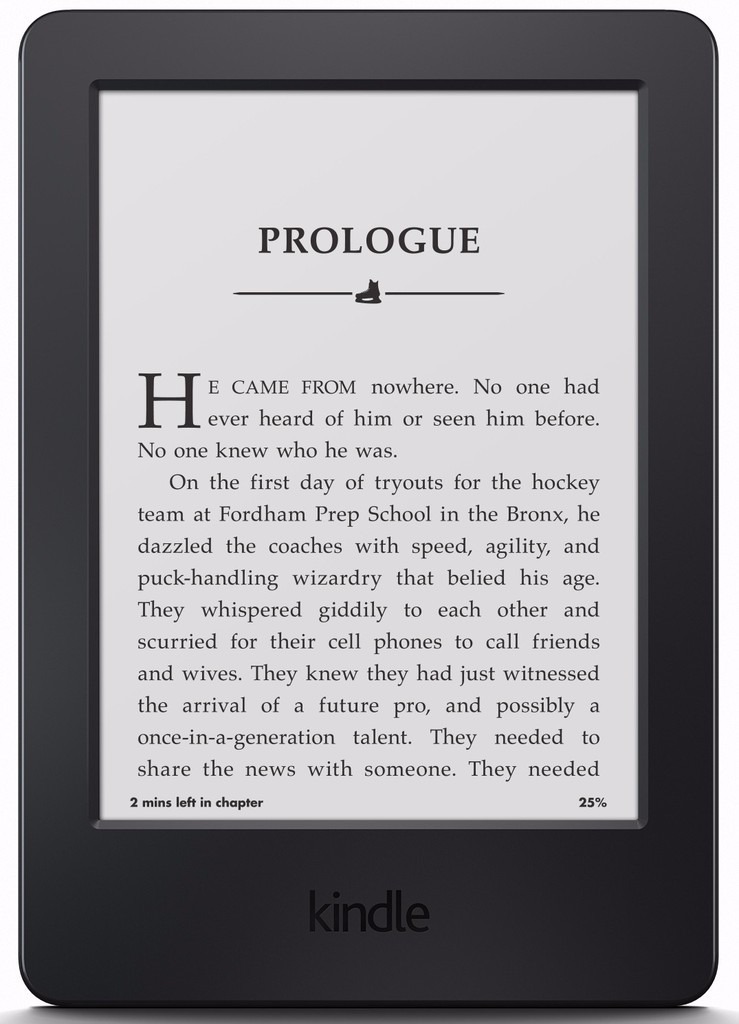 Earlier in the year, a few months after the Kobo Glo HD hit the market Amazon had to counter them. They quietly refreshed their Paperwhite e-reader and it went by many names. Some people are referring to it as the 7th generation Kindle, while Amazon has dubbed it the all new Kindle Paperwhite, while still others are calling it the Paperwhite 3. It can be a tad confusing for people wanting to buy one.
The Amazon Kindle Paperwhite 3 has a e-ink Carta display screen with a resolution of 1430×1080 and 300 PPI. This is a huge upgrade from the 2013 model which only had 1024×768 and 212 PPI.
Underneath the hood is a 1 GHZ processor and 512 MB of RAM. There is 4 GB of internal storage and the majority of your content will be held in the cloud. There is certainly enough space to have a thousand e-books on your device at any given time.
People love their Kindles, which is odd in a world of smartphones and tablets. Amazon currently enjoys a dominant position in the US, controlling 75% of the entire e-book market and 95% in the United Kingdom.
I think the Paperwhite 3 right now is a better buy than the Kindle Voyage because you can get it on sale for around $99 with all of the post Black Friday and Cyber Monday deals.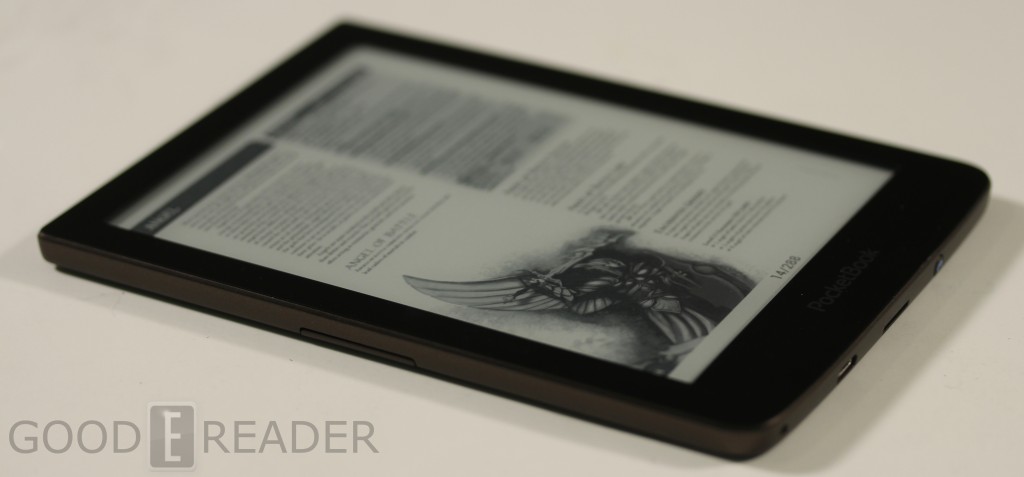 The Pocketbook Sense came out in April and has wide availability online and in Europe. The one thing that is clearly evident at first glance is how well designed it is. Pocketbook is not known for having sexy looking digital readers, but the Sense is their best offering to date.
The Pocketbook Sense features an e-ink Pearl HD screen with a resolution of 1024×758. I was afraid that the outdated screen might make this reader dead in the water, but I was pleasantly surprised. Instead of going with infrared touch, Pocketbook made the decision to go with a capacitive touchscreen display. This makes pinching and zooming, as well as drawing very robust.
The screen on the sense is not flush with the bezel, like the Kindle Voyage or Kobo Aura. Instead, it has a sunken display, but it is not as deep as the Kobo Glo HD or Kobo H2O.
Underneath the hood is a 1 GHZ processor, 128 MB of RAM and 4 GB of internal storage. You can enhance the memory up to 32 GB via the Micro SD card and it also has a Mini USB to charge and send data to your e-reader.
One thing I really liked about the design is the manual page turn keys. Rather than have them on the front of the device, Pocketbook has them on the back. They are positioned exactly how you would hold it, so its very intuitive to hold it with one hand. Alternatively you can simply use the touchscreen display.
The Pocketbook Sense has a front-lit display, which means you can read in the dark without the need of an external light source. Sadly, you have a pale blue hue, very much akin to the Barnes and Noble Simple Touch with Glowlight. Strangely, the longer you leave the light on, the more white it becomes, so I recommend to let it breathe for awhile before reading, similar to how you would use a decanter for wine.
8 inch e-readers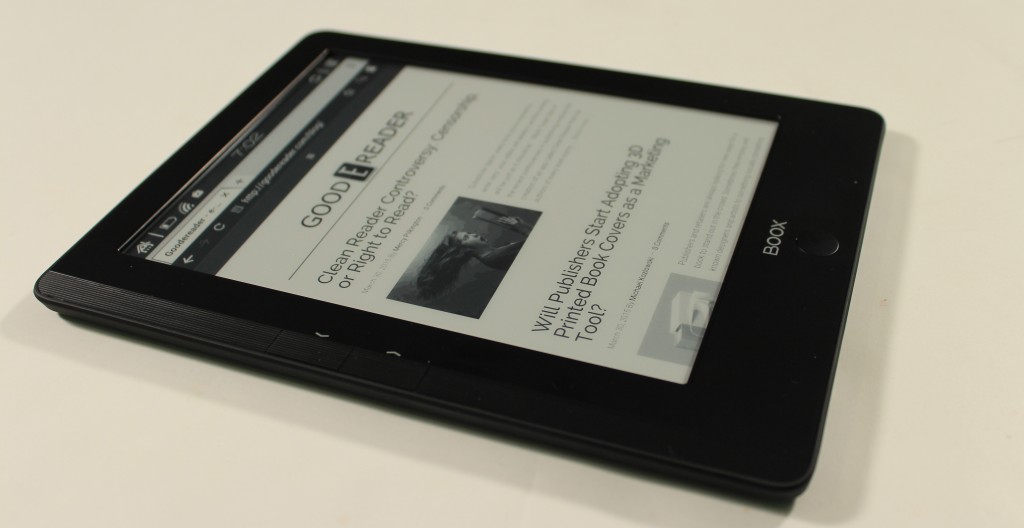 We reviewed the Onyx i86 HD ML on March 30th and it features an eight inch IR touchscreen with a resolution of 1600 x 1200 with 250 PPI. This model has a built in front-light, which gives you the ability to read in the dark.
This particular e-reader model is not using a modern version of e-paper, as found on the Kindle Voyage or Kobo Glo HD, instead it is employing an older form of Pearl. Normally, I would lament the screen quality is poor, but this couldn't be further from the truth. In reality, reading e-books, manga and PDF files is amazing. Onyx has a bunch of software functions that enhance the rendering of image heavy content.
Underneath the hood is a 1 GHZ single core processor, 1 GB of RAM and 8 GB of internal storage. The original i86 only had 512 MB o f RAM and 4 GB of internal storage, so there is a big upgrade here. If memory is a big issue for you, there is support for a MicroSD up to 32 GB.
One of the most exciting features about this reader is the fact it has Bluetooth and a 3.5mm headphone jack. This allows you to listen to audiobooks and music.
The Onyx Boox i86 HD ML is running Google Android 4.04 as the primary operating system. It comes bundled with Google Play, which gives customers the ability to download their own e-reading apps, without limitations.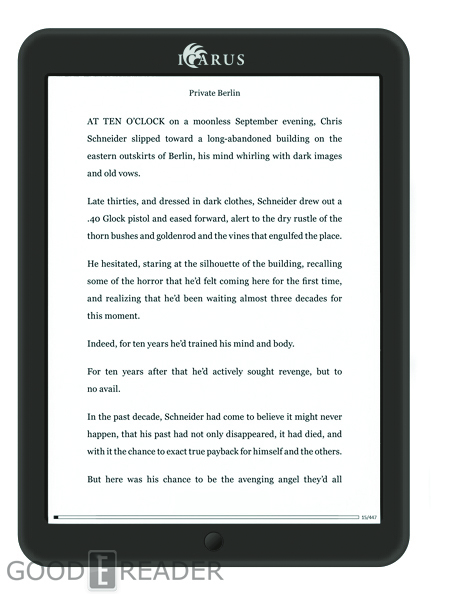 Icarus has been making e-readers since 2012 and they have been one of the early pioneers of making very accessible devices. They pioneered open Android on their complete line of products, not locking you into an walled garden, but instead allows you to install any Android app you want. The company has a new e-reader that will be available this November, called the Illumina XL.
The Illumina XL features an 8 inch capacitive touchscreen display with a resolution of 1024 x 768. Icarus decided to employ E-Ink Pearl technology because the higher resolution e-Ink Carta screens aren't compatible with 8 inch devices.
Underneath the hood is a 1 GHZ processor and 512 MB of RAM. There is 8 GB of internal storage to house your e-book collection, but if this is not enough for your needs there is an SD card that is expandable up to 32 GB.
Icarus is really hyping up the slim design and claims its up to 20% lighter than competing devices. (145 x 200 x 9mm, 275gr.) They managed to pull this off because they decided to forgo manual page turn buttons and instead relies exclusively on the touchscreen display. There are only two buttons on the device: on/off and the home button.
One of the most compelling features of this e-reader is the fact it is shipping with Android 4.2. Users will be able to install mainstream e-reader apps like Kindle, Kobo, Nook, Skoobe , Bliyoo and hundreds of others. How do you download apps? Well Icarus is actually using the e-Ink version of the Good e-Reader App Store.
9.7 inch e-readers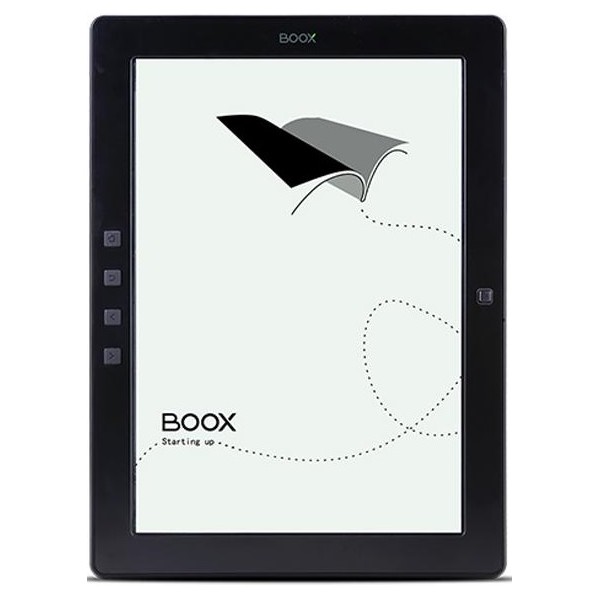 Large screen e-readers are quite rare these days, as the industry seems to be firmly behind devices that are six inches in size. People who rely on reading complex PDF documents or need some extra screen real estate will certainly want to take a look at the new Onyx M96C 9.7 inch e-reader.
The M96C features a capacitive touchscreen display which allows you to interact with the device with your fingers, whereas the older M96 relied on an accompanied stylus. The resolution is 1200×825, which makes it solid for reading documents that are image heavy, such as manga.
Underneath the hood is a 1 GHz Freescale CPU with 512MB RAM, 4GB internal storage, and a microSD card. You will be able to connect up to the internet via WIFI and connect up external devices via Bluetooth.
Onyx has done a fine job these days at releasing e-readers that have an open version of Android. This allows users to install their own apps, which makes it versatile to be able to deal with the ecosystem of your choice. Its running Android 4.0 out of the box but there is an upcoming update to enhance it 4.4.
Wrap Up
There was one notable omissions from our end of the year list of the best e-readers of 2015. This is the new Barnes and Noble Nook Glowlight Plus. This is a waterproof, dustproof e-reader that was the first new model the bookseller has released since 2013. There are too many problems with this device, not being able to connect up to Adobe Digital Editions is a big drawback, so you can't borrow books from the library. It also suffers from LAG and screen timeouts when you are doing simple tasks. I feel this model is a firmware or two update away from been a good e-reader, but as it stands I cannot recommend it.
Additionally, I would like to draw your attention to our own crowd funding campaign for the Ultimate e-Reader. This is the first e-ink device to use Android Marshmallow and give you the same type of reading experience as the Paperwhite 3 and Kobo Glo provides, except you can install your own apps with our e-ink app store.
Michael Kozlowski is the Editor in Chief of Good e-Reader. He has been writing about audiobooks and e-readers for the past ten years. His articles have been picked up by major and local news sources and websites such as the CBC, CNET, Engadget, Huffington Post and the New York Times.