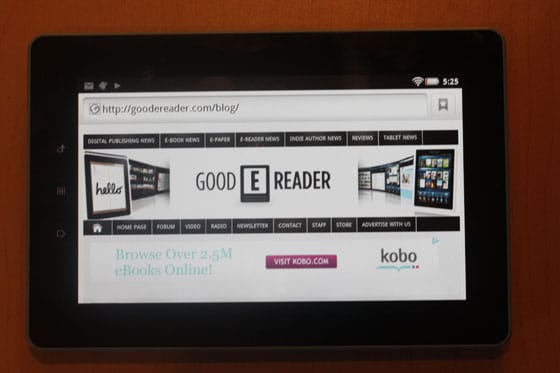 The Kobo Vox is making some users fairly irate with its slow processor and paltry amount of RAM. This is causing a fair number of issues, such as the web browser running out of cached memory very quickly because of a bug with open windows. Many users now are reaching out to Good e-Reader claiming they are having charging problems with the stock Kobo Power Adapter.
Charging and Power Issues
The charging issue is fairly common with many users and is preventing their e-reader from waking up from sleep mode or charging altogether. Kobo issued a firmware update as part of the initial Vox setup routine after you configure your WIFI. The company admitted to us today that some users are not having the update fix the problem. They responded to our concern with: "There was an issue that the battery controllers would occasionally stop reporting correct levels. A firmware patch (that you should have seen applied during the initial setup) fixed this issue. However, we found that in some case that firmware patch fails to apply properly."
There are a few things you can try to fix the problem with the unit not charging
The first thing you want to do is make sure the Vox is completely turned off. There are some people claiming that the unit will NOT charge if you have it turned on when you are charging. Power down the Vox completely and the light on the top should be orange.
Another way you can do this is via a hard-reset. For now, a hard reset (NOT FACTORY RESET) is the workaround; hold the power button down for 10 seconds, then release. Then power on as normal.
How to I remove the Bloatware on the Kobo Vox?
If you are unhappy with the stock Kobo Vox apps that come with your device, like Twitter, Zinio, Rdio, and others, there is currently no way to uninstall them. Kobo has verified this fact and you will have to suffer with all of the built in apps, even if you don't want them.
Kobo Server Errors on Library
Sometimes when you are connected via WIFI and trying to read books in your library you will get the message  "Kobo can't start right now because of a problem connecting to the Kobo server. Please try again in a little while." One of the first things you can do is make sure you're logged into your Kobo Account. If you are, next you want to check out Kobo Setup from Settings -> Kobo Reader Settings. Once you setup your device again and are still getting the problem, you might have to Factory Reset your device. Doing this will erase everything on it that you loaded: games, applications and books. You can factory reset by Settings > Privacy > Factory Data Reset.
No way to browse Files or content you have copied to your Vox
Ok, so you have a Kobo Vox and are using a MicroSD or have plugged it into your computer and transferred over some movies, books, or music. The Vox does not ship with any sort of file manager to manually browse the content of your e-reader. I would recommend downloading ASTRO File Manager, it is currently one of the best ones going. . This will ensure loading up custom content gets easier in the future.
Help! I can't find Angry Birds or other Apps!
The Kobo Vox ships with the Getjar market at Kobo.Getjar.com! It does not have access to the official Google Android Market because it does not meet the hardware requirements for official certification. Getjar severely lacks in terms of quality content and I found even File Managers are hard to find. We have compiled an excellent resource to find other markets like the Amazon App Store and various apps such as Kindle and Barnes and Noble Book reading apps. You can check it all out here  or you can download the following markets right to  your device; Slideme, AndroidPit, Soc.io Mall or the Amazon Android Market
In order to download and install applications to your Vox you have to make sure you adjust some settings. In the settings menu and under apps there should be an option to allow apps to be installed from "Unknown Sources." It is critical that you checkmark this option to be able to install any 3rd party apps not from Getjar.
Help my User Manual is glitched and I can't read it!
On Kobo's website, there is actually a bug with downloading the User Guide, and many people want to learn about their device. You can download the entire user manual in EPUB format on our own Good e-Reader Servers. If you want to read the manual on your PC, there is an excellent post HERE on how to install and choose different EPUB PC Readers.
Youtube Videos are not working
Youtube is one of the most common ways people watch content online. Many popular blogs (including ours) embeds Youtube videos and forums do as well. Out of the box, the Kobo has a hard time with videos. This is because the Vox is not shipped with Adobe Flash right out of the box. Kobo does not tell users how to go about getting any of this to work, and with many Android Markets not having a Flash download, it can be daunting to get this installed. You can install Adobe Flash version 11 manually by clicking HERE. If you don't want to bother with installing Flash, we recommend installing the Dolphin HD browser.
I ordered my Vox online and its not shipped yet!
Many  people felt that if they pre-ordered the Kobo Vox online they would have it before the stores did. This is simply not the case and is very misleading. We received many comments and emails from people who ordered the Vox online a week before the stores had it. They were under the impressions that they would get it the same time the stores did or earlier. The Vox is widely available in stores such as Indigo, Chapters, Best Buy, Fry's and others at this moment. Customers who ordered it online in most cases have not even had it shipped yet or received tracking numbers. Of course, some have, but it is not the norm.
I want to read Comic Books but there no is app to read them
The Kobo Vox is shipped with a few applications to read books, magazines and newspapers but comic book lovers are out of luck. The default Android Market shipped on the device is severely lacking in that department. Many people want to read CBZ or CBR comic books that are scanned or have been downloaded from the internet. In some cases people have purchased comic books using IOS or other Android Apps. We have updated our list of of Kobo Vox Essential applications and added 7 new Comic book reading apps for Android. These can be downloaded and installed directly using your tablet by visiting http://goodereader.com/blog/electronic-readers/essential-kobo-vox-apps-and-tools/
Help! I am getting a Tablet Upgrade Error!
There is some updates that are pushed when you first get your Vox! There are other upgrades coming soon from the development team. Many people are reporting that they are receiving error messages that say "An error occurred during image download" or "Tablet Upgrade Error".
There is also some problems with reading particular Wireless networks. The setup app only supports WEP, WPA/WPA2 Personal. WPA/WPA Enterprise are not supported. Additionally, a shortcoming with WEP (not a Vox thing) is that it doesn't really tell you if connect failed – it simply doesn't connect you. So if, for example, you put in the wrong password, you get no feedback. Another shortcoming of the set up wifi connection is that you can't connect to hotspots requiring login through a web browser (eg hotel wifi). And has been noticed, any hotspots filtering by MAC address will be problematic too.
We recommend if you are having trouble updating your Vox to double check your WIFI password if it is password protected. If problems still occur try going to your local Starbucks or some place with a dedicated WIFI hotspot.
There seems to be lots of bugs with the Vox, whats up? Should I just return it?
Kobo has a track record of rushing devices to the market quickly and this results in many bugs with the firmware and device. The company has a great development team and normally issues a copious amount of firmware updates to resolve any problems. The Kobo Touch has only been on the market a few months and has already received 5 major updates that dramatically increases the functionality. The one cool thing about Canadian based Kobo is that they really listen to their users and the community. Often people will request features and they will be incorporated into the next build.
Many  users are asking us via email and in comments on our reviews of the Vox if they should return it. It is a matter of perspective, it just hit the market and they should fix most of the major problems in short order. There is no getting around the the 512 MB of RAM and 800 MHZ single core processor. There are faster and more robust devices in the market right now but the Vox is a great device for international users. I would suggest to exercise a bit of patience with this new gadget and wait for some updates to fix some problems.
Help, I can't borrow books from the library!
Many people use Overdrive to borrow ebooks and audiobooks from their own public library. Overdrive is currently in over 17,000 schools and libraries in the USA and is a viable way to spend less and read more. The Kobo Vox is not shipped with the Overdrive application but that does not mean you cannot borrow books.
The first thing you want to do is download the Overdrive Application HERE. I recommend clicking on the link with your Kobo Vox and installing it directly to your e-reader. Alternatively you can just download to to your PC and copy it over to your Vox via the Micro USB cable that came in the box. Makes sure you have a File Manager installed so you can launch it when it is on your devices memory. Once the application is installed you can easily set it up and start borrowing books.
Web Browser is Crashing and other memory issues
One problem facing many users is the fact that the web browser crashes often and gives you memory error messages. The crux of the issue is when you are surfing the internet with the default browser and close it and a new window opens. When this occurs more then six times your device will run out of memory and you will not be able to load any websites.
To fix this issue you want to open your browser and click on the settings menu then click on Windows. Click the X on the Windows you want to close and you will gain some memory back. Alternatively you can install Advanced Task Killer and close the programs that are draining the RAM on your device. You can download the program directly to your Kobo Vox HERE.
My Kobo shows up as a Removable Disk and not an Android Device (NEW)

A common problem with Windows users is the fact that your Vox may show up as an Removable Disk and not an Android device. It basically shows up as an hard-drive and when you click on it normally says "Please Insert Disk into Drive (X)" When this happens it is impossible for programs such as Calibre, Windows Explorer and other apps from recognizing the device. One of the fixes I found is to plug your Vox into your computer via the MicroUSB cable that came with the device. Turn on USB Mass Storage on the VOX and then click on Start, Shutdown and Log-off. Logging out is very simple and normally only takes a few seconds. As soon as you are logged off of your Windows machine log back in.  The boot should only take less then a minute and then open up MY COMPUTER. Your Vox should now be recognized by your machine and if you have a MicroSD card in the e-reader, that too should be accessible.
Adobe Digital Editions does not work with the Kobo Vox! (NEW)

One of the shortcomings of the Kobo Vox is that Adobe Digital Editions does not officially recgonize the device. This means if you have purchased EPUB books from other bookstores such as Barnes and Noble you cannot import them on the Vox. The best way to load your books on the device is using a program called Aldiko. This app is one of the premier independant e-reading book programs for the Android platform. It has the ability to import your DRM books into it to get reading right away.  The first thing you need to do is download Aldiko HERE.  Once this app is installed on your Vox you want to copy your DRM books from your PC to your Micro SD card or the devices internal memory by plugging the e-reader into your device using the Micro USB cable.  Next you want to do the following steps;
At the Home screen in Aldiko, tap SD Card.
Navigate to the Folder or area where you copied your DRM Books.
Tap on the book you want to import (not on the check box, just tap the title)
You will be prompted to open or import, tap "open"
you will then be prompted for a username and password.  The user name is the name on the credit card associated with your Nook purchase.  The password is the credit card number itself, no spaces.
Once you have been able to open the book, go back to the home page and follow steps 1 through 4.
This time, when you are prompted to open or import, choose "import".  The book will be imported to your Aldiko Library.
Can I get Netflix on my Kobo Vox? (NEW)
The Kobo Vox does not ship with Netflix.. Yet. There is a way you can watch streaming video on it anyways. The e-reader only supports a specific version of Netflix right now, version 1.5.0. You can download the official file on our own Good e-Reader servers HERE. Simply install this file to your device by copying it to your Micro SD card or connecting the Vox up to your PC via the Micro USB Cable. Once you drag and drop it over make sure you use Astro File Manager or ES File Explorer to open the file. You can download them both directly to your device  HERE.  You may be prompted once in awhile to upgrade your version to the latest one, don't do it.
Netflix on the Vox does not work in Canada right now so you will have to use a VPN to mask your IP address. I recommend HIDEMYASS and run it on your PC and then use your Vox on your wireless network.  If you don't know what a VPN is, mainly its a service that you connect to and it changes your physical IP address to match one in the USA. This is a great way to access USA only content or to take advantage in the future with the Amazon Kindle Fire and their American only features.
Update: Nov 13 2011 – We have a new Tips and Tricks post courtesy of one of our readers. You can check out a number of new apps and tutorials garnered from websites around the internet. Visit the Official Good e-Reader Forum to read it, click HERE.
Update: Nov 26 2011: Many people are having problems importing the ebooks they buy in EPUB format at stores other then Kobo. Barnes and Noble, Smashwords and various other sites sell their books and since the Vox in incompatible with Adobe Digital Editions, what do you do? We made a full tutorial outlining the entire process of copying books with DRM to your e-Reader. You can view the full tutorial HERE.
If you are having specific problems with your Kobo Vox, let us know! We are constantly updating this post to answer more questions we get via email and comments.