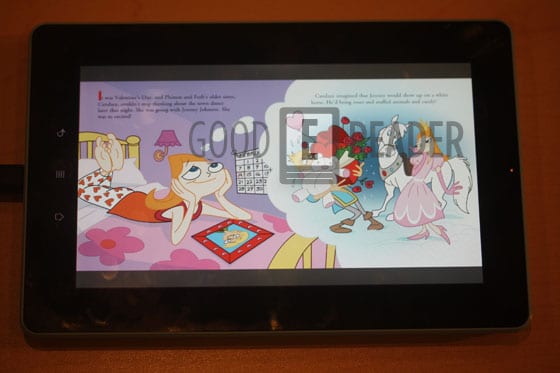 We took a field trip today to Toronto and visited the world headquarters of Kobo Inc. We did not go there on a lark, but instead had a mission! I managed to wrangle the CEO of Kobo Mike Serbinis and he gave us the worldwide exclusive on the new Kobo Vox e-Reader! This is the first full color Android offering by the company and the form factor is amazing.
There are many new exciting features that are integrated into the Vox that tap into a rich social media fabric. At the forefront is Kobo Pulse.
Kobo Pulse is a brand new social media feature that was first revealed at the Facebook event a few weeks ago. It connects with Facebook and allows you to access the Pulse to find out what other people are saying about the book. It works like a Youtube comment system where you can leave your impressions of the book and people can vote up or vote down them. If you see a profile of a cute girl you might want to check out you can click on their profile and be directed to their Facebook Profile. The cool thing about this is that it tells you how many people are currently reading the book and how many people are done.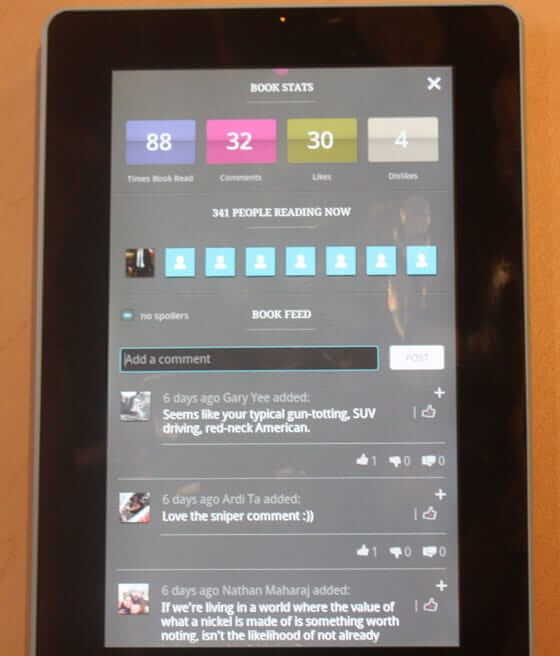 Another feature found in many of their IOS, Android and the Kobo Touch is Reading Life! This gives you awards, achievements, and statistics on your reading habits. It looks great in full color and has new features.
Some people think they all know about the Kobo Vox because of the error Futureshop made and the rampant speculation that ensued on many online publications and message boards. Kobo confided in us that the hardware and price point where not accurate. They often send demo units and beta versions of new software for their partners and vendors to beta test and submit feedback. Most of the new software we saw today featured exclusively internal and external data from these partners. Someone in the website department jumped the gun and posted a bunch of misleading information.
Ok, so we can't tell you everything you want to know about the Vox, but we can provide you with some juicy details and some pictures (not divulging anything sensitive). Probably the most important question on most people's minds is the international viability of the Kobo Vox. Pre-orders have been limited to only Canada and the USA. Will it work in Australia, New Zealand, and other markets? The answer is yes! Can you buy it locally in the here and now? No! The only alternative you may have in time for the holidays is to purchase it from Shop e-Readers.
From what we understand, talking with various Kobo sources is that Australia, New Zealand, and Hong Kong may get it in the first quarter of 2012. The true international version of the Vox will likely take a bit longer. There are many lingering issues with the localization of the new device and making sure some of their new proprietary programs work properly. Once that is done you can buy it in a retail setting in Germany, Spain, UK, France, China, and other countries. The priorities of Kobo, in regards to the Vox, is focused on North America and updating their readers and apps to work with their new software. The company informed us that they are developing localized versions to be sold in France, Germany, Spain, UK, and other countries.
There are many exciting new features found in the Vox that mix different experiences, but it is the first tablet that feels like it is billed as an e-reader and retains many social elements that Kobo has pioneered during the course of the last year. The only physical comparison that we can draw right now is comparing it to the NOOK Color in terms of content and form factor. The Vox really puts sub-par devices like the Pandigital Novel and Aluratek Libre Touch to shame. There are also some deals in the works to give you an even wider array of multimedia content, but we promised not to tell, lest we ruin the deal for them.
So who is Kobo and what is the company all about? Kobo as a company has come a long way in the last two years and has seen their market traction rise steadily. Their company headquarters features many open spaces and there are no partitions. I used to work in the Vancouver video game industry for companies such as EA and Backbone Entertainment. The one drawback of highly creative environments is all of the officers, huge partitions that separate everyone from each other. I found those environments actually stifled the creative process and resulted in emailing people instead of going upstairs to their office. Kobo had a truly a great startup atmosphere and everyone had a big smile on their face. There was an infectious dynamic radiance that permeated throughout the entire building. The HQ was positively buzzing with press and meetings for the past few days as they gear up for the maelstrom of one of their biggest product releases. Kobo has grown over the years and now has a dedicated staff of over 250 people working at their Toronto, Ontario headquarters. They have upgraded their building 3 times in the last year in order to accommodate meeting rooms and more staff.
Mike Serbinis told us that Kobo is focused on the international aspect of reading and the social. The USA market is too expensive and too saturated for any new company to come along and try to make headway. The landscape is dominated by Amazon, Barnes and Noble, and many inferior based devices. Kobo went the route of offering e-readers in traditionally untapped markets. It is very important that Kobo not alienate potential customers just because of the country they may live in. Barnes and Noble are notorious for this by not selling the device outside the USA and not allowing book purchases either. You can honestly buy a Kobo in any country in the world and start buying books right away.
During 2011, Kobo is expanding on their core philosophy of reaching a global audience by opening up new markets in Australia, New Zealand, Hong Kong, Spain, France, Germany, and the UK. In foreign markets where English is not the primarily language spoken they have begun localizing their devices and starting new eBook stores. These stores give local authors a chance to have their books heavily promoted and feature regional bestselling authors.
Kobo initially cut their teeth by offering a digital self publishing service called "something here." They pitched the idea of developing a dedicated reader to go along with their fledging store. Chapters/Indigo saw the potential of a home grown company and recognized that Sony, Amazon, and Barnes and Noble were slowly cornering the USA market. Chapters took the risk and heavily invested in the company and allowed them to develop a reader, enhance their bookstore, make apps for every major platform, and have their gadgets sold in Chapters/Indigo stores across Canada. Instead of peddling independent books, Kobo began forming partnerships with many top publishers to get their content featured in the store. They also starting approaching newspaper outlets for content features on all of their devices. To be fair Kobo, has never lost sight of their self-publishing days and some employees when asked about it had a wistful look in their eyes. Though Kobo does not specialize in self-publishing anymore, you can still have your books listed in their store if you go through 3rd party distribution companies such as Smashwords.
Kobo enjoys newfound success with their new model of selling books and devices with capabilities to tap into their ecosystem. This was not enough and they decided to expand into other markets, such as the lucrative USA. They found a willing partner in the form of Borders USA and signed an exclusive agreement to stock their device in their stores. After Borders, the company then branched into Australia and New Zealand with such companies as Angus and Robertson, Redgroup, and Borders Australia.
The Borders agreement was doomed from almost the very beginning because the company did not exclusively sell Kobo devices; instead they sold a wide array of low quality devices. They even had their own bookstore, which many of the devices they sold did not even tap in to. Eventually, they smartened up and had their own bookstore powered by Kobo, but then it was too late. The company went out of business earlier this year and thousands of employees got the axe. The fallout of the Borders saga resulted in the exclusive licensing deal Kobo had with them. This meant that Kobo could not deal with any other companies in the USA until the current deal expires in 2012. Things did not get any easier, with Barnes and Noble recently purchasing the entire intellectual properly, including millions of users who purchased books or kobo devices. So how is the Canadian based e-reader Company coping with a bad situation in the USA? They started a series of small kiosks! We reported months ago that they started a trail one at Grand Central Station in New York. The company informed us today that that during this holiday season they are starting many new kiosks in Canada, USA, UK, and other markets. All of their staff are highly trained on the product and can answer most basic to advanced questions.
Australia has been a crazy market place during the last year and has seen the total collapse of Borders Australia, Redgroup, Angus & Robertson, and others. All of these companies had Kobo licenses and with them dying out and the Pearson Group picking over the scrapes, things were beginning to look bleak. In July, Kobo brokered a deal with Collins Bookstores to have their readers sold in over a hundred locations. This ensures that Kobo will have a strong and lasting retail relationship in Australia and hopefully Malcolm Neil does not make yet another company implode.
Europe is the latest battleground, and both Amazon and Kobo are both dueling it out to get publishers and retailers locked up. This market should prove to be more stable than Australia and the USA in terms of the market being more entrenched. Europe is traditionally has longer lived companies with a tremendous amount of history. Off the top of my head I could mention a ton of French and UK publishers and book sellers that have been around since the 1700's.
Kobo is poised to knock the ball out of the park with the Kobo Vox, and with the same entry level price point as the Amazon Kindle Fire; it will suit more people's budgets. We have talked to many people with small kids and they all proclaim they feel more comfortable giving them a $199 device then a $600 iPad.
Update: We just got the go ahead! Incoming full review and video reviews!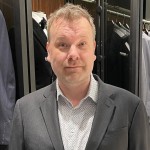 Michael Kozlowski has written about audiobooks and e-readers for the past twelve years. Newspapers and websites such as the CBC, CNET, Engadget, Huffington Post and the New York Times have picked up his articles. He Lives in Vancouver, British Columbia, Canada.