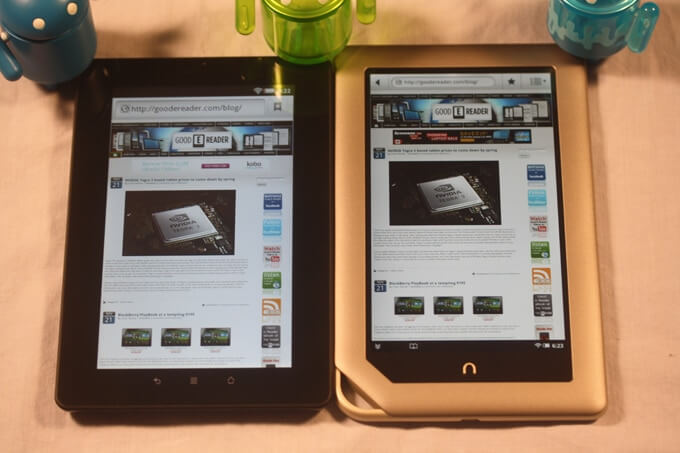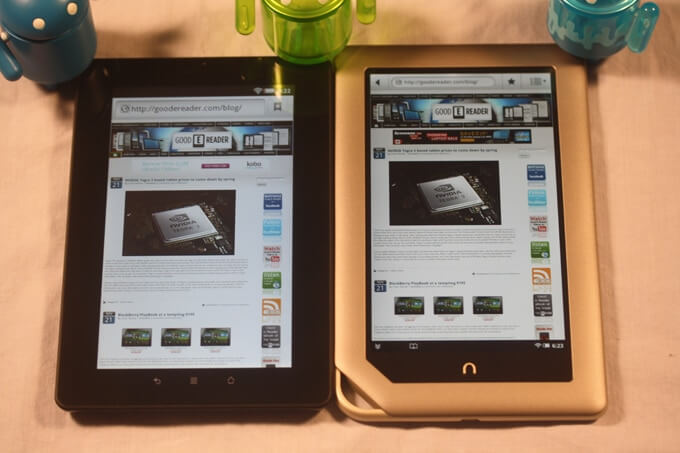 Welcome to another Good e-Reader Comparison Video! Today we check out the differences between two new e-readers that hit the market with full Google Android 2.3 support. We are talking about the Kobo Vox and Nook Tablet.
These are two e-readers that have similar specs with the 7 inch screens and have the same resolution of 1024×600. The Nook Tablet edges out the Kobo Vox meager 800 MHZ CPU Processor with its dual-core 1 GHZ CPU and has double the amount of RAM with 1 GB.
In this video we show you the main differences between both of the units and put them head to head in a battery of tests. We check out the book stores and what you can buy. We evaluate the internet experience and test online streaming videos, such as Youtube. If games and apps are your thing we show you both of the stores where you can download them and share some unique perspectives on how you can download alternative markets. Finally, we compare the actual reading experience and compare the ways you can augment the fonts, margins and more. If you are thinking about buying each of these devices this is a MUST SEE comparison review.
Peter Carotenuto is a graduate of the Vancouver Film school and is extensively involved in the local Film Industry. He is an accomplished actor and has been in many of the Vancouver based movies and made for television shows. Peter is the head of the Good e-Reader media division and is responsible for all of our video editing and production. You can e-mail him at peter@shopereaders.com