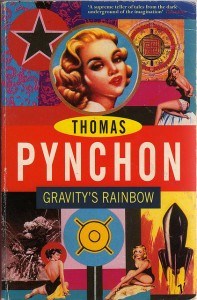 J.K. Rowling, author of the highly acclaimed and widely successful Harry Potter series, was one of the most newsworthy holdouts when it came to ebooks. At the time, Rowling cited concerns about piracy as an explanation for not allowing her eight-book series to grace the screens of e-readers, but at long last she conceded the issue. It's a good thing she did; as the rights' owner to the digital versions, she sold over $500 million worth of the ebooks through her own Pottermore marketplace in the first month of sales alone.
Now, notoriously reclusive writer Thomas Pynchon, author of the books The Crying of Lot 49 and Gravity's Rainbow, has agreed to allow his backlist titles to be sold in ebook form through Penguin Press. While the author would not comment on the decision, Penguin's editor-in-chief Ann Godoff told the New York Times that the time was simply right for the transition to digital in order to reach as many readers as possible.
"It wasn't exactly the elephant in the drawing room, but we just felt that the moment was right," Ms. Godoff said. "There has been a great desire to have all of Tom's books in digital format now, for many years. He didn't want to not be part of that."
Pynchon's eight titles will go on sale today and will be priced at fairly typical ebook prices for bestsellers, between $9.99 and $12.99.
As GoodEReader reported last week following an interview at BookExpo with Zest Book's Hallie Warshaw, sometimes the agreement is made to go to ebook but then a lengthy and arduous process of converting begins, mostly due to complicated layouts of the books. Pynchon's novels required extra consideration during the conversion, something which slowed their progress to market.
Pynchon joins authors like Ray Bradbury and Judy Blume who were reluctant at first to see their works digitized but ultimately agreed. Now, if only someone would send a polite note to Harper Lee, requesting the digitization of her Pulitzer Winning To Kill A Mockingbird…

Mercy Pilkington is a Senior Editor for Good e-Reader. She is also the CEO and founder of a hybrid publishing and consulting company.