If you are a book lover and a gadget freak, chances are that you have been hooked on to e-readers for a while now. Maybe you also have a few devices lying around that you currently don't need. You might have received them as a gift or moved on to the latest model available rendering the older model obsolete. Those are the sort of devices that you can spare to play around a bit. Take for instance the efforts put in by someone named Peter who managed to turn an e-reader into a picture frame.
More specifically, as Hackaday stated, it's a PocketBook Basic Touch that Peter used to give vent to his creativity. Dating back to 2014, the PocketBook Basic Touch happens to be a modest e-reader with a capable ARM chip at its core. Also, thanks to its Linux operating system, the e-reader can be made to do more than just display text. In fact, the e-reader provided a lot of scope for customization. No wonder, enterprising minds like Peter's could easily access a shell, allowing them to delve into its capabilities.
This flexibility paved the way for the creation of custom software. As it is, there were some C++ programs already available which served as the basis for Peter to come up with a unique piece of software. This program showcased images from an on-board directory, essentially transforming the e-reader into a digital picture frame. Peter also did a good job in making the picture frame to be mounted on an old book. An ingenious idea that sure is as its an e-book reader to begin with.
Peter delved into several possibilities for this particular device, exploring options such as fetching images from the internet instead of relying on the device's internal collection. However, he opted for a more straightforward setup that helped to swiftly bring the project to life, aligning with the timeline of "#inktober," a drawing challenge within the fediverse that unfolded last month. While not adhering strictly to the daily hand-drawn artwork convention, the project embodies the essence of the event.
Moreover, it offers a glimmer of hope for owners of more restricted e-readers, hinting at the potential to unlock the full capabilities of older models through this open-source operating system.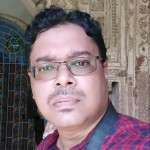 With a keen interest in tech, I make it a point to keep myself updated on the latest developments in technology and gadgets. That includes smartphones or tablet devices but stretches to even AI and self-driven automobiles, the latter being my latest fad.