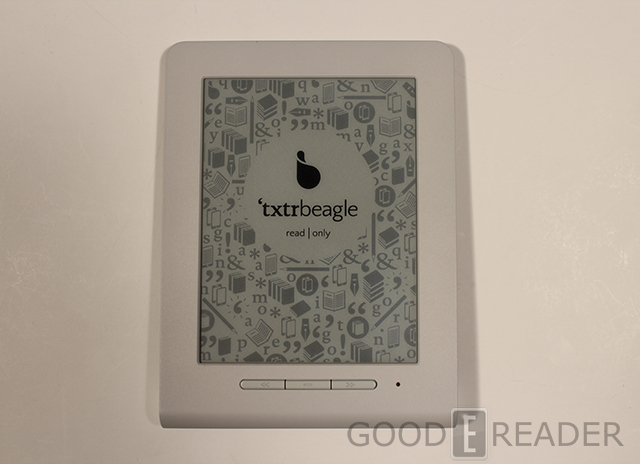 The entire world has been starving for information on Txtr's first e-reader, the Beagle. The Berlin based company has not officially made this unit available for sale and we are proud to bring you one of the first comprehensive hands-on reviews of this new device. Initially, we were very impressed on how light it is and the fact it has over one year of battery life. How does it rack up against other five inch devices like the Kobo Mini or Jetbook Mini? We endeavor to find out!
Hardware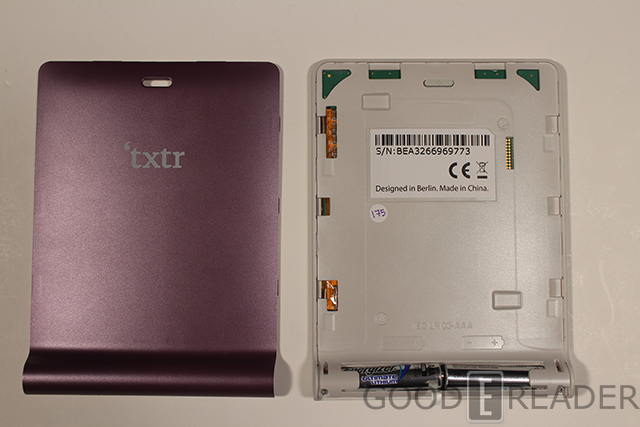 The Txtr Beagle features a five inch e-Ink Vizplex screen with a resolution of 800 x 600 pixels. Most e-readers these days do 16 levels of grayscale, while this model only does 8. Txtr has informed us that the final model will have e-ink Pearl, which should give it 16 levels of grey and sharper/crisper text. There are 4 GB of internal memory and five ebooks can be cached at any given time. We noticed we had way more than five books loaded on the Beagle, and it only took a bit longer to open them up, so you are not exactly limited to five.
The Beagle boasts of one year battery life, thanks to the 2 AA Energizer Lithium Ion batteries that are included in the box. It also is being billed as the world's lightest reader, but that's not totally true. The Wexler Flex One currently wears that crown at 110 grams, while the Beagle is 128 grams (with batteries) and 111 grams (without batteries).
This is an extremely bare-bones reader. There is no WIFI, Mini or Micro USB ports, or any expandable memory via SD. There are three main buttons on the bottom of the screen which function as the Left/Right and Home. About the only thing it has is Bluetooth, which is used to facilitate copying ebooks right from your phone or tablet to the Beagle.
Txtr has taken a page out of Kobo's playbook by adding a product line of interchangeable back covers. You can choose between five different ones right now to personalize your reader. They come in Black, Jade Green, Grapefruit, Purple, and Turquoise. You can easily peel off the back of the unit to swap out batteries and put on a new cover. We found that the covers don't fit easily and need to be tediously pushed into the locking position.
Honestly, this reader is fairly awesome. It is not officially available in the retail market yet, and Txtr is working on making arrangements with phone carriers and tablet companies to give it away for free with the purchase of a higher priced gadget. It is super light and feels great in the hands, the only drawback is the small hump on the back where the batteries are stored.
Software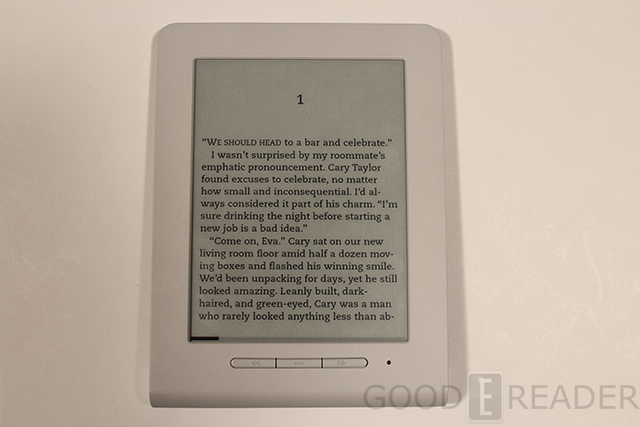 The Txtr Beagle is actually not even running on OS according to Txtr. It is not bundled with Linux, Android, nothing.  There are no menus or sub-menus. Your main screen entails the books you loaded onto it with your phone or tablet. You click on the cover art to open the book and that's it.
Many online publications said that you can only cache up to five ebooks on the device, but we noticed we could store a bunch more. They all show up on your main homescreen and you can employ the left and right buttons to page through the cover art. Clicking on the main "OK" or "Home" button will automatically open the book and you can begin reading.
One of the downfalls of the overall reading experience is the full screen refresh on every single page turn. Most readers by Sony, Pocketbook, Kobo, Amazon, and Barnes and Noble have options to augment the refresh rate from every page to every six or nine pages, allowing for less flickering. The Beagle has this every single page, which grows tedious after a while.
Txtr provides a small user guide when you buy the Beagle, which basically teaches you how to use the main interface and copy over ebooks. It should be suitable for most non-tech-savvy people and even has a QR code that you can scan with your phone to access the Txtr app listed on Google Play.
This is the most user friendly e-reader we have ever reviewed. It is hard to mess up clicking on cover art to read a book. More tech savvy users will lament the inability to change the font, font size, line spacing, highlights, annotations, dictionary, or even zoom. You get none of that with this Beagle; it's stupidly simple.
Txtr has informed us that in the final production model they will be adding support for font size editing, to give customers the options to make the text larger and smaller. They also promise crisper text, which should make it easier on the eyes.
How to Load eBooks on the Txtr Beagle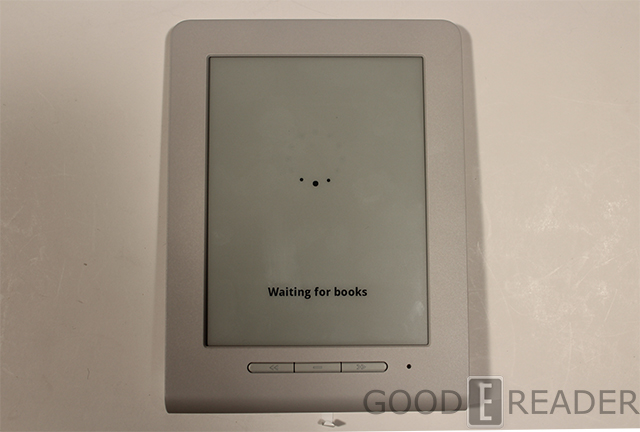 The only way to load books on the Beagle is to connect your phone or tablet to the Beagle via Bluetooth. Right now the ability to pair your device with the e-reader is relegated exclusively to Android, the only supported platform. The company has informed us that it will be adding the functionality to its iOS apps and PC software.
In order to get started, you need to download the official Txtr app via Google Play or the Good e-Reader App Store. Keep in mind you need to have Ice Cream Sandwich or Jellybean to connect to the Beagle. If you have an earlier version you won't be able to sync books, as we found out.
When you load up the Txtr app on Android and hit the settings menu, there will be an entry titled "Beagle." Clicking on this will give you the option to pair it with your e-reader. You want to hold down on the power button on the back of the Beagle for about four seconds. This will initiate a pairing sequence, and then you click "connect" on the Android app, which will connect them both up. You will see a blinking blue LED light on the Beagle letting you know it was successful. There are no codes or other information you need to enter to finalize the connection.
Txtr owns and operates many different bookstores in Europe and has a great English one. You can buy books and have them synced to all of the devices you own with an official app. By default they are stored on your main library shelf. If you long-press on the cover art you will see a few options pop up. The only one you should be concerned with is "Send ebook to Beagle." It will copy it over to your reader and the book will automatically open.
Right now the Txtr app only works on Android devices that are running on 4.0 or 5.0. This may be the more modern version of Android, but statically the vast majority of the population are still running outdated versions of the OS. Txtr has informed us that they are adding support for earlier versions, such as 2.3. They are also updating all of their other apps across a myriad of platforms to allow you to sync with Bluetooth.
Wrap Up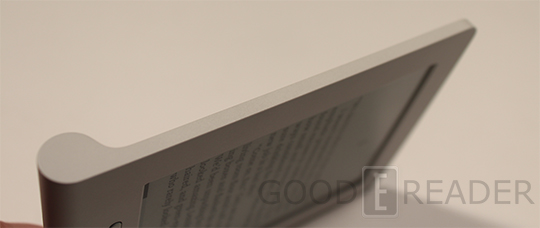 The Txtr Beagle is one of the most unique e-readers we have ever reviewed. It will not confuse anyone who already has books on it and just wants to read. Buying books directly from Txtr on your tablet, PC, Mac, or phone will save you tons of headaches about different ebook formats and using advanced software. You buy a book, connect Bluetooth, and read the book. No frills, no gimmicks, easy as pie.
This e-reader is joining a small exclusive club of companies issuing five inch models. Kobo recently introduced the Mini, which has not been selling that well because of retail distribution woes. It is still not available internationally, but is more fully featured with store, WIFI, web-browser, reading life awards, and the ability to load in your own books. The Jetbook Mini was one of the first e-readers to use batteries and was five inches, but never gained much traction due to its high cost and poor performance.
There are a few things I really like. The price is poised to be 10 Euros or around $16.00 in the US. This makes it the cheapest e-reader in the world and would serve as a great throwaway device. You can take it out on vacation, read it by the pool, on hikes, camping, or have the kids play with it. You won't want to baby it as much as your iPad 4 or Kindle Fire HD. The second thing is the battery life. Seriously, what could drain the batteries? No WIFI, GPS, data, USB, or anything else that would slowly eat away at your precious power. One or two years of battery life puts it in a class of its own: light, long-lived, and ludicrously cheap.
The price is up in the air at the moment. Txtr has always said they are looking to partner with Mobile or tablet companies to help slash the price. If they choose to market the device themselves or choose a distributor, it is unknown what their rock bottom material price is, and how cheap they can sell it without losing money.
If is fairly hard to find cons in this unit. It is what it is. It doesn't give you any options to augment the reading experience or anything else. You click on a book and you read it. It's basic. Some font options would be nice, as not everyone has great vision.
Pros
Affordable
Portable
Basic
Light
One year battery life
Cons
Syncing with your phone can grow wearisome
Need Android 4.0 or 5.0 where most people still have 2.3 (this will be fixed soon)
Relies on Google Play as the only source to download it (other than our own app store)
Rating: 8.5/10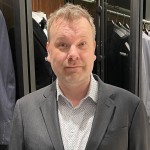 Michael Kozlowski has written about audiobooks and e-readers for the past twelve years. Newspapers and websites such as the CBC, CNET, Engadget, Huffington Post and the New York Times have picked up his articles. He Lives in Vancouver, British Columbia, Canada.