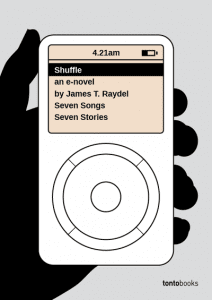 One of the chief criticisms from early adopters of digital reading technology was that the platforms simply transferred the words off of one page, and placed them on another. To some, there were not enough benefits to the standard ebook, other than features like the portability and the easier, faster access to titles, to justify making the switch from paper. But companies like
Vook
, among others, seem bent on seeing just how far the technology can take the entire experience of reading.
One of the latest ebook envelope-pushing titles is Shuffle: an e-novel by author James T. Raydel, in collaboration with Vook. First conceived as far back as 2010, Shuffle does for reading what digital music players do for music. The stories contained within the book are interwoven, but the reader can decide to "shuffle" the order in which they are read, removing the linear timeline aspect of the narrative story.
"The idea was to create a true transmedia novel which layered immersive fiction across multiple platforms," Raydel explained recently in a Vook blog post. "In effect a literary layer cake with an e-novel through which the reader shuffles as the cream, the Lulzlit site as the sponge, and the activities of its seven writers on Twitter as the jam. The reader can engage with any or all of these content strands each is designed stand alone but stimulate interest in the others."
"Shuffle is a title that can only be conceived of in the epublishing space," VookMaker Jeffrey Yozwiak, who worked on the project, told GoodeReader. "The individual chapters of Shuffle have been published as stand-alone eBooks, but Shuffle goes beyond a simple anthology because you can seamlessly reorder chapters while you're reading. That simply cannot be done in print. Kudos to Chris for having this vision. This is only the beginning of authors creating robust, eBook-first experiences.
"Choose-your-own-adventure novels would be perfect for this kind of treatment. There's also a niche literature of hypertext fiction — entire novels that are like fictional Wikipedias (and anyone who's spent hours wandering through Wikipedia can attest to its seductive allure). So I'd love to get another Shelley Jackson Patchwork Girl or a Mark Amerika GRAMMATRON out into eBook stores."
Shuffle is available for preview in the stores that Vook distributes to, including Apple, Amazon, Barnes & Noble, and its own ebook storefront.
Mercy Pilkington is a Senior Editor for Good e-Reader. She is also the CEO and founder of a hybrid publishing and consulting company.