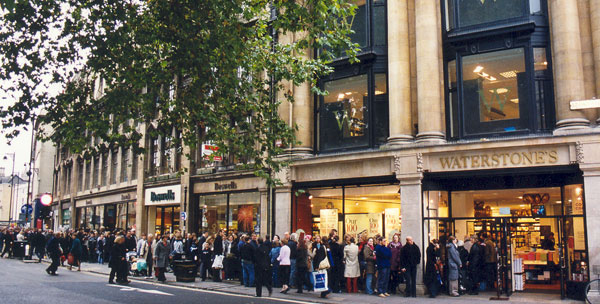 The digital divide has finally begun to worry brick-and-mortar retailers of academic books and textbooks, according to an article in The Bookseller. In this article, Lisa Campbell divulges the content of Waterstone'surgent talks with publishers, namely, that the publishers and book stores are going to have to work together if the retailers are to survive and continue selling textbooks in their stores.
Dominic Myers of Waterstone's actually went so far as to suggest that 2012 will be the year that decides the outcome for physical stores in terms of how their academic titles fare. Myers sees the key threat to the industry being the rise in popularity of digital reading among college-aged young adults, the key demographic that Waterstone's warns will soon be seeking out their educational reading online rather than through print editions.
"From my perspective academic bookselling actually is at crisis point," Myers stated at the onset of his presentation during the recent Bookseller Association's annual Academic, Professional and Specialist Bookselling Group conference. "I believe that booksellers and publishers need a different co-operative model and I think we have to create a paradigm shift in how we address the online market for physical books."
Myers quite openly pointed to issues with storefront space and profit margins as potential causes behind a drop in academic print sales and spoke vehemently about the need for publishers and booksellers to come to agreeable terms on how both are to survive the digital shift.
"We cannot afford to keep subsidizing and keeping the academic market on the high street. If we can make those things happen there is a host of ways we can co-operate to drive sales." Myers even suggested that publishers develop a more lucrative margin for the booksellers, who would agree in turn to stock student-items that would bring more students into their stores in order to purchase the publishers' textbooks.
"This is actually a tipping point year for this industry – let's have some honesty between booksellers and publishers and do something about it. This could otherwise be the last year of academic on the high street."
Mercy Pilkington is a Senior Editor for Good e-Reader. She is also the CEO and founder of a hybrid publishing and consulting company.