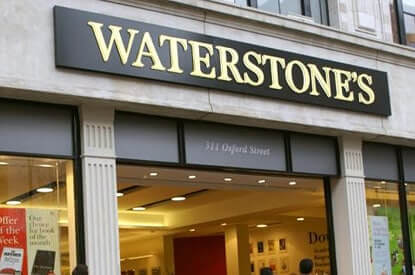 Waterstones has just inked a deal with Amazon today! The UK bookseller intends on selling the Kindle branded e-readers in their retail shops and offer ebooks online via their website.
The digital revolution has not passed Waterstones by, and the company intends on transforming their retail experience. It wants to dramatically refurbishing the retail space in the coming months. Not only will the stores get a decor makeover, but also will be offering free Wi-Fi internet access, digital zones, and coffee shops.
The Waterstones deal with Amazon will allow the full line of Kindle e-Readers to be available in the retail stores. You will be able to get the Kindle 4th generation and the new Amazon Kindle Touch. The UK retailer will also incorporate a large selection of ebooks from Amazon on their very own website for customers to purchase.
This deal today comes as a bit of a surprise because Waterstones and Barnes and Noble were in negotiations on bringing in the Nook line of e-readers to the UK. Ever since the investment deal with Microsoft occurred, the largest bookstore chain in the USA has been rather quiet on plans for international expansion and instead will rely on MS to sell their books worldwide.
What comes as the biggest surprise is how Waterstones Managing Director James Daunt made some Anti-Amazon comments, "They never struck me as being a sort of business in the consumer's interest. They're a ruthless, money-making devil," he said last summer. He then further lamented to the Telegraph last October, in which he described Amazon as "dispiriting" and "utterly utterly ruthless".  You can tell that Mr. Daunt does not really think much about Amazon… what changed? Today he announced, "At Waterstones, we are committed to improving our bookshops quite radically to offer the best possible book buying experience. It is a truly exciting prospect to harness also the respective strengths of Waterstones and Amazon to provide a dramatically better digital reading experience for our customers."